Benchmark US indices drifted lower at the close on Wednesday, January 19, dragged down by losses in technology and financial sectors amid a choppy trading session.
The S&P 500 was down 0.97% to 4,532.76. The Dow Jones fell 0.96% to 35,028.65. The NASDAQ Composite fell 1.15% to 14,340.26, and the small-cap Russell 2000 was down 1.40% to 2,066.97.

Investors treaded cautiously as bearish sentiments persisted on inflation concerns.
The Federal Reserve is expected to hold its monthly monetary policy meet next week. Economists expect several interest-rate hikes this year to tame the high inflation.
On Wednesday, the Commerce Department said multi-family housing starts rose 1.4% to 1.702 million units in December, the highest increase since last March. Building permits rose 6.5% YoY to 1.873 million units.

Consumer staples and utility sectors led gains on the S&P 500 index. Six of the 11 stock segments stayed in the red. Consumer discretionary and financial stocks were the bottom movers.

Shares of Procter & Gamble Company (PG) rose 4.23% in intraday trading after reporting its quarterly results. Its net sales rose 6% YoY to US$20.95 billion in the second quarter of FY22. The net income rose 9% YoY to US$4.24 billion. It raised the sales guidance after the results.
The Morgan Stanley (MS) stock was up 1.99% after its fourth-quarter results topped analysts' expectations. Its revenue rose by 6.8% YoY to US$14.52 billion. The net income was up 9.2% YoY.
Shares of US Bancorp (USB) fell 7.3% after missing Wall Street estimates in the fourth quarter. Its revenue fell 1.6% YoY to US$3.12 billion, while net income declined 17.5% YoY to US$1.67 billion.
In the consumer staples sector, Walmart Inc. (WMT) rose 1.15%, Costco Wholesale Corporation (COST) gained 1.04%, and Colgate-Palmolive Company (CL) increased by 1.52%. Kimberly-Clark Corporation (KMB) ticked up 1.58%, while Sysco Corporation (SYY) fell 1.08%.
In financial stocks, Berkshire Hathaway Inc. (BRK-B) decreased by 1.00%, JPMorgan Chase & Co. (JPM) declined 1.13%, and Mastercard Incorporated (MA) fell 1.15%. Wells Fargo & Company (WFC) and Citigroup Inc. (C) ticked down 1.06% and 1.44%, respectively.
In the technology sector, Apple Inc. (AAPL) plunged 1.17%, Taiwan Semiconductor Manufacturing Company (TSM) tumbled 1.48%, and Nvidia Corporation (NVDA) shrunk 2.20%. ASML Holding N.V. (ASML) and Broadcom Inc. (AVGO) ticked down 1.15% and 1.47%, respectively.
Also Read: Sony loses US$20 bn in market value after Microsoft-Activision deal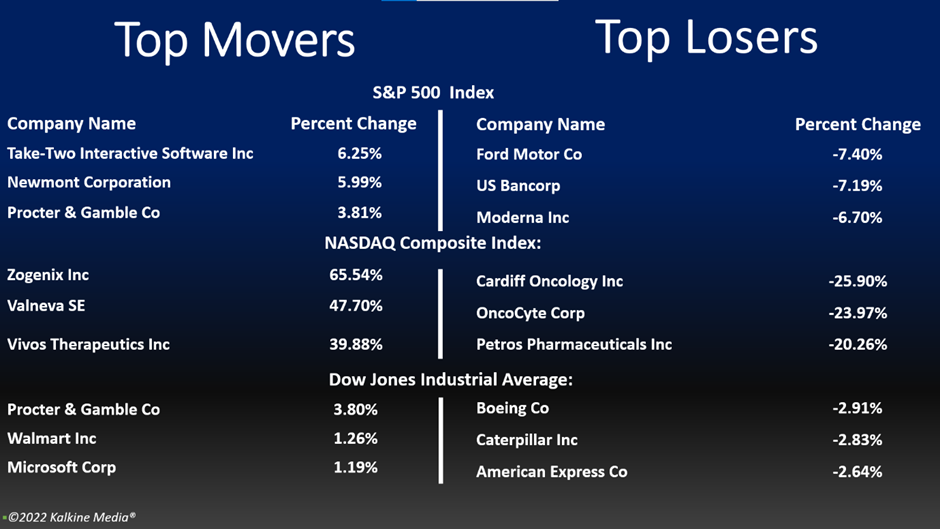 Also Read: Top defense stocks to explore in 2022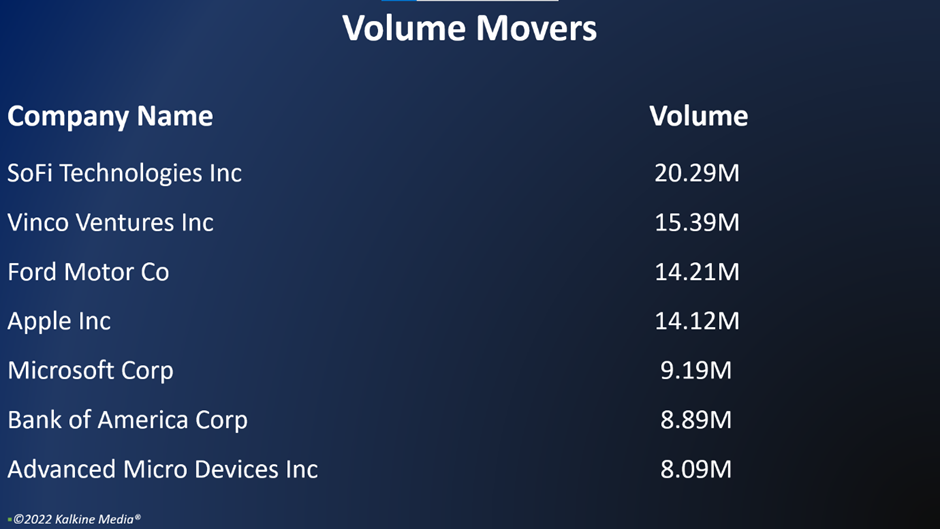 Also Read: SoFi Technologies (SOFI) gets nod to run as holding firm, stock rallies
Futures & Commodities

Gold futures were up 1.67% to US$1,842.75 per ounce. Silver increased by 3.15% to US$24.233 per ounce, while copper rose 1.52% to US$4.4490.
Brent oil futures increased by 0.58% to US$88.02 per barrel and WTI crude was up 0.68% to US$85.41.
Bond Market
The 30-year Treasury bond yields were down 1.72% to 2.148, while the 10-year bond yields fell 1.81% to 1.834.
US Dollar Futures Index decreased by 0.19% to US$95.540.