US stock market closed lower on Thursday, August 11, as S&P 500 and Nasdaq recoiled after rallying a day before on slow inflation data. In its second report in two days, the Labor Department on Thursday said that US producer prices fell by 0.5 per cent in July, after soaring 1.0 per cent in June. On an annual basis, it galloped 9.8 per cent last month while it climbed 11.3 per cent in June.
The S&P 500 fell 0.07 per cent to 4,207.27. The Dow Jones rose 0.08 per cent to 33336.67. The NASDAQ Composite plunged 0.58 per cent to 12,779.91, and the small-cap Russell 2000 gained 0.31 per cent to get to 1975.26.
The Labor Department also mentioned jobless claims stayed high for the second week in a row in a job market that remains constricted.
On Thursday, five of the 11 segments of the S&P 500 index stayed in the positive territory. While Energy, Financials, Basic Materials, Industrials, and Consumer Non-Cyclicals were the top movers, Utilities, Consumer Cyclicals, Technology, Real Estate, and Healthcare were the bottom movers of the day.
After reporting a revenue jump in the third quarter of 2022 on Wednesday, Walt Disney (DIS) shares soared after market close, as the company also bypassed Netflix on streaming subscribers. There is also a price hike on the anvil for Disney+ and Hulu streaming subscriptions.
Shares of the US Foods Holding Corporation (USFD) went unchanged after the foodservice distributor, which is also among the largest in the US, reported overall growth in its Q2 2022 results on Thursday.
In the Energy sector, Exxon Mobil Corporation (XOM) surged by 2.89 per cent, Chevron Corporation (CVX) rose by 2.44 per cent, and Shell plc (SHEL) gained 2.47 per cent.
In the Financials sector, Berkshire Hathaway Inc. (BRK-B) increased 0.46 per cent, Visa Inc. (V) fell 0,30 per cent, and JPMorgan Chase & Co. (JPM) surged 1.48 per cent.
In the Technology sector, Apple Inc. (AAPL) tumbled 0.44 per cent, Microsoft Corporation (MSFT) fell 0.74 per cent, and NVIDIA Corporation (NVDA) slid 0.86 per cent.
Futures & Commodities
Gold futures dropped by 0.45 per cent to US$ 1,805.50 per ounce. Silver fell by 0.44 per cent to US$ 20.260 per ounce, while copper gained by 1.21 per cent to US$ 3.6935.
Brent oil futures increased by 2.07 per cent to US$ 99.42 per barrel and WTI crude was up 0.07 per cent to US$ 94.09.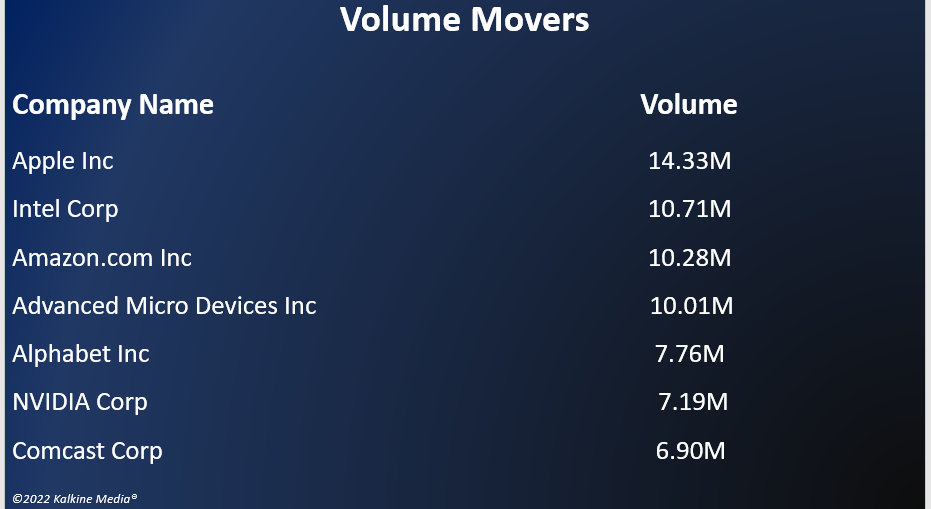 Bond Market
The 30-year Treasury bond yields were up 0.24 per cent to 3.182, while the 10-year bond yields rose by 0.05 per cent to 2.889.
US Dollar Futures Index fell by 0.10 per cent to US$ 104.980.