Benchmark US indices wrapped up the week on a gloomy note Friday, November 26, after concerns over a new covid variant in South Africa triggered bearish sentiments.
The S&P 500 fell 2.27% to 4,594.62. The Dow Jones fell 2.53% to 34,899.34. The NASDAQ Composite was down 2.23% to 15,491.66, and the small-cap Russell 2000 fell 3.67% to 2,245.94.
The markets reacted to the fears as a new virus strain renewed lockdown memories. Oil prices and the long-term Treasury bond yields dropped over the development.
It was perhaps the worst Black Friday for the market since 1950.
Experts said the new variant is easily transmissible, and its high mutation rate might render the existing vaccines less effective.
The governments might be forced to clamp new travel restrictions if it spreads rapidly.
Must Know Global Cues before the ASX Opening Bell | Top World News to get you started
All 11 segments of the S&P 500 index remained in the negative territory. Energy, financials, and industrial stocks were the worst performers. Healthcare, consumer staples, and the utility segments were the least affected.
Airlines and oil stocks dropped sharply.
Delta Air Lines, Inc. (DAL) fell 8.34%, while the American Airlines Group Inc. (AAL) stock was down 8.79% on restriction concerns.
Pfizer, Inc. (PFE) stock surged 6.11%, while Moderna, Inc. (MRNA) jumped 20.57%.
Contrary to the market trend, Zoom Video Communications, Inc. (ZM) gained 5.72%.
In the Energy sector, APA Corporation (APA) declined 8.28%, Hess Corporation (HES) declined 6.875, and Exxon Mobil Corporation (XOM) moved down 3.51%. Chevron Corporation (CVX) and EOG Resources Inc. (EOG) declined 2.29% and 6.05%, respectively.
In the healthcare sector, Johnson and Johnson (JNJ) declined 0.65%, United Health Group Incorporated (UNH) fell 2.28%, and Eli Lilly and Company (LLY) was down 0.62%. Boston Scientific Corporation (BSX) and Merck & Company Inc. (MRK) were down 5.23% and 3.79%.
The global cryptocurrency market declined 8.22%. Bitcoin (BTC) fell 8.38% at 1:58 pm ET.
Also Read: Polestar 5 sedan reveals production timeline, up against Tesla, Lucid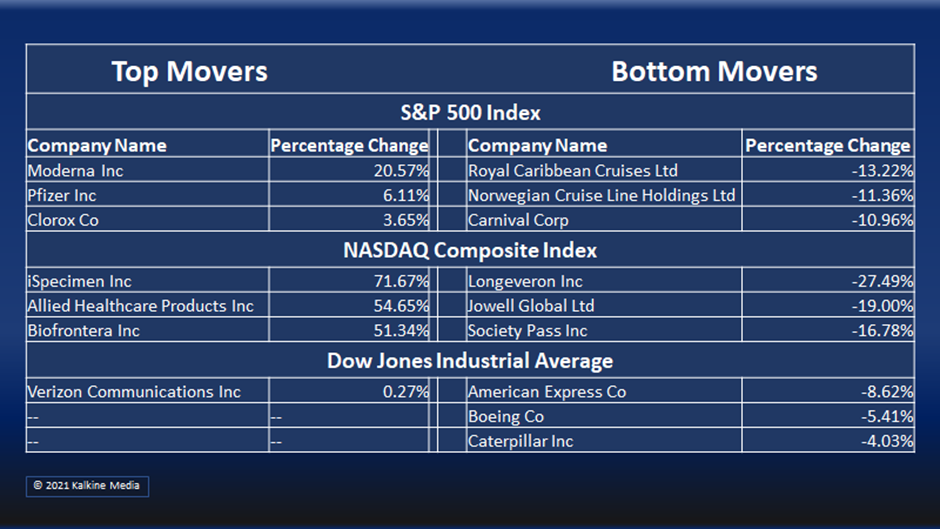 Also Read: HEX crypto (ERC20) gains 56% YTD: Should you explore this token?


Also Read: THORChain (RUNE) crypto price projection after 737% YTD bull run
Futures & Commodities
Gold futures increased 0.40% to US$1,791.40 per ounce. Silver futures declined by 1.49% to US$23.145 per ounce, while copper decreased 3.57% to US$4.2790.
Brent oil futures plunged by 11.32% to US$72.91 per barrel and WTI crude futures were down 13.04% to US$68.17.
Bond Market
The 30-year Treasury bond yields decreased 7.29% to 1.827, while the 10-year bond yields fell 9.88% to 1.482.
US Dollar Futures Index decreased by 0.82% to US$96.078.