All three major US indices closed the session higher on Thursday, April 28, after mega-cap technology stocks rallied, bolstered by first-quarter earnings.
The S&P 500 rose 2.47% to 4,287.50. The Dow Jones rose 1.85% to 33,916.46. The NASDAQ Composite gained by 3.06% to 12,871.53, and the small-cap Russell 2000 was up 1.80% to 1,917.94.
Investors took cues from the strong quarterly earnings in technology, healthcare, finance, and consumer staples segments in the recent sessions. The positive earnings lifted the market sentiment.
While the market saw brisk trading, the economic outlook remained shrouded with uncertainties. The latest commerce department data showed a widening US trade deficit as imports surged more than 11%, higher than its exports.
The US economy contracted at an annual rate of 1.4% in the first quarter amid supply chain issues and geopolitical turmoil. The commerce department said the US GDP growth in the first three months was the weakest since spring 2020.
The central bank plans another interest rate hike next month to curb the spiraling inflation. Traders will eagerly wait for the Fed updates as the rate increase could potentially hit the profit margins.
All 11 segments of the S&P 500 index stayed in the positive territory. The top movers included technology, energy, real estate, consumer cyclicals, basic materials, and financials.
Shares of drugmaker Eli Lilly and Company (LLY) jumped 4.27% after reporting better-than-expected first-quarter results. Its revenue grew 15% to US$7,8 billion, driven by robust sales of its obesity drug Tirzepatide.
Payment processing company Mastercard Incorporated (MA) stock gained 4.77% after its Q1 net income surged 43% to US$2.6 billion, helped by strong customer spending and cross-border travel.
Swvl Holdings Corp (SWVL) stock surged over 44% after it signed a definitive agreement to acquire 'smart' bus operator Zeelo for US$100 million. The Dubai-based mass transit company plans to expand its footprints in more than 20 countries.
In the technology sector, Apple Inc. (AAPL) gained 4.52%, Microsoft Corporation (MSFT) rose 2.26%, TSMC Ltd. (TSM) rose 5.5%. NVIDA Corporation (NVDA) and ASML Holding NV (ASML) advanced 7.42% and 6.0%, respectively.
In energy stocks, Exxon Mobil Corporation (XOM) gained 3.02%, Chevron Corporation (CVX) was up 3.55%, and Shell plc (SHEL) rose 2.17%.
In real estate stocks, Prologis, Inc. (PLD) advanced 3.18%, American Tower Corporation (AMT) fell 0.26%, and Crown Castle International Corp. (CCI) gained 1.76%.
In the consumer cyclical sector, Amazon.com, Inc (AMZN) gained 4.65%, Tesla Inc. fell 0.45%, and The Home Depot, Inc. (HD) 3.37%.
In the financial sector, Berkshire Hathaway Inc. (BRK-B) gained 0.51%, Visa Inc. (V) rose 3.06%, and JPMorgan Chase & Co. (JPM) gained 1.58%.
The global crypto market rose 1.82% to US$1.83 trillion. Bitcoin (BTC) rose 2.14% to US$39,951.43 in the last 24 hours to Thursday afternoon.
Also Read: 5 dividend-paying mid-cap stocks to watch: WLL, ZIM, SBLK, GOGL & ARCH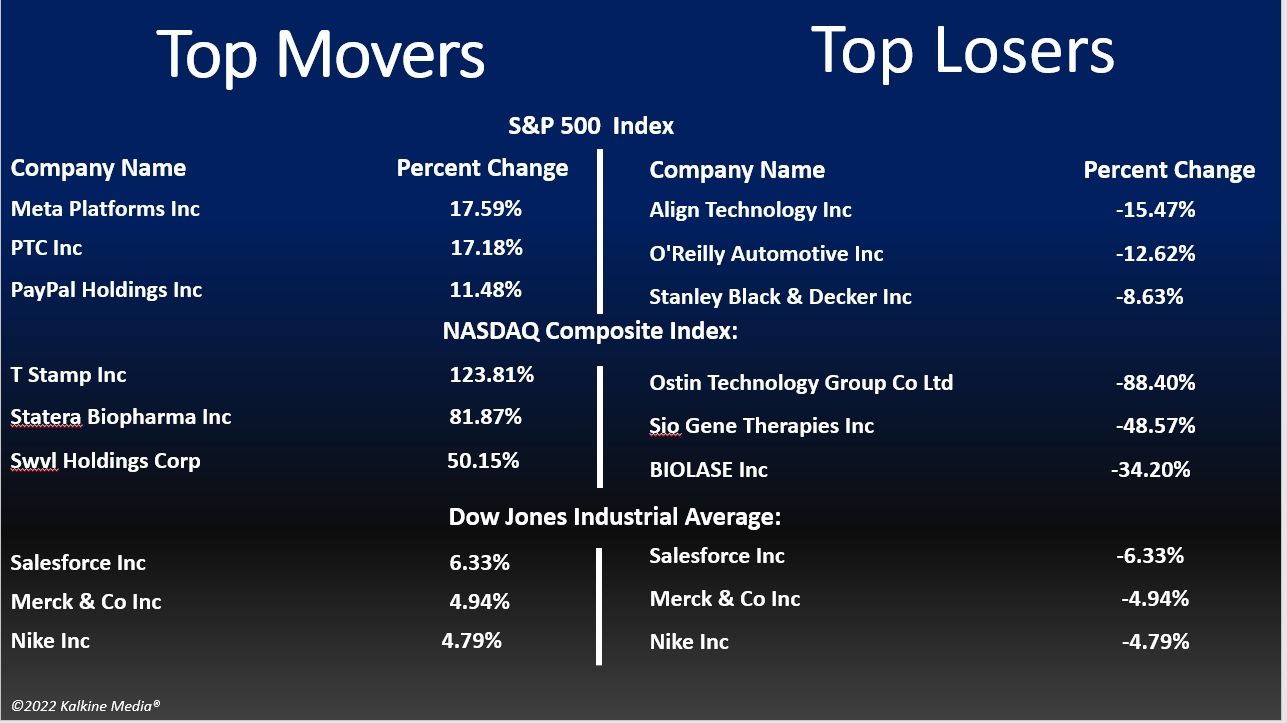 Also Read: NVDA to AMD: Will these 5 semiconductor stocks ride out supply crunch?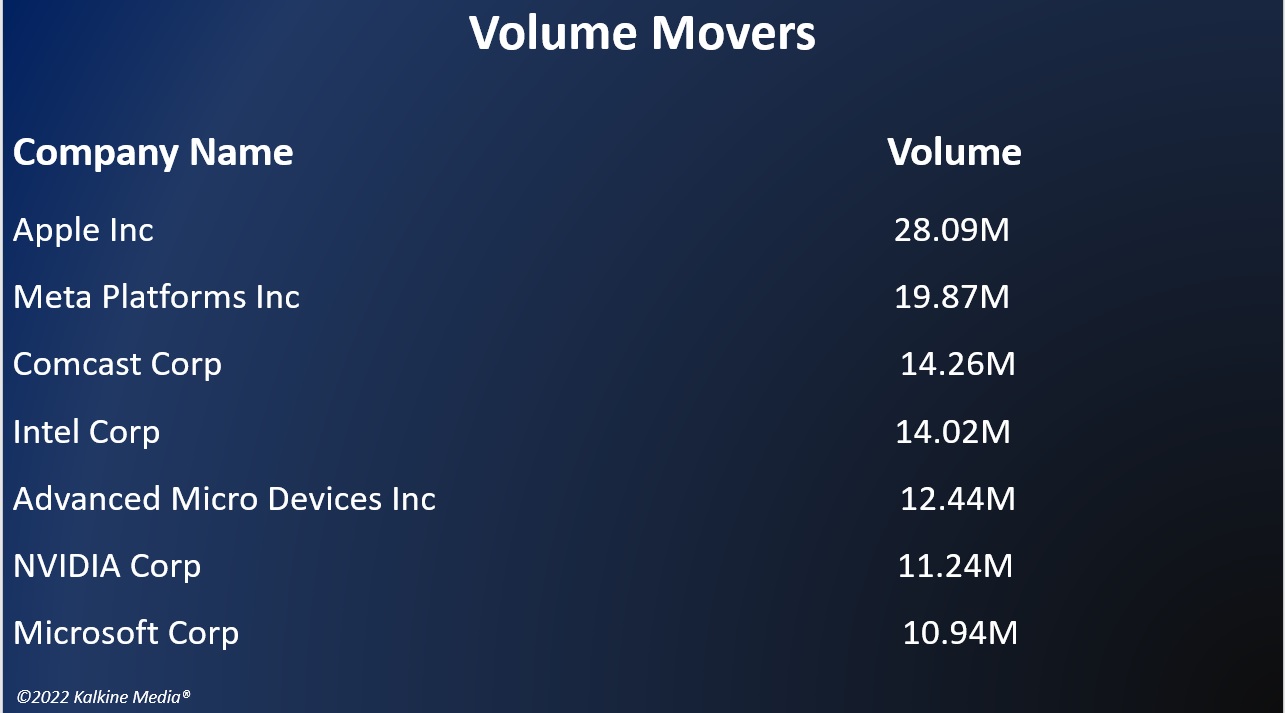 Also Read: Lucid Group Inc (LCID) bags 10-year Saudi contract for EVs
Futures & Commodities
Gold futures closed flat at US$1,895.08 per ounce. Silver rose 0.03% to US$23.221 per ounce, while copper fell 0.03% to US$ 4.4425.
Brent oil futures closed flat at US$ 107.22 per barrel and WTI crude fell 0.10% to US$ 105.02.
Bond Market
The 30-year Treasury bond yields fell 0.23% to 2.902, while the 10-year bond yields rose 0.50% to 2.832.
US Dollar Futures Index increased by 0.70% to US$103.680.