Blue-chip S&P 500 and tech-heavy Nasdaq Composite continued their gains on Monday, August 30, from the previous week's record closes after technology and consumer discretionary stocks rallied.
The S&P 500 was up 0.43% to 4,528.79. The Dow Jones fell 0.16% to 35,399.84. The NASDAQ Composite rose 0.90% to 15,265.89, and the small-cap Russell 2000 was down 0.49% to 2,265.99.
Fed chair Jerome Powell's remarks on the economy at the Jackson Hole conference on Friday bolstered investors' confidence. He stressed the current inflation is transitory, driven by the raw material shortage. He also said the bank would start withdrawing monetary stimulus later this year.
Meanwhile, markets were eagerly waiting for the Labor Department's jobs report this week.
Technology and consumer discretionary stocks were the top movers on the S&P 500 Monday. Economy-sensitive stocks declined amid coronavirus concerns. Financial and energy stocks were the bottom movers. Nine of the 11 sectors of the index stayed in the green.
Stocks of PayPal Holdings, Inc. (PYPL) surged 3.91% after media reports claimed that it might provide a stock trading option on its platform to customers. On the other hand, shares of Robinhood Markets, Inc. (HOOD) declined 4.05% after the PayPal news.
What made global markets hit record highs?
Zoom Video Communications Inc (ZM) stock rose 1.31% ahead of its earnings report after the closing bell on Monday. Cloudera Inc. (CLDR) stock traded flat in intraday trading despite beating analysts' expectations in Q2 of FY 2022. Its total revenue rose 10% YoY to YS$236.1 million in the quarter.
The gaming company NetEase (NTES) stock dropped 1.48% after the Chinese regulators announced that children below 16 years can spend only an hour on online games on weekends and holidays.
In the technology sector, Apple Inc. (AAPL) rose 3.09%, Microsoft Corporation (MSFT) increased by 1.16%, and Adobe Inc. (ADBE) ticked up 1.20%. Shopify Inc. (SHOP) and Facebook Inc. (FB) advanced 1.24% and 2.36%, respectively.
In the financial sector, JPMorgan Chase & Co. (JPM) declined 1.37%, Visa Inc. (V) decreased by 0.55%, and Bank of America Corporation (BAC) plunged 1.62%. Wells Fargo & Company (WFC) and Morgan Stanley (MS) tumbled 2.42% and 1.40%, respectively.
In automobile stocks, Tesla Inc. (TSLA) rose 2.53%, Lightning eMotors, Inc. (ZEV) surged 15.60%, while Ford Motor Company (F) dropped 1.84%. General Motors Company (GM) and Li Auto Inc. (LI) fell 1.23% and 1.50%, respectively.
Also Read: Globalstar (GSAT) stocks go skyward after Apple tie-up rumors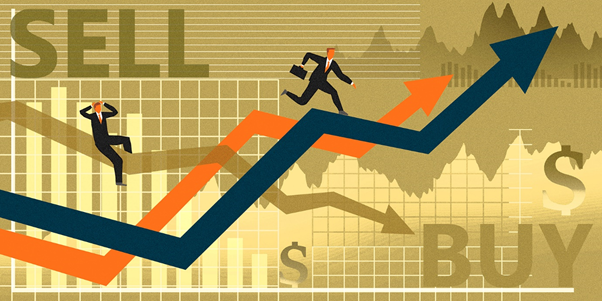 Copyright ©Kalkine Media 2021
Also Read: Explore five semiconductor stocks powering the US electronics industry
Top Gainers
Top performers on S&P 500 included PayPal Holdings Inc (3.64%), ETSY Inc (3.47%), Apple Inc (3.04%), HP Inc (2.84%). On NASDAQ, top performers were Affirm Holdings Inc (46.67%), Katapult Holdings Inc (40.61%), Support.com Inc (38.21%), Vinco Ventures Inc (33.21%). On Dow Jones, Apple Inc (3.04%), Microsoft Corp (1.29%), Home Depot Inc (1.15%), Coca-Cola Co (0.95%) were the leaders.
Top Losers
Top laggards on S&P 500 included Capital One Financial Corp (-6.04%), Synchrony Financial (-5.00%), Discover Financial Services (-4.67%), Delta Air Lines Inc (-3.88%). On NASDAQ, Acasti Pharma Inc (-87.97%), Nexters Inc (-19.91%), Astra Space Inc (-18.68%), ADTRAN Inc (-16.52%). On Dow Jones, American Express Co (-2.60%), Boeing Co (-1.84%), Travelers Companies Inc (-1.63%), JPMorgan Chase & Co (-1.60%) were the laggards.
Volume Movers
Top volume movers were Apple Inc (18.00M), Bank of America Corp (10.38M), Advanced Micro Devices Inc (9.12M), AT&T Inc (7.27M), Vinco Ventures Inc (53.38M), Support.com Inc (14.71M), Meta Materials Inc (11.28M), Sphere 3D Corp (9.82M), Katapult Holdings Inc (9.39M), Aterian Inc (8.98M), Naked Brand Group Ltd (8.73M).
Also Read: How a rise in TSMC chip price could affect the electronics industry?
Futures & Commodities
Gold futures were down 0.38% to US$1,812.65 per ounce. Silver decreased by 0.15% to US$24.073 per ounce, while copper rose 1.05% to US$4.3777.
Brent oil futures increased by 0.64% to US$72.16 per barrel and WTI crude was up 0.55% to US$69.12.
Bond Market
The 30-year Treasury bond yields was down 1.07% to 1.898, while the 10-year bond yields fell 2.30% to 1.282.
US Dollar Futures Index increased by 0.02% to US$92.710.