Dow Jones suffered its worst single-day loss since 2020 as Wall Street's main indices drifted lower on Wednesday, May 18, following weak quarterly earnings of companies like Target Corporation (TGT).
The S&P 500 was down 4.04% to 3,923.68. The Dow Jones fell 3.57% to 31,490.07. The NASDAQ Composite declined 4.73% to 11,418.15, and the small-cap Russell 2000 was down 3.56% to 1,774.85.
Shares of TGT were on track for their worst single-day loss since Black Monday in 1987 after they fell nearly 26% in intraday trading. The stock rout comes after its first-quarter profits slumped by half, and it warned investors of a bigger hit due to rising fuel and freight costs.
Rate sensitive mega-cap growth stocks also fell sharply, dragging down the S&P 500 Index and tech-heavy Nasdaq Composite.
Fed Chair Jerome Powell pledged on Wednesday that the bank would raise the interest rate as high as required to curb inflation. Traders now anticipate at least two 50-basis point hikes in June and July.
Meanwhile, the weak retail earnings stoked concerns about a global economic slowdown. The Russia-Ukraine crisis and fresh Covid-19 lockdowns in China had already rattled the investors.
Overseas, the UK's annual inflation climbed to a four-decade high of 9% in April on higher energy costs. Japan's economy shrunk in the first quarter as covid restrictions stalled consumer spending.
All the 11 sectors of the S&P 500 index closed in the red on Wednesday. The consumer discretionary and consumer staples sectors were the worst hit.
Shares of the retail company Lowe's Companies, Inc. (LOW) plummeted 5% after its quarterly sales missed the Wall Street estimates.
The TJX Companies, Inc. (TJX) stock soared 6.32% after reporting better-than-expected quarterly earnings.
In the consumer staples sector, The Procter & Gamble Company (PG) decreased by 6.23%, Walmart Inc. (WMT) fell 6.79%, and The Coca-Cola Company (KO) declined 6.96%. PepsiCo, Inc. (PEP) and Costco Wholesale Corporation (COST) plummeted 6.20% and 12.45%, respectively.
In consumer discretionary stocks, Amazon.com, Inc. (AMZN) plunged 7.16%, Tesla, Inc. (TSLA) dropped by 6.80%, and The Home Depot, Inc. (HD) plummeted 5.24%. Alibaba Group Holding Limited (BABA) and Toyota Motor Corporation (TM) slumped 5.09% and 2.81%, respectively.
In the technology sector, Apple Inc. (AAPL) slipped 5.64%, Microsoft Corporation (MSFT) lost 4.55%, and NVIDIA Corporation (NVDA) fell 6.82%. ASML Holding N.V. (ASML) and Broadcom Inc. (AVGO) ticked down 5.93% and 6.18%, respectively.
In the crypto space, Bitcoin (BTC) and Ethereum (ETH) decreased by 3.57% and 4.55%, respectively. The global crypto market cap slumped 3.71% to US$1.25 trillion at 4:36 pm ET on May 18.
Also Read: Top S&P 500 industrial stocks to explore: DE, RTX, LMT, WM & RSG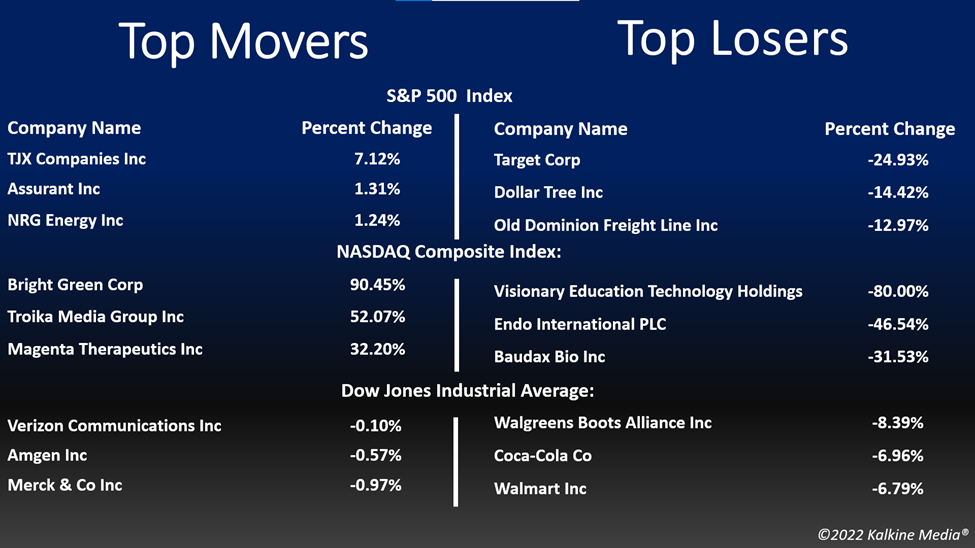 Also Read: GOOGL, FB, & AMD among top 5 growth stocks to explore
Also Read: What is Grove (GVR) token? know price and performance
Futures & Commodities
Gold futures were down 0.21% to US$1,814.99 per ounce. Silver decreased by 1.45% to US$21.433 per ounce, while copper fell 1.99% to US$4.1547.
Brent oil futures decreased by 2.33% to US$109.32 per barrel and WTI crude was down 2.53% to US$106.86.
Also Read: Why is Kyber Network Crystal v2 (KNC) crypto up over 17%?
Bond Market
The 30-year Treasury bond yields were down 3.06% to 3.067, while the 10-year bond yields fell 2.77% to 2.888.
US Dollar Futures Index increased by 0.51% to US$103.930.