All major U.S. stock indexes closed higher on Thursday, May 6, with Dow Jones climbing to a new record high as all sectors rose amid a brightening economy. The blue-chip index gained 318 points while S&P 500 and tech-savvy NASDAQ added 34 points and 51 points, respectively.
The Dow Jones rose 0.93 percent to 34,548.53. The S&P 500 gained 0.82 percent to 4,201.62. The NASDAQ Composite Index was up 0.37 percent to 13,632.84. The small-cap Russell 2000 closed almost flat at 2,241.42.
Markets were buoyed by a positive labor data which showed that unemployment insurance claims during the week ended May 1 decreased by 92,000 to 498,000 from the previous week's 590,000. The four-week moving average also declined to 560,000. This week's numbers represent the lowest level since March 14, 2020, the Labor Department said.
Shares of PayPal and Wayfair surged after the companies reported strong first-quarter earnings, while Cognizant, Fastly and Etsy stocks plunged on Thursday.
Pharmaceutical stocks including Pfizer and Moderna declined after White House supported the waiver of intellectual property rights for coronavirus vaccines.
Meanwhile, the Labor Department is scheduled to publish the jobs report for April on Friday.
Image Source: Copyright © 2021 Kalkine Media LLC
Top Gainers
Top performers on S&P 500 were Iron Mountain Inc (7.54%), Kellogg Co (7.07%), Lumen Technologies Inc (5.17%) and Molson Coors Beverage Co (4.39%).
SemiLEDs Corp (85.82%), Liquidity Services Inc (37.69%), Stealth BioTherapeutics Corp (35.00%) and Avid Technology Inc (27.08%) were top performers on NASDAQ.
On Dow Jones, Cisco Systems Inc (2.56%), Goldman Sachs Group Inc (2.33%), International Business Machines Corp (2.20%) and JPMorgan Chase & Co (2.01%) gained the most.
Top Losers
Top laggards on S&P 500 were ETSY Inc (14.57%), Albemarle Corp (8.56%), Penn National Gaming Inc (8.18%) and Cognizant Technology Solutions Corp (7.78%),
Purecycle Technologies Inc (39.69%), Yellow Corp (31.90%) and Blue Hat Interactive Entertainment Technology (8.42%) and James River Group Holdings Ltd 26.39%) were among the top losers on NASDAQ.
On Dow Jones, Caterpillar Inc (0.34%), Mcdonald's Corp (0.08%) and Walgreens Boots Alliance Inc (0.02%) were laggards.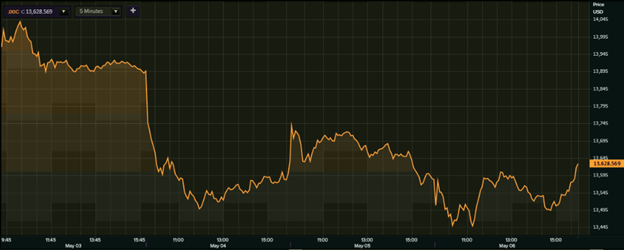 Image Source: Refinitiv, NASDAQ Composite Index this week.
Volume Movers
Top volume movers were SemiLEDs Corp (26.28M), Stealth BioTherapeutics Corp (20.61M), Sundial Growers Inc (17.67M), Apple Inc 17.45M), General Electric Co (12.31M), Pfizer Inc (10.97M), Microsoft Corp (10.52M) and Ford Motor Co (10.45M),.
Futures & Commodities
Gold futures rose 1.75 percent to US$ 1,815.60 per ounce on Thursday. Silver were up 3.43 percent to US$27.433 per ounce, while copper grew 1.91 percent to US$ 4.6102.
Brent oil futures increased slightly 0.03 percent to US$ 68.25 per barrel and WTI crude decreased 1.20 percent to US$ 64.84.
Bond Market
The 30-year Treasury bond yields were down 0.75 percent on Thursday to 2.241 while the 10-year bond yields declined 0.91 percent to 1.570.
US Dollar Futures Index was down 0.46 percent to US$ 90.877 on May 6.