Highlights

Quant, a technology provider, aims to connect blockchain networks globally.
Headquartered in London, Quant provides enterprise-grade interoperability and scalability and helps securely exchange digital assets and data across networks.
The project is built on Overledger Network.
The Quant (QNT) crypto rose 2.67% to US$96.85 at 11:20 am ET on Monday. The project was launched in 2018 to connect blockchains and networks globally.
Quant (QNT), built on a distributed ledger technology operating system, was trending after it announced plans to launch a new website without revealing the date.
What Is Quant (QNT)?
Quant, a technology provider, aims to connect the blockchain networks globally without diluting the interoperability and efficiency of the network. It intends to solve the interoperability problem with the help of the blockchain operating system.
Headquartered in London, Quant delivers enterprise-grade interoperability to securely exchange digital assets and information across networks, platforms, and protocols at scale.
Its Overledger distributed ledger technology (DLT) gateway connects and complements the existing DLTs and systems to boost the innovation and growth of various enterprises, including private and public entities and regulatory bodies.


Quant's partners include Nvidia, Oracle, Hyperledger, Haw Hamberg, Global Legal Blockchain Consortium, etc. Quant is considered the first OS built for the blockchains.
Its Overledger DLT gateway is based on Kubernetes technology, designed originally by Google. It provides a scalable system for automated application deployment and management.
Also Read: What is Dotmoovs (MOOV) crypto that zoomed over 1000% in 30 days?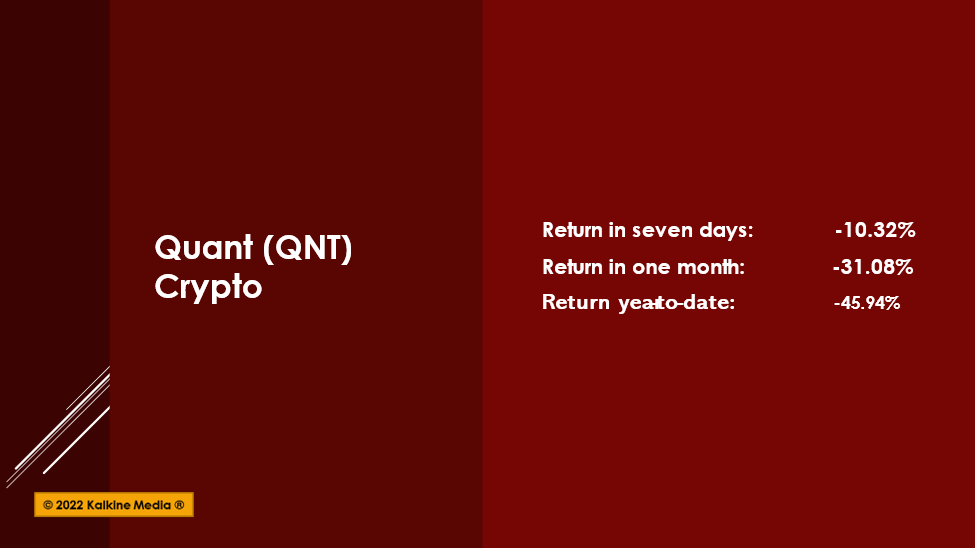 Data Source: coinmarketcap.com
Also Read: Why The Graph (GRT) crypto rising?
How DLTs work?
Although DLTs are used for procurement, logistics, payments, provenance, etc., they cannot communicate with each other. So, its Overledger offers DLT integration with a single API, which can be used by all the DLTs simultaneously, making application development easy and faster.
Quant calls Overledger its backbone on which the future of the digital economy will be built. It also supports Central Bank Digital Currency (CBDC). Quant founder and CEO Gilbert Verdian said, "CBDCs offer the potential to build in fraud-prevention by embedding rules and policies around the type and size of transactions, counterparties, and jurisdictions."
Also Read: Why is metaverse-based Plutonians (PLD) crypto rallying?
QNY token:
The token has a market capitalization of US$1.17 billion. Its total supply is 14.6 million, and its circulating supply is 12.07 million. The crypto exchanges that offer QNT trade include Binance, KuCoin, Biconomy, Bybit, and BingX.
Also Read: What is Secret (SCRT) crypto and why is it drawing attention?
Bottom line:
Blockchain technology or distributed ledger technology can be used in multiple contexts. Developers have found its use cases in almost all industries. However, interoperability among various projects has been a hurdle. But Quant has tried to solve the problem through its Overledger OS that can connect different blockchains.
Risk Disclosure: Trading in cryptocurrencies involves high risks including the risk of losing some, or all, of your investment amount, and may not be suitable for all investors. Prices of cryptocurrencies are extremely volatile and may be affected by external factors such as financial, regulatory, or political events. The laws that apply to crypto products (and how a particular crypto product is regulated) may change. Before deciding to trade in financial instrument or cryptocurrencies you should be fully informed of the risks and costs associated with trading in the financial markets, carefully consider your investment objectives, level of experience, and risk appetite, and seek professional advice where needed. Kalkine Media cannot and does not represent or guarantee that any of the information/data available here is accurate, reliable, current, complete or appropriate for your needs. Kalkine Media will not accept liability for any loss or damage as a result of your trading or your reliance on the information shared on this website.