Highlights

Numeraire (NMR) is an Ethereum based platform founded by Richard Craib in 2015.
The platform aims to decentralize data science where developers and data scientists can create machine-learning models to predict stock market moves and earn rewards.
Numeraire claims it is powered by 4,515 staked AI models, with a staking value of US$13.96 million.
The global crypto market was down 3.95% to US$1.52 trillion at 4:47 am ET on Monday. Bitcoin (BTC) fell 3.54% to US$33,454.97, and Ethereum (ET) declined 4.55% to US$2,447.31.
Numerai or the Numeraire (NMR) token was also down as part of the broader market decline, slipping by 4.69% to US$18.60 at 4:44 am ET on Monday.
The token ranks 306th based on its market capitalization, as per coinmarketcap.


What Is Numeraire (NMR)?
Numerai is an Ethereum based platform founded by Richard Craib in San Fransisco in 2015.
The platform aims to decentralize the data science field where developers can experiment and create more reliable machine-learning models and earn rewards in cryptos. The platform offers cryptocurrency staking to provide incentives to data scientists. It claims to be the first hedge fund to launch a cryptocurrency and conducts weekly data science tournaments globally.
Also Read: Why The Graph (GRT) crypto rising?
The machine learning models are built at these tournaments using abstract financial data to predict stock market moves. The developers are rewarded based on their performance. They need to submit the best machine learning models to power Numerai's global equity hedge fund. The platform does not trade in cryptos, but it has been created as an institutional-grade market-neutral hedge fund using crypto incentives.
Numerai's founder Craib was named in the '30 under 30' list of Forbes in 2017. He is known for his new approach to hedge fund management, mainly his reliance on AI for stock price prediction.
Also Read: What is WAX (WAXP) blockchain and how is it eco-friendly?
The platform is backed by Peter Diamandis, Union Square Ventures, and Renaissance Technologies cofounder Howard Morgan. The NMR token is used to reward tournament participants - data scientists whose model performs well in the tournament. The token value increases as the number of participants grow.
The platform relies on data and predictions produced by tournament participants, unlike traditional hedge funds in the stock market. Numerai provides users with quality hedge-fund data for free to build their machine learning models, which allow Numerai to use and actively participate in the stock market trading depending on the results shown by these models.
Also Read: What is Xana (XETA) crypto metaverse project?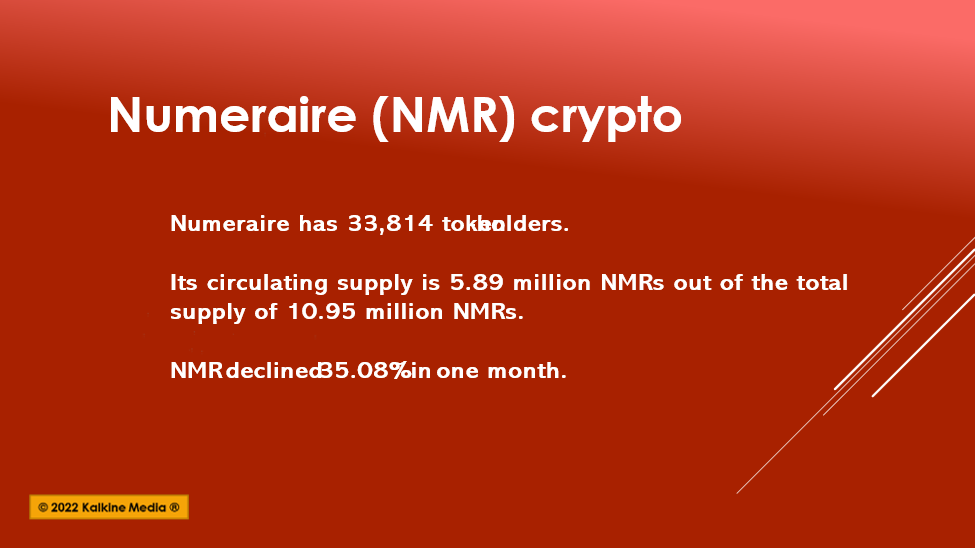 Data Source: coinmarketcap.com
Also Read: Bitgert (BRISE) crypto rally continues, returns 290% gains YTD
NMR Token:
NMR is the sole utility token for staking on the models in Numerai tournaments. If the platform selects a model, the developer or the data scientist gets a fractional payout on their stake.
The NMR token has a market capitalization of US$109.5 million. Its circulating supply is 5.89 million NMR out of the total supply of 10.95 million.
The token can be traded on Binance, OKX, DigiFinex, MEXC, BingX, etc.
Also Read: Is TRON (TRX) crypto rising on USDD news?
Bottom line:
Numerai is powered by 4,515 staked AI models, with a staking value of US$13.96 million. Crypto assets are highly volatile, and investors must exercise caution before investing in them.
Risk Disclosure: Trading in cryptocurrencies involves high risks including the risk of losing some, or all, of your investment amount, and may not be suitable for all investors. Prices of cryptocurrencies are extremely volatile and may be affected by external factors such as financial, regulatory, or political events. The laws that apply to crypto products (and how a particular crypto product is regulated) may change. Before deciding to trade in financial instrument or cryptocurrencies you should be fully informed of the risks and costs associated with trading in the financial markets, carefully consider your investment objectives, level of experience, and risk appetite, and seek professional advice where needed. Kalkine Media cannot and does not represent or guarantee that any of the information/data available here is accurate, reliable, current, complete or appropriate for your needs. Kalkine Media will not accept liability for any loss or damage as a result of your trading or your reliance on the information shared on this website.