Highlights

Nano (XNO) is a cryptocurrency that provides secure, instant payments without fees.
In 2021, the company changed its ticker to XNO and the sign to Ӿ.
Its current market capitalization is US$280 million.
Nano (XNO) cryptocurrency's one-day volume surged 1,174.37 per cent over the previous day as the virtual currency appeared to gain investors' attention.
The reason for the quick surge could be attributable to the overall market sentiments where the global crypto market rose 2.79% to US$1.82 trillion in the morning hours on Thursday, March 17.
Another reason could be the announcement by Fiatom.io, a crypto exchange, where anyone can earn US$50 in XNO by just commenting, tweeting, and retweeting Fiatom's latest article on its website.
What is Nano?
Nano is a cryptocurrency aimed to provide secure, instant payments without fees to eliminate the legacy inefficiencies of the other cryptocurrencies.
Unlike other platforms that use combined proof-of-work of mining networks to achieve consensus, Nano uses Open Representative Voting (ORV) to confirm blocks of transactions securely. This ORV system is energy efficient compared to the proof-of-work (POW) system used by other cryptocurrencies.
Also Read: Why is ECOMI (OMI) crypto gaining attention?
Nano has gone through a lot of changes since its launch. Raiblocks (XRB) was a cryptocurrency project that started in 2014 and later changed its name to Nano in January 2018. There was no technical change except the name, which the company founders thought, was more suitable to represent their vision.
In 2021, the company changed its ticker to XNO and the sign to Ӿ. The only purpose of creating this coin was to perform the function of a means of payment.
The Nano network does not provide support for other functions such as smart contracts and decentralized applications. Notably, Bitcoin also does not support any other function except a means of payment as an alternative to fiat money.
Also Read: Why is ShibaDoge (SHIBDOGE) rising today?
Most Nano transactions are finalized within less than a second, confirming its claim of providing the speedy transaction. This can be understood by the average confirmation time, which is approximately 10 minutes for a BTC payment. However, the transaction times varies depending on hash rate, total network activity etc.
For Nano, the better speed is due to ledger technology, directed acyclic graph (DAG), Nano is built around.
Also Read: Why is PancakeSwap (CAKE) crypto rising?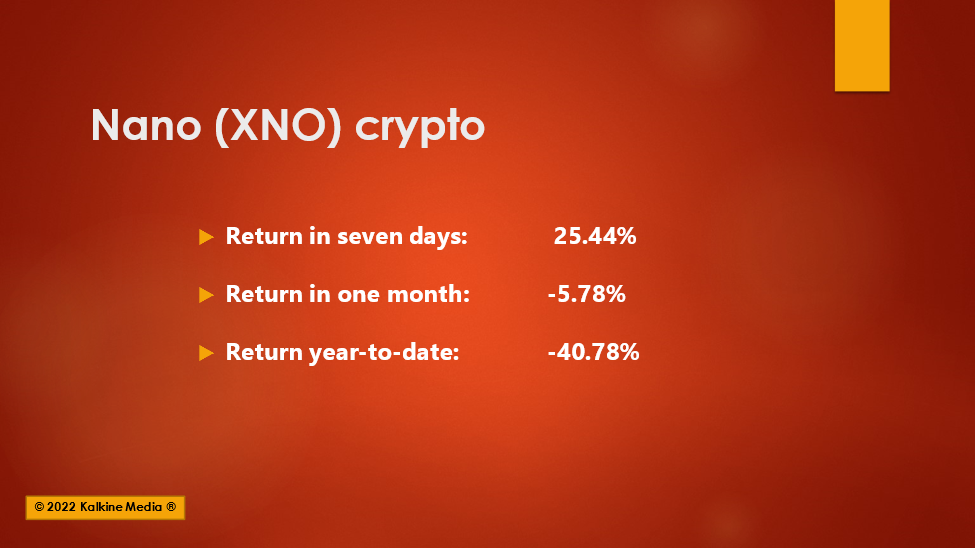 Data Source: coinmarketcap.com
Also Read: Why is The Sandbox (SAND) crypto gaining attention?
Price and performance:
Nano (XNO) price went up 23.77% to US$2.12 at 4:13 am ET, Thursday.
Its current market capitalization is US$280 million. The circulating supply is 133.24 million XNO, and the total supply is 133,248,297 XNOs.
Binance, Huobi Global, OKX, Mandala Exchange, DigiFinex, and Fiatom.io are the crypto exchanges to buy, sell, and trade the cryptocurrency.
Also Read: What is Stacks (STX) crypto and why is it rising?
Bottom line
Nano claims to provide high output, unlimited opportunities for scalability with its innovative blockchain structure and energy saving by not using high-performance equipment for its network protocol operations. All this makes Nano convenient to use in everyday life.
The Crypto market is volatile and risky amid various scams that have happened lately. Thus, the investors must exercise due diligence before leaping into the crypto market.
Risk Disclosure: Trading in cryptocurrencies involves high risks including the risk of losing some, or all, of your investment amount, and may not be suitable for all investors. Prices of cryptocurrencies are extremely volatile and may be affected by external factors such as financial, regulatory, or political events. The laws that apply to crypto products (and how a particular crypto product is regulated) may change. Before deciding to trade in financial instrument or cryptocurrencies you should be fully informed of the risks and costs associated with trading in the financial markets, carefully consider your investment objectives, level of experience, and risk appetite, and seek professional advice where needed. Kalkine Media cannot and does not represent or guarantee that any of the information/data available here is accurate, reliable, current, complete or appropriate for your needs. Kalkine Media will not accept liability for any loss or damage as a result of your trading or your reliance on the information shared on this website.