Highlights

ECOMI (OMI) offers a one-stop shop for digital collectibles and a mobile-first NFT platform, VeVe, lined with vibrant pop culture.
ECOMI is a Singapore-registered company with offices in Auckland, Taipei, and Shanghai.
OMI is the native token of the ECOMI ecosystem.
The ECOMI (OMI) token surged 8.77% to US$0.002667 at 8:01 am ET on Tuesday after it announced the full integration of the ERC-20 OMI token on the OKX crypto exchange.
Although the token is already traded on OKX, it will now be available for deposits and withdrawals. It can also be traded on Gate.io, BitForex, and BitMax. ECOMI, which claims to be the one-stop-shop for digital collectibles, gained traction on Tuesday amid a market uptrend.
The crypto market rose 4.37% to US$1.89 trillion in the trailing 24 hours to Tuesday morning.


What is ECOMI, and what does it do?
ECOMI aims to lead the way in the emerging digital collectibles space. ECOMI is a Singapore-registered company with offices in Auckland, Taipei, and Shanghai. According to the company, it is driven by a desire to provide disruptive blockchain solutions.
ECOMI offers a one-stop-shop for digital collectibles. It also brings pop culture and entertainment through its mobile-first NFT platform, VeVe, and provides a hardware wallet. The company considers digital collectibles as a new asset class to generate revenue.
Also Read: Is Algorand (ALGO) crypto darkening Times Square for Earth Day?
ECOMI's NFT marketplace app is available on Google Play and Apple stores. According to ECOMI, it is one of the top-grossing entertainment apps.
It also claims that one can find licensed premium digital collectibles on its app-based VeVe marketplace. Users can obtain rare digital collectibles or customize and showcase them in virtual showrooms. They can also trade these collectibles with other VeVe users. ECOMI has around 2.6 million active users. Besides, it sold over four million NFTs, as per coinmarketcap.
Also Read: Why is Polygon (MATIC) rising? Does it have a Robinhood connection?
Its mobile app offers premium collectibles from brands such as Cartoon Network, DC Comics and Warner Bros, Back to the Future, Ghostbusters, etc.
ECOMI's secure wallet offers users digital assets security by providing an ultra-portable credit card-sized cold storage hardware wallet. It keeps digital currencies safe from hacking and theft.
Also Read: What is Phoenix (FIRE) crypto?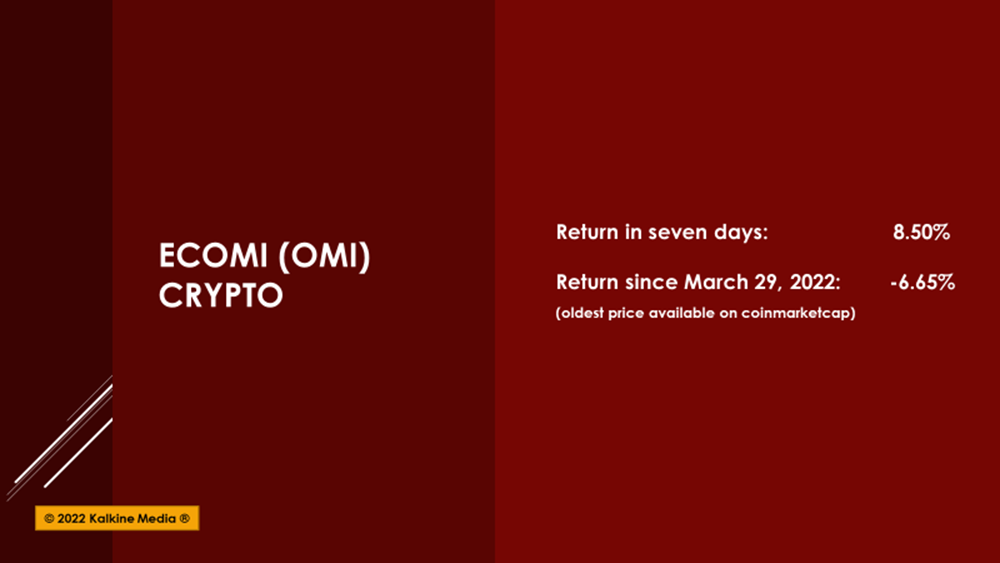 Data Source: coinmarketcap.com
Also Read: Crypto firm Beanstalk (BEAN) seeks FBI help after hacker loots US$80 Mn
Token details:
OMI is the native token of the ECOMI ecosystem. It is used for various utilities.
Currently, ECOMI has 8,574 OMI token holders, and its market capitalization is US$705 million. The token has a self-reported circulating supply of 264.38 billion and a total supply of 310.88 billion. OMI's 24-hour volume rose 1.71% to US$92,000.
Also Read: What is Pacman Frog (PAC) crypto and why is it trending?
Bottom line:
Gaming, streaming, and other app-based products are gaining ground in the cryptocurrency ecosystem. The pop culture and the digital collectibles have made the industry a lot more interesting.
Risk Disclosure: Trading in cryptocurrencies involves high risks including the risk of losing some, or all, of your investment amount, and may not be suitable for all investors. Prices of cryptocurrencies are extremely volatile and may be affected by external factors such as financial, regulatory, or political events. The laws that apply to crypto products (and how a particular crypto product is regulated) may change. Before deciding to trade in financial instrument or cryptocurrencies you should be fully informed of the risks and costs associated with trading in the financial markets, carefully consider your investment objectives, level of experience, and risk appetite, and seek professional advice where needed. Kalkine Media cannot and does not represent or guarantee that any of the information/data available here is accurate, reliable, current, complete or appropriate for your needs. Kalkine Media will not accept liability for any loss or damage as a result of your trading or your reliance on the information shared on this website.