Highlights


The Decentraland (MANA) crypto returned over 1311% gains in the past 12 months.


The token's total supply is 2.19 billion.


The MANA crypto logged an all-time high of US$5.90 in November 2021.
The trading volume of the Decentraland (MANA) crypto surged over 57%, while its price gained around 1% in the last 24 hours to Thursday morning.
What is Decentraland (MANA)?
Decentraland is a virtual reality platform powered by the Ethereum blockchain. It allows users to make, experience, and monetize content and apps. Users buy land parcels in a virtual world, which they develop and monetize. Decentraland was launched in 2017. It floated an initial coin offering (ICO) in the same year, raising US$24 million.
Also Read: Credo Technology (CREDO) prices IPO, set to debut today
The close beta of its virtual world was launched in 2019 and made public in February 2020.
What is Decentraland crypto? All you need to know
Decentraland users have created various interactive games, sprawling 3D scenes, and other interactive experiences on their land parcels since its launch.
Decentraland uses two tokens: MANA and LAND. The former is an ERC-20 token, which is burned to create the non-fungible ERC-721 LAND token. In addition, the MANA token can be used to make payment for various avatars, wearables, names, etc., on the Decentraland marketplace.
Also Read: Top five cloud computing stocks to explore in 2022
Crypto enthusiasts Ariel Meilich and Esteban Ordano had co-founded Decentraland. Currently, they serve as advisors to the company.
The total supply of the MANA token is 2.19 billion, and its circulating supply is 1.82 billion. It is available on exchanges like Binance, OKEx, etc., and can be traded against Bitcoin (BTC) and Ethereum (ETH). It can also be purchased with various fiat currencies like KRW, USD, etc.
Also Read: Why DIA (DIA) token climbed over 53% today?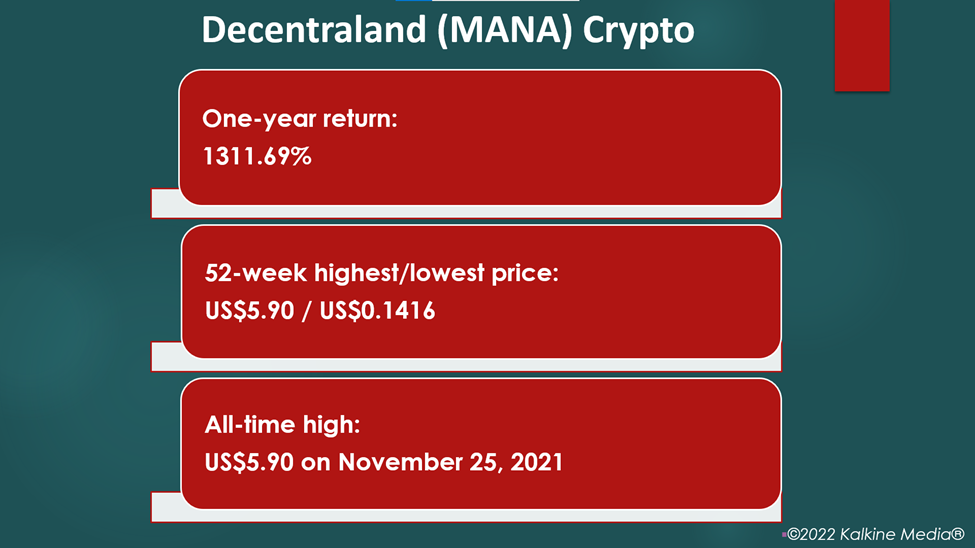 Source: *Data provided by CoinMarketCap.com
Also Read: BitTorrent surges 9% as exchanges start accepting BTT token migration
MANA token: Price and Performance
The MANA token was priced at US$2.25 at 11:03 am ET on January 27, up 1.22%. Its trading volume in the last 24 hours to Thursday morning was US$898.77 million, an increase of 57.70%.
It has a market cap of US$4.10 billion, and its fully diluted market cap is US$5.00 billion. The MANA token saw the highest price of US$5.90 and the lowest price of US$0.1416 in the last 52 weeks. It reached its all-time high of US$5.90 on November 25, 2021.
Also Read: Osmosis (OSMO) among top 10 chains by TVL - Know more
Bottomline
The MANA token returned 1311.69% gains over the past 12 months. However, investors should carefully evaluate the market before investing in digital assets.