Highlights:

Retirees, workers with disabilities, etc., could claim social security benefits.
The divorced spouse could also receive the benefits based on their former partners' records.
The Social Security program was incepted in August 1935.
Social Security is among the popular federal programs that many retirees and Americans look for. In simple words, it is an insurance program, and its official name is Old Age, Survivors, and Disability Insurance (OASDI).
The program is run and managed by a Federal Agency named Social Security Administration or SSA. Although it is mainly popular for the benefit of retirees, it also offers several other benefits to the citizens.
Over 70.4 million Americans were collecting Social Security benefits as of September this year. Let's take a look at the details of the Social Security program, its types, and its required eligibility.
Social Security benefits:
Being one of the largest government programs, it has certain rules and criteria that the citizens should follow. As the full form of OASDI suggests, this program also provides survivor benefits and workers with disability.
The workers put their payments into the program through their payroll tax, and the self-employed people could pay into the program through Social security taxes while filing their federal tax returns.
The workers could have four credits every year. For instance, this year, for every US$ 1,410 earned, the worker could earn one credit, or until US$ 6,050 for four credits has been granted.
This amount goes directly into the OASDI for retirees and workers with disabilities. A board of trustees looks after the financial operations and other key factors of the Social Security funds.
However, as said earlier, certain regulations and requirements exist to enjoy the benefits. Let's look at three key points the workers should focus on.
Divorced Spouse benefits:
The benefits are given to the people based on their former partner's records, but certain requirements exist. One must be married for 10 years or longer to receive the benefits. In addition, if they have remarried, they couldn't receive the benefits unless their former spouse also remarries.
Children, under age 18, of retirees can also claim benefits. However, if the children have any disability or are still a student, they can receive the benefits for a longer term.
The spouse caring for the retiree's child can claim the benefits until the child ages 16.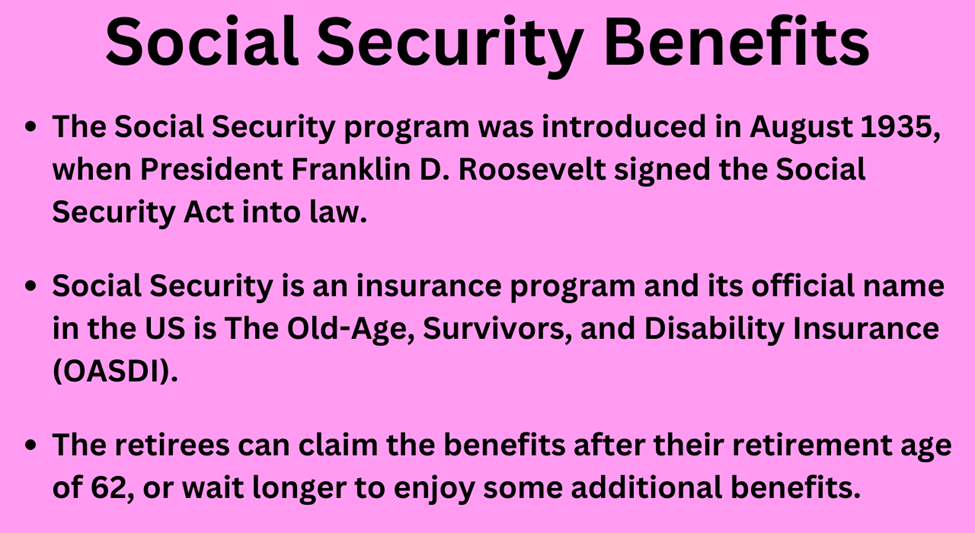 Source: ©Kalkine Media®; © Canva via Canva.com
Failing Social Security Earnings Test:
People who want to claim the benefits early or still working must attend and pass an earnings test to receive the benefits. However, no such tests exist for those who have reached their retirement age (62).
In addition, retirees have to at least pay into the Social Security fund for 10 years to claim the benefits at their retirement age. Notably, certain additional benefits are given to those who wait for a longer time, but after 70, no additional benefits are given.
Geographical factors:
Although Social Security benefits are given to those who live abroad during their retirement, there are certain regulations from the Social Security department and the country where you live. So, one should meet all the strict rules to claim that.
For instance, Social Security benefits are forbidden in certain countries like Azerbaijan, Belarus, Uzbekistan, Moldova, etc, but some exceptions exist for eligible retirees in those countries. However, you can never claim the Social Security benefits if you are in Cuba or North Korea at retirement.
Bottom line:
The annual amount of the Social Security benefits increases over time after your retirement every year. It primarily rose by eight per cent per year for each year delayed in collecting the amount, starting from your retirement age and continuing till 70.
Meanwhile, the amount one can receive from the program entirely depends on the average indexed monthly earnings of the worker during their 35-highest earnings period. As of September 2022, the average monthly benefit was US$ 1,547.87 or US$ 18,574.44 annually.