Highlights:

Proper calculation of retirement age, investments, and risk-taking appetite are required for a better retirement plan.
For Americans born before 1960, the retirement age is 65.
The Americans also have an option to retire as early as 62.
One of the major financial plannings for an individual is preparing for retirement, for which the individual should evaluate several steps and processes before coming to any conclusion. Meanwhile, retirement planning is what every individual requires, irrespective of the financial stability they enjoy.
Proper and secure planning is required to support or fund at least the necessities after retirement. But having said that, it again depends on the goals and perspective of the individual.
So, the first thing that people should consider before starting their retirement planning is to understand their needs and goals and how long they are willing to provide to meet the requirements.
The primary thing that all of us focus on is a regular income to ensure that we can afford the necessities after retirement without any hassles or financial constraints. Although there is no risk-free or zero-risk investment, an individual might look for lesser-risk investments that could provide a stable regular income.
Now let's explore some key tips that may help you to plan your retirement and spend the golden years of your life in a stable financial condition:
Deciding retirement age
One of the key factors in retirement planning is determining the age at which the individual is willing to retire. In addition to that, understanding the period is also important.
For instance, if you are in your 30s and planning your retirement, you would have different plans than those in your 40s. So, determining the age and the time you have to fulfil your requirements is one of the key steps while planning your retirement.
According to Social Security, Americans born before 1960 would receive retirement benefits from age 65. For people born after 1960, the age for getting the benefits is 67 years.
Understanding needs
After you set the age and period, it is recommended to have a clear picture of your financial goals and needs. A clear understanding of the assets, liabilities and basic needs would help any individual have better retirement planning.
People planning their retirement could look at the benefits and regulations of Social Security in the US. The official board that looks at the state retirement plan is Old-Age, Survivors, and Disability (OASDI) or traditionally known as Social Security.
Notably, apart from the age limit mentioned above, to receive retirement benefits, Americans have an option to get the benefits as early as 62. However, for this "flexible age limit", there would be a reduction in pension benefits of about five per cent to six per cent for each year of early retirement.
Moreover, the opposite is also possible according to Social Security schemes, like the one who would retire at 70 would receive an additional benefit of five per cent to six per cent for each extra year of his contributions.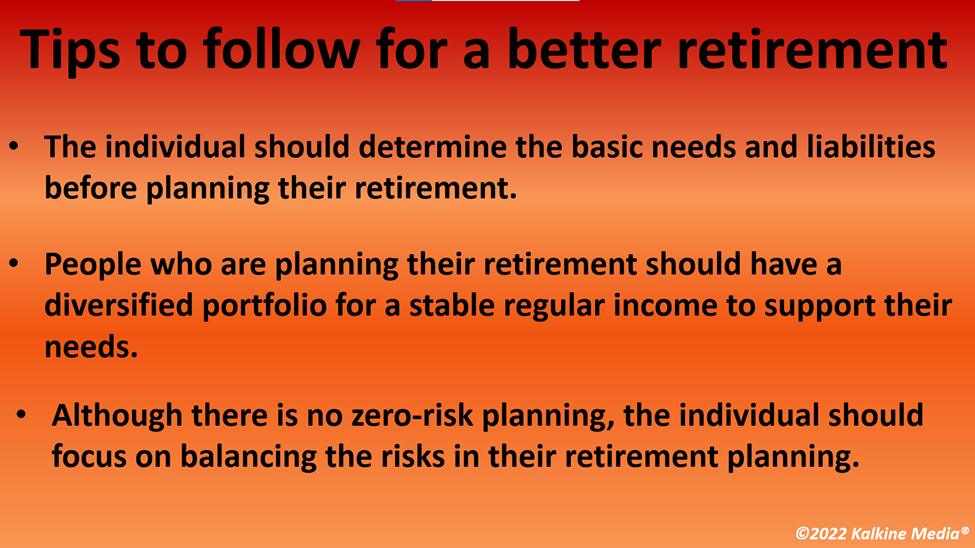 Planning Savings
Having a good amount of savings is recommended as it might help you plan your retirement better. Having a handsome amount with yourself is relatively a good idea than depending completely on pensions and other income.
The individual might also consider spending on health insurance, as it is one of the major spending areas in our old age. Several experts also suggest that buying health insurance at a young age could be beneficial.
Diversifying portfolio
Individuals willing to invest in the market for a stable income in their old age could consider diversifying their investment portfolio. For instance, despite higher risks and volatility, stocks have historically outperformed other assets like bonds, etc., in the long run.
Individuals should have a diversified portfolio rather than spending only in one sector. The dividend-paying stocks, exchange-traded funds (ETFs), etc., could benefit a stable income.
Additionally, diversifying the portfolio is important because, during times of crisis, the losses in one segment could be offset by gains in the other.
Risk-tolerance appetite
Creating a portfolio or plan that balances the risks is important while planning your retirement. For instance, spending on cryptos or other growth stocks might be beneficial at times, but the volatility is also higher, and the price may reverse at any point in time.
So, whether it is any individual or money manager planning your portfolio, it is important to balance the risks after differentiating between necessity and luxury. Moreover, as there would be some persisting risks, an individual might determine the level of risks he is willing to take before coming to any conclusion.
Bottom line
As mentioned earlier, there is no zero-risk investment opportunity, so an individual should consider all the risks before planning their retirement. Meanwhile, the individual planning his retirement might also get support from financial advisors or professionals who could help create a stable portfolio.
But, in the end, it is the individual planning their retirement, who would have full control over any decisions, and what are the basic requirements and risks they are willing to take after retirement.