Overview
The Next (NXT) retail chain was formed in the year 1982; headquartered in Enderby, the United Kingdom, is a well-known supplier of clothing, footwear, accessories and home products through a network of retail stores and online channels. It engages in six segments: NEXT online, NEXT retail, NEXT sourcing, Lipsy, NEXT international retail, and Non-trading activities. The company's business operations are spread across 70 countries having an average active directory customers base of around 4.9 million users. The company business operations spread across the United Kingdom, the Middle East, Asia, and internationally with about 530 stores operational. Next PLC is listed on the London Stock Exchange and a constituent of FTSE 100 index.
Key Management
Michael Roney, Chairman
Lord Simon Wolfson, Chief Executive
Amanda James, Group Finance Director
Financial Highlights - 1H FY2019 (£, million)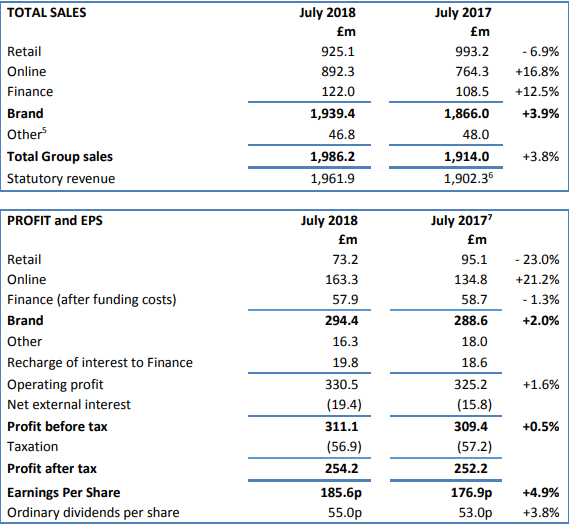 (Source: Interim Report, Company Website)
Financial Commentary – H1 FY19
On year on year basis, H1 FY2019 reported group sales from the retail segment was down by 6.9% to £925.1 million mainly due to the dis-economies of scale; Online segment sales increased by 16.8% to £892.3 million; Finance segment surged by 12.5% to £122 million, and the other segment sales fell by 2.5% to £46.8 million.
The company reported group sales of £1,986.2 million for the half year ending July 2018 as compared to £1,914 million in 2017 for the same period. There was a surge of 3.8% in group sales of the company due to an increase in the sales from online and finance segment.
The company's reported brand profit in the first half of the financial year 2019 had also increased marginally by 2 per cent to £4 million in comparison with the last year mainly due to the increase in the sales from online segments. The online segment profit surged from £134.8 million in H1 FY2018 to £163.3 million in H1 FY2019.
The company's reported operating profit was £330.5 million in H1 FY2019 as compared to £325.2 million in H1 FY2017. There was an increase of 1.6 per cent due to the rise in revenue growth.
The company's profit before tax surged by 0.5 per cent to £311.1 million in H1 FY2019 as compared to £309.4 million in H1 FY2018.
In H1 FY19, profit after tax was up by 0.8 per cent to £254.2 million as compared to £252.2 million reported last year.
The company's reported Earnings per share for H1 FY2019 was 185.6 pence which were 4.9 per cent more than H1 FY2018 reported EPS of 176.9 pence.
Ordinary dividends paid per share in the first half of the financial year 2019 amounted to 55.0 pence.
Ratios
(Source: TR)
Ratios Commentary
The company's reported gross margin surged by 1.7 per cent to 34.4% in H1 FY19 against 32.7% reported last year in H1 FY18.
EBITDA margin reported was 20 per cent in H1 FY 2019, reflecting a decrease of 0.4 per cent when compared with the corresponding period of the last year.
Net margin of 13 per cent for H1 FY19 declined marginally by 0.3 per cent when compared with the last year data for H1 FY18.
On the liquidity front, NEXT plc liquidity position was slightly lower than the last year data. Current and Quick ratios dipped in H1 FY 19 as compared to the previous six months data.
On the leverage front, the debt-equity ratio was 3x which was significantly higher as compared to the last year data. It reflects the company is highly leveraged with additional use of debt funding.
 Growth Perspective and Risks Assessments
In the second half of this year, the company will expect the sales growth of around 1.7 per cent in the current financial year. From this scenario, Online sales would increase by 11 per cent, and retail sales would decrease by 8.5 per cent, mainly because of the downside of a disorderly Brexit.
Profits of the company would decline by 1 per cent but an increase in the earning per share of 3.6 per cent in the current fiscal year end.
The outcome of the UK referendum on leaving the European Union (Brexit) could have implications on economic conditions globally because of changes in policy direction, which might in turn influence the economic outlook for the eurozone.
Stock Performance
On 4th March 2019, NEXT Plc shares closed at GBp 5,182, up by 0.23 per cent against its previous day closing price.
Stock's 52 weeks High and Low is GBp 6,224.00/GBp 3,970.00. At the closing price, the share was trading 16.74 per cent lower than its 52w High and 30.53 per cent higher than its 52w low.
From the previous three months, NEXT PLC share price surged by 7.47 per cent (as on 4th March), and in the last one year, the stock has delivered 10.73 per cent returns.
Stock's average traded volume for 5 days was 455,518.00; 30 days – 442,022.73 and 90 days – 547,047.28. The average traded volume for 5 days was up by 3.05 per cent as compared to 30 days average traded volume.
On the valuation front, the stock was trading at a trailing twelve months PE multiple of 11.7x as compared to the industry median of 11.3x.
The company's stock beta was 1.17, reflecting relatively higher volatility as compared to the benchmark index.
Total outstanding market capitalisation was around £7.14 billion and a dividend yield of 3.09 per cent.
Conclusion
The company will have to remain watchful due to political and economic uncertainties across the world. The growing online segment can help the company to improve its margins, but it will have a negative impact on the retail segment business due to a decrease in demand and higher operational costs burden. The investors need to be watchful on the Next Plc stock going ahead.
Â