Summary

BP inks a deal with Equinor, creating a strategic partnership to pursue offshore opportunities in the fast-growing US market.
With this partnership, BP has debuted to the offshore wind market
BP is targeting to increase its renewable energy capacity from 2.5 GM to 50 GW power by 2030.
The partnership between the two companies would leverage on the capability and experience from both
BP Plc (LON: BP.) has entered the offshore wind market through a strategic partnership with the Norwegian state oil company, Equinor, to develop offshore wind projects in the United States (US). Apart from the strategic partnership, the energy company, BP, would buy a 50 per cent interest in Equinor's both the existing assets called the Empire Wind and Beacon Wind by paying £850 million ($1.1) billion.
The agreement between the British company BP and the Norwegian company Equinor has been reached a month after BP launched its new strategy and an objective to raise its annual low carbon investment by ten times to around $5 billion per year. BP also announced to increase its production capacity of developed renewable energy from 2.5 gigawatts (GW) in 2019 to around 50 GW by 2030.
This partnership between BP and Equinor would work on the development of two existing offshore projects situated on the east coast of the US (New York and Massachusetts) from a total of four assets. These two projects could potentially produce power that would be sufficient for more than two million homes.
The partnership between the two companies would leverage on the capability and experience from both BP and Equinor. The company from Norway is expected to retain the operation of both the Empire and Beacon projects in the development, construction, and operational phases. In the meantime, BP would designate the deputy project director of Equinor's Empire Wind project, and in due course, the wind assets would have the same number of staff from both the companies.
It is to be recalled that in 2016 Equinor got the Empire Wind lease area. With a total area of 80,000 acres, it is located approximately 15-30 miles southeast of Long Island. The area is planned to be developed in two phases. In July 2019 solicitation, the Empire Wind phase 1 secured an offtake agreement. The project would have 60 to 80 turbines for generating wind energy. The entire Empire Wind asset has the potential to produce a capacity of 2 GW to power more than one million homes. While the initial power generation from Empire Wind's phase 1 was expected in the mid-2020s, phase 2 is in the preparation stage for upcoming solicitations.
The second asset known as Beacon Wind is on a total area of 128,000 acres of federal waters off New England's coast. This is situated about 20 miles south of Nantucket and 60 miles east of Montauk Point. After complete development, it is expected to produce a total of 2.4 GW of energy. This amount of energy generated from the Beacon Wind project would be sufficient to supply power to more than a million households in the Northeast US. The Beacon Wind would be developed for future solicitation processes, besides starting a review process to secure the required permits for the project.
Key things to know about the two assets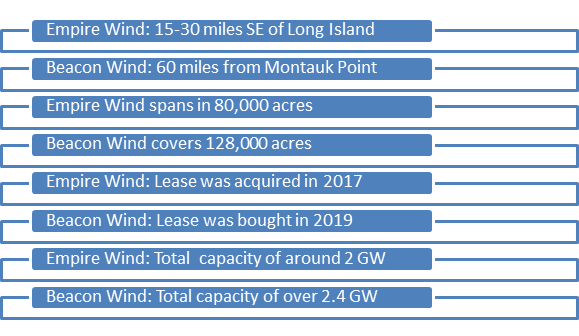 BP stressed on the importance of becoming an integrated energy enterprise by an early endeavour to deliver new strategies. The British energy giant said that the partnership with Equinor would play a crucial role in facilitating it to deliver on its objective of quickly increasing its renewable energy capacities. BP felt that the partnership would leverage its expertise in trading and experience of onshore wind with Equinor's good track record in offshore wind to deliver value for its shareholders. BP planned to working together with Equinor and exploring further opportunities in the fast-growing US wind market.
The partnership would also help the company to offer the kind of energy that the world wants and needs. Depending on the required regulatory and other approvals, the deal between BP and Equinor is expected to complete in early 2021. Offshore wind is on the rise at almost 20 per cent per year internationally. The wind energy has been recognised to be at centre stage in meeting the world's need to limit emissions.
This transaction with BP is in line with Equinor's strategies for renewable energy projects by accessing mature and attractive acreage early, besides capturing value by de-risking high equity ownership positions. The two companies are expected to together plan future projects and increase scale in the US for bottom-fixed and floating offshore wind assets. Given further developments in the partnership, both the companies plan to increase cooperation in the US market.
It is to be noted that Equinor has plans to increase its capacities at 4 to 6 GW by 2026 and 12 to 16 GW by 2035. Equinor has already started work to build scale in core areas, including the North Sea, the Baltic Sea, and the US.
Other agreements made by Equinor in recent times
Equinor has also entered a joint bid agreement with two Japanese companies - Jera and J-Power, before Japan's upcoming round 1 offshore wind auction. The consortium of these three companies aligns with Equinor's strategy on building scale in the renewable energy segment in important regions. Equinor is planning to develop growth opportunities in selected markets to achieve the position of an international offshore wind energy major.
Recent financial updates from BP
BP came out with its second quarter and half-year results of 2020 in the first week of August 2020. For the quarter, there was $6.7 billion of underlying replacement cost loss as compared with a profit of $2.8 billion for the same period in the previous year. The reported a loss of $16.8 billion for the quarter as compared to a profit of $1.8 billion for the same period in 2019. A dividend of 5.25 cents per share for the quarter was announced.
Stock performance of BP
On 11 September 2020, at 10.05 AM, the company's stock (LON: BP.) was trading at £261.10 down 0.44 per cent from its previous day's close of £262.25. With a market capitalisation (Mcap) of £3,988,912 million, the stock provided a negative return on price of 45.46 per cent on a year to date (YTD) basis.
Recent financial updates from Equinor
Equinor ASA (LON: OM2Z) is a company in the energy sector. The company is into oil, gas, wind, and solar energy in more than 30 countries throughout the globe. The company came out with its second-quarter 2020 results in last week of July 2020. The adjusted earnings were reported at $0.35 billion. A cash dividend of $0.09 per share has been announced for the second quarter of 2020.
Stock performance of Equinor
On 11 September 2020, at 10.38 AM, the company's stock (LON: OM2Z) was trading at NOK 140.75 down 0.21.
Conclusion
The deal between BP and Equinor is a right step towards companies striving to venture into the renewable energy segment. In addition to the existing offshore developments in the US, the two companies plan to develop more offshore opportunities in the fast-growing US market. Experts have also pointed out that it challenges any hypothesis that renewable energy projects do not offer returns on the scale that oil and gas projects provide. Such deals are expected to considerably increase the market's confidence in offshore wind projects and companies providing them. Strategic partnerships like the one between BP and Equinor could leverage on their global reach, large balance sheets, and project management capabilities.