Summary

The British-Swedish pharma major has come up with extra trial data which shows that vaccine is effective in the elderly group
Some of the European nations have been doubting whether the vaccine is effective on elderly age group or not
Oxford University has said that the vaccine has similar efficacy against the British coronavirus variant as of previously known
British regulators have said that some trial data provided by the AstraZeneca(LON: AZN) shows that the Covid-19 vaccine they developed is effective in the elderly group.
Munir Pirmohamed, Chair of the Commission on Human Medicines' COVID-19 Vaccines Benefit Risk Expert Working Group, stated that a smaller group of candidates below the age of 65, was considered and examined by the British regulators while approving the vaccine.
The AstraZeneca/ Oxford University jab started to roll out in the United Kingdom after the Medicines and Healthcare products Regulatory Agency (MHRA) become the first regulator to approve it in December.
At an MHRA news briefing, Munir stated that there was no evidence which suggested that the vaccine was not effective on people over 65 years of age. However, more data have been gathered from AstraZeneca as more people completed the trial, highlighting the evidence that efficacy in the elderly is seen without any paucity of efficacy.
He also added that strong immune responses were recorded in the elderly people and stressed on the fact that both the vaccines from AstraZeneca-Oxford University and Pfizer-BioNTech were preventing serious disease and deaths.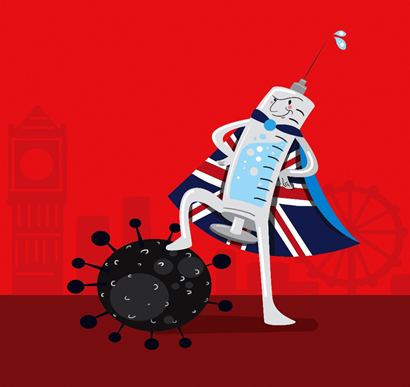 Copyright © 2021 Kalkine Media Pty Ltd.
June Raine, the Chief Executive at MHRA had also clarified that the regulatory authority pursues those vaccines that are effective, and in the interests of public confidence and safety.
Also Read: AstraZeneca Oxford vaccine could lead to fall in coronavirus spread, claims study
The AstraZeneca's COVID-19 vaccine, AZD1222 received conditional marketing authorisation (CMA) in the European Union (EU) on 1 February, in order to prevent the SARS-CoV-2 virus induced infection in individuals aged 18 years and above. However, some other European countries had pointed out that more data is required before inoculating the elderly group.
Ursula von der Leyen, the President of the European Commission had commented that safety would not be compromised by the EU.
Vaccine effective for British coronavirus variant
The results of a new study published on 3 February said that the Oxford-AstraZeneca vaccine is 76 per cent effective in avoiding symptomatic coronavirus infection for 3 months, following a single dose. It also endorsed Britain's approach of putting a 12-week gap between the two shots of the vaccine. Oxford has also claimed that the vaccine co-developed with AstraZeneca has similar efficacy against the British coronavirus variant as it does to the earlier known variants.