Highlights

The global crypto market cap has reduced to US$2.12 trillion due to recent slump in the prices.
On Monday, while the Bitcoin fell to as low as US$45,894.85, Ethereum went as low as US$3,680.61, Solano fell to a troublesome US$148.57
The cryptocurrency on Tuesday witnessed a market crash with majority of digital tokens witnessing red. Experts said that the slump was quite significant that led to Bitcoin, Ethereum, Solano crash, which is quite similar to the sudden hit that the market witnessed in the third week of April this year, spilling into May and June before reviving again.
On Monday, while Bitcoin fell to as low as US$45,894.85, Ethereum touched US$3,680.61, Solano fell to a troublesome US$148.57. If one looks at the past, last time the market witnessed a crash was in fact after Bitcoin touched its all-time high of US$64,804 on 14 April. On 22 June, BTC slipped as low as US$30,000, giving nightmares to the market participants.
On 14 December, it was trading at US$46,915.12, with a 24-hour trading volume of US$33,569,425,002. It had a live marker cap of US$886,717,390,325.
Also read: 5 Crypto Debuts to Watch Out for in 2022
In recent times, BTC's latest slump on Monday triggered fears in the minds of investors that another doom's day might be in the offing. The global crypto market cap has reduced to US$2.12 trillion due to recent slump after hitting US$3 trillion just a month back on 9 November. Having said that, from the volume perspective, the total crypto market volume over the last 24 hours has seen a 41% spike with it hitting US$99.79 billion.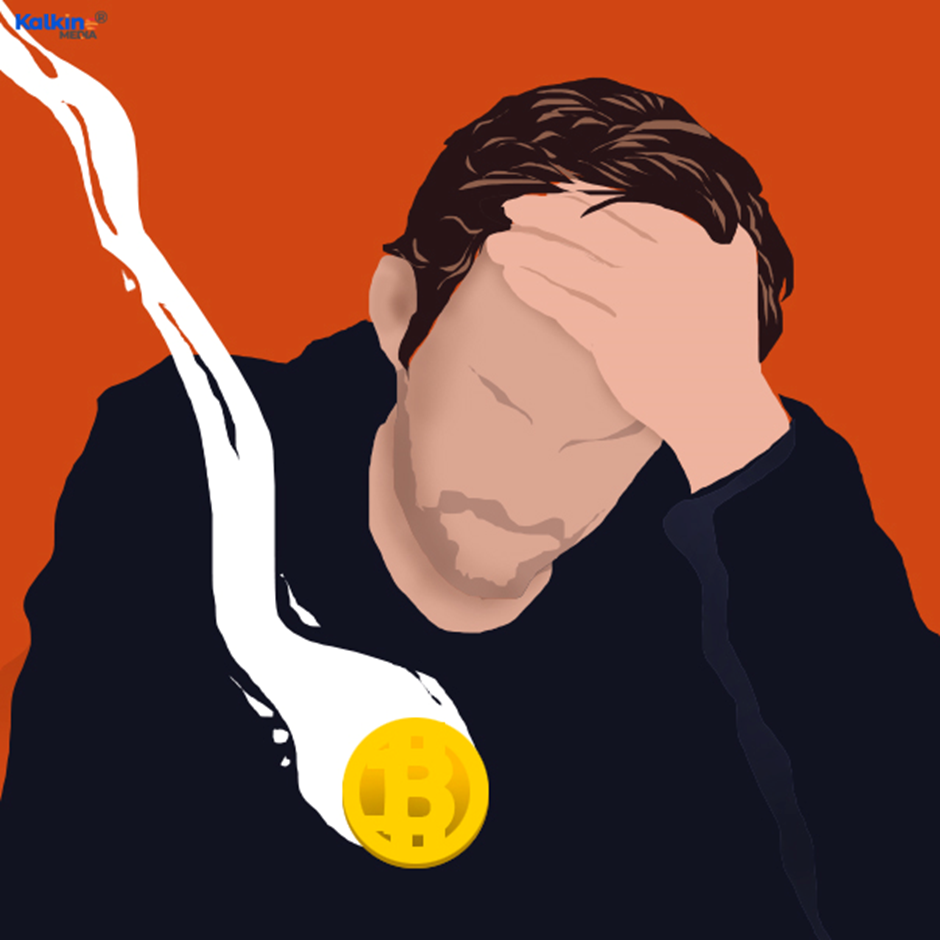 Copyright © 2021 Kalkine Media
Are Bears too strong?
At the moment, bears seem to be in control of the situation over the bulls. Market experts believe that this could signal yet another 2021 could well be defined by higher-highs and lower-lows period. Higher highs period is when the market sees significant gains, followed by significant period of lull or losses, induced by sudden change in the market sentiment.
When the BTC had hit its all-time high in November of US$68,000, many of them were expecting the leading crypto to hit US$100,000 by the end of the year. But in stark contrast, now the sentiment is that of a strong sell.
Also read: Is Binance eyeing Middle East after Singapore pull out?
The negative sentiment among the traders is so high that they believe the crypto would struggle to hit the US$60,000 by December end let alone supersede it.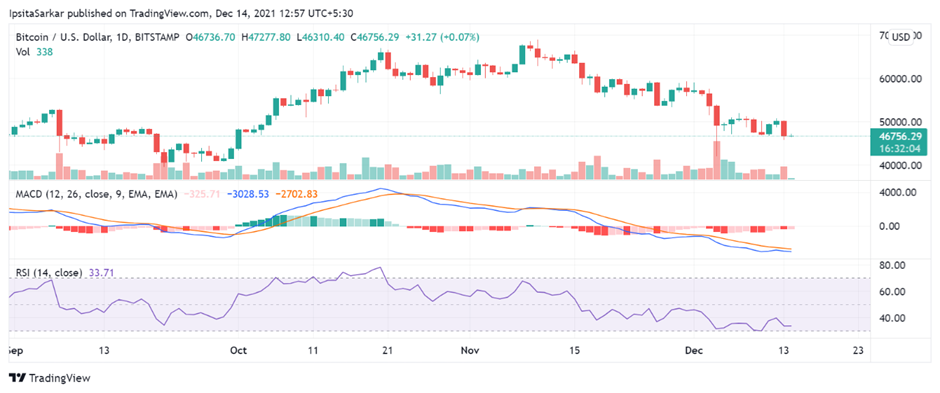 Image Courtesy: Trading View
The RSI line (relative strength index) indicate that since May, the current situation is in the oversold position. At the current moment, it stands at a risk of testing its support of US$40000.
The Moving Average Convergence Divergence (MACD) chart, however, indicates that with the signal line (blue line) and the red histogram closer to each other, Bitcoin could see a prolonged bearish phase going ahead.
What should investors do?
Bitcoin users would love the token to rise from the rut. They can take heart from the trend itself that whenever it has gone down, the leading token, has managed to rise above the rut. But it will take some doing for it to turn the bearish phase in its favour and rise to its previous highs. Investors would be watching the market closely in the coming days and experts believe that they would do well to avoid panic selling.
Will Bitcoin stay under US$50,000 as we enter 2022 ?
Conclusion
With the holiday season well and truly here, if won't be surprising to see if Bitcoin stays below US$50,000. The leading digital token needs to ensure that first it consolidates from its current lull, then build on from there and which is why market experts believe that it could end the year on a low note. The market participants would be expecting that Bitcoin would see a better 2022 and with January traditionally being a good month, they would be hoping for some great start to the year.