Summary

Plus500 Ltd had delivered total revenue growth of around 146% YoY during FY20.
PLUS had achieved an EBITDA margin of 59% during FY20.
The 2020 total dividend per share stood at USD 1.7823.
PLUS had announced a buyback programme of additional USD 25.0 million of shares on 17 February 2021.
Plus500 Ltd (LON: PLUS) is the LSE listed financial stock. PLUS's shares have generated a return of about 56.95% in the last 12 months. It was incorporated in 2008.
Business Model
Plus500 is the provider of technology platform regarding the trading of CFDs (contracts for difference) internationally. It facilitates trading for more than 2,500 financial instruments such as equities, ETFs, commodities, currency, and cryptocurrencies, to name a few. The customers can trade in more than 50 countries and in around 32 languages.
The trading platform can be accessed from several operating systems and various web browsers.
(Source: Company presentation)
Recent News
On 17 February 2021, PLUS had announced a buyback programme of additional USD 25.0 million of shares following the completion of August 2020 programme. It will run from 17 February 2021 to 11 August 2021.
On 04 February 2021, PLUS had appointed Sigalia Heifetz as its Non-Executive Director effective from the same day.
Financial Highlights (for the year ended 31 December 2020 (FY20), as on 17 February 2021)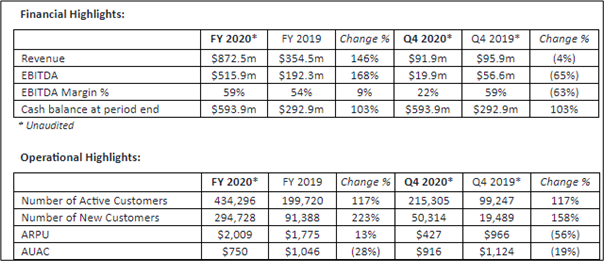 (Source: Company Website)
The Company delivered a good financial performance, with an increase of 146% YoY in total revenue and 161% YoY of customer Income (a key growth metric).
EBITDA for FY2020 surged by 168% YoY to USD 515.9 million, with an EBITDA margin of 59%.
The Company saw a strong balance sheet, with an increase in its cash balances of 103% at the end of FY 2020 and high cash conversion levels in FY20.
Despite the uncertainty and volatility, the Company has increased its customer trades from 35 million in FY19 to 82 million in FY20, with client deposits of USD 2.9 billion.
In FY20, the Company witnessed record levels of Active Customers and New Customers, with a growth of 13% YoY in Average Revenue Per User (ARPU).
In FY20, the total shareholders' returns were USD 278.3 million, representing around 60% of net profit and a special dividend.
For FY20, the final dividend per share was USD 0.5422, and a special dividend per share stood at USD 0.2870. Therefore, the total dividend per share for the year was USD 1.7823.
Moreover, the Board is planning to conduct a share buyback programme in the financial year 2021, which is to purchase up to USD 25 million of the Company's shares.
Share Price Performance Analysis of Plus500 Ltd

(Source: Refinitiv, chart created by Kalkine group)
Shares of Plus500 Ltd were trading at GBX 1,374.25 and were down by close to 0.34% against the previous closing price as on 17 February 2021, (before the market close at 01:14 PM GMT). PLUS's 52-week Low and High were GBX 650.80 and GBX 1,659.50, respectively. Plus500 Ltd had a market capitalization of around £1.41 billion.
Business Outlook
In FY21 to date (as on 17 February 2021), the Company stated that the platform usage remains elevated, with continued heightened Customer Trading Performance movements. Further, it expects 2021 revenue to be higher than the 2019 levels, due to further underlying strength of Customer Income. Further, it plans to invest in the business, with around USD 50 million invested in R&D (research & Development) over the next three years. It also introduces its new financial products. Led by the strength and differentiation of the Company's proprietary technology, Plus500 has been making good progress across all key financial and commercial performance metrics. Overall, the Board stays confident about the FY21 guidance for Plus500.