Highlights:
House prices in the UK rose by 12.4% in April, according to the latest figures from the ONS.
Combined with rising mortgage rates, this has made it more challenging for several buyers to buy their dream house.
House prices in the UK are touching the sky, forcing several buyers to drop their plans to buy a house. As per the latest data from the Office for National Statistics (ONS), average house prices in the UK rose by 12.4% in the 12 months to April, a significantly higher increase over March's 9.7%.
The average house price in the UK stood at £281,000 in April 2022, £31,000 more than in April 2021. The lowest increase was recorded in London, where the prices grew by 7.9%. However, despite the lowest growth, the average prices in the capital city remained the most expensive at £530,000.
According to a report by Evening Standard, detached home prices rose by 12.4% to hit an average price of £1,088,800. On the other hand, the average cost of flats and maisonettes stood at £443,200.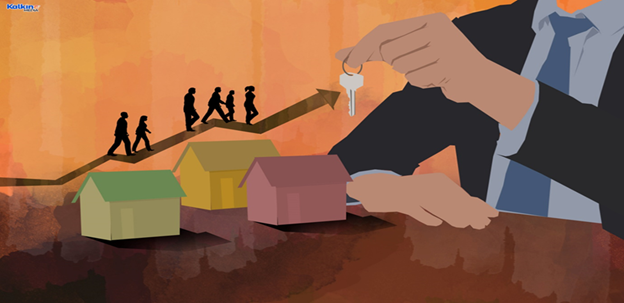 © 2022 Kalkine Media®
The numbers indicate that those looking to buy a house may find it harder to afford it now due to the increased prices. Additionally, the mortgage rates too have gone up as the interest rates rise. Last week, the Bank of England raised the interest rates by 0.25 percentage points, taking it to 1.25% from 1% earlier. As a result, several mortgage lenders also raised their rates.
Let us explore some FTSE-listed companies that offer mortgage services and see how their stocks have been performing in the current situation.
Lloyds Banking Group Plc (LON: LLOY)
Lloyds Banking Group is a banking behemoth providing multiple banking and financial services not just in the UK but in several countries worldwide. The lender was recently in the news after it announced a one-time payment of £1,000 to its staff to ease the cost-of-living crisis.
At present, Lloyds has a market cap of £30,085.05 million, and its shares closed 0.91% higher at GBX 43.84 aon 22 June 2022. The company's one-year return stands at -6.56%, while the year-to-date (YTD) return stood at -8.28%.
NatWest Group Plc (LON: NWG)
NatWest is another UK-based lender with operations in several countries. It is listed on the FTSE 100 index and currently holds a market cap of £23,148.14 million.
Shares of NatWest Group were closed at GBX 228.00 on 22 June 2022. The share value has appreciated by 12.16% over the last one year, while the year-to-date return currently stands at 1.02%.
HSBC Holdings Plc (LON: HSBA)
HSBC is among the world's largest lenders and is listed on the FTSE 100 index. With a market cap of £108,169.41 million, the lender's shares closed 0.97% down at GBX 533.60 on 22 June 2022.
HSBC has provided its shareholders with a return of 25.92% in the last one year. On a YTD basis, the return stands at 18.93%.
Note: The above content constitutes a very preliminary observation or view based on market trends and is of limited scope without any in-depth fundamental valuation or technical analysis. Any interest in stocks or sectors should be thoroughly evaluated, taking into consideration the associated risks.