Highlights

The Bank of England went against market expectations of a rate hike of 0.15 per cent to maintain interest rates at its current 0.1 per cent level.
The BoE's governor has called it a very close call, highlighting there would be a rate rise in the coming months.
The Bank of England (BoE) maintained its interest rates at an all-time low of 0.1 per cent despite several sections of the economy anticipating a rate hike of 15 basis points to 0.25 per cent.
The BoE's Monetary Policy Committee (MPC) voted in a 7-2 majority to hold interest rates. BoE's governor, Andrew Bailey, called the decision to hold rates a 'very close call', adding that the central bank may hike rates in the upcoming months.
The UK's central bank had recently said it expects inflation to increase to 5 per cent, from its current inflation rate of 3.1 per cent.
Interest rates have been at record lows since the onset of the pandemic. Should the BoE increase the cost of borrowing to the anticipated 0.25 per cent, it would thus make it the second-lowest interest rate in BoE's history.
The markets now expect a rate rise to happen in either December this year or in February next year.
Let us take a look at 2 FTSE 100 index listed stocks from the rate-sensitive banking sector as they will be the ones to benefit most from the rate hike:
Barclays PLC (LON: BARC)
Barclays is a UK based multinational universal bank. The group's new CEO, C.S. Venkatakrishnan, said that he plans to maintain the same strategy for Barclays as his mentor and Barclays' predecessor, Jes Staley.
The group had reported the change in its management team earlier this week as Staley stepped down effective immediately after he was found to have links with sex offender Jeffrey Epstein.
(Image source: Refinitiv)
Barclay's shares were trading at GBX 193.64, up by 1.12 per cent on Friday at 08:52 AM BST, while the FTSE 100 index was at 7,310.39, up by 0.42 per cent.
The group's market cap stands at £32,195.02 million, and its one-year return is at 74.42 as of 5 November.
Standard Chartered PLC (LON: STAN)
Standard Chartered is another UK based multinational banking and financial services group.
The company's Q3 2021 profit before tax increased by 44 per cent to US$ 1,075 million, from US$ 745 million in Q3 2020, while its Q3 2021 underlying profit before tax rose to US$ 1.08 billion, up from US$ 745 million in Q3 2020.
The robust results were due to a strong performance in its financial markets and trade businesses and also due to lower impairment charges.
The group also reported its strategic investments in sustainability while showing results; after its Q3 2021, sustainable finance income increased by over two times on a year-on-year basis.
The group said it expects its FY 2021 income to be similar to its FY 2020 level but estimates Q4 2021 income to be lower on a sequential basis due to seasonality and other factors.
It also forecasts FY 2022 income growth to be between 5 to 7 per cent, while its common equity tier 1 (CET1) ratio is estimated to be at the higher end of its 13 to 14 per cent target on a Pro-forma basis (not including software relief).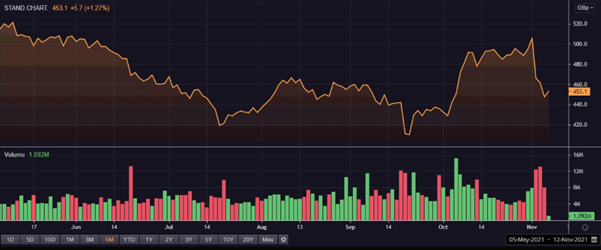 (Image source: Refinitiv)
Standard Chartered's shares were trading at GBX 453.10, up by 1.27 per cent on Friday at 09:35 AM BST, while the banking sectoral index was at 3,020.87, up by 0.84 per cent.
The group's market cap stands at £ 13,775.98 million, and its one-year return is at 27.64 as of 5 November.