Highlights:
Due to the high cost of living, people are now cutting down on non-essential leisure activities.
As per a survey, four in five people are concerned about making both ends meet.
The high cost of living has made millions of Britons to struggle. Inflation reached 9.1% in May, but the wages failed to keep up with it and registered a fall when adjusted for inflation. High energy and food bills have forced people to adjust their spending habits and cut down on non-essential items to save money for essentials.
According to a survey by Scottish Widows conducted in May, over four in five (81%) people are concerned about making ends meet due to the record prices. Additionally, three out of four people said they needed to act to deal with the financial pressures.
On the other hand, 35% of the over 5,000 respondents surveyed revealed plans to reduce spending on non-essential leisure activities. About a quarter (24%) said they have already dipped into their savings, while half of the respondents said they weren't preparing adequately for retirement.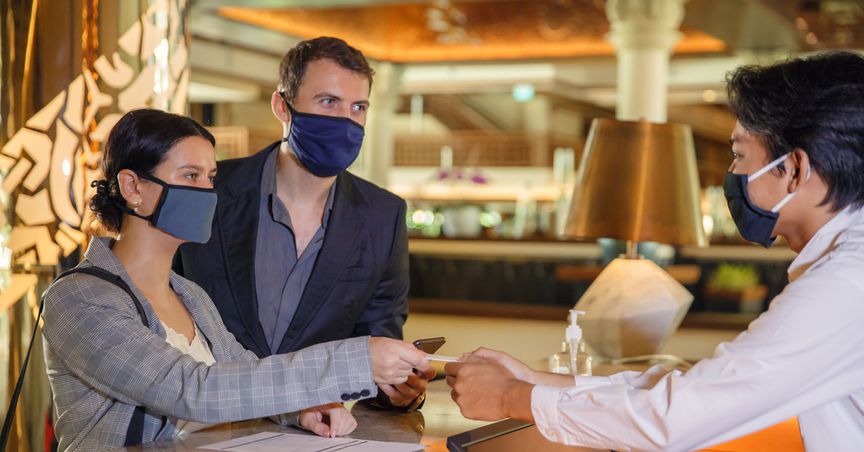 Image source: Space_Cat, Shutterstock.com
The survey highlights the fresh challenges faced by the leisure industry. After going through a slump in the passing two years due to covid, the industry has started to come on track. The pent-up demand is also bringing much-needed growth to the sector. However, this growth is facing headwinds from the cost-of-living crisis.
Let's take a look at how hospitality stocks are faring in the current situation.
InterContinental Hotels Group Plc (LON: IHG)
Marketed as IHG Hotels & Resorts, the InterContinental Hotels Group owns and operates premium hotel chains in over 100 countries. Across the globe, it has more than 6,000 hotels. Recently, the company signed a deal with Unilever to replace miniature bottles of bathroom products with full-sized ones. The move will save at least 850 tonnes of plastic yearly in the company's Americas region alone, it said. The company's market cap stands at £8,324.90 million at present, and it is listed on the FTSE 100 index. Over the past year, the stock price has moved down by 6.32%, while its earnings per share (EPS) stand at 1.45. Shares of IHG were down by 0.97% at GBX 4,480.00 as of 8:14 am GMT+1 on 29 June 2022.
Whitbread Plc (LON: WTB)
Whitbread is another UK-based hospitality business. It owns Premier Inn, one of the country's prominent hotel brands. The company plans to invest £20 million - £30 million in labour, refurbishments and IT in FY23. The blue-chip FTSE 100 constituent has a market cap of £5,341.48 million, and its share price was hovering at GBX 2,609.00, down by 1.32%, as of 8:12 am GMT+1 on Wednesday. The one-year return from the stock stands at -15.82%, and the year-to-date return is at -12.95%.
PPHE Hotel Group (LON: PPH)
The international hospitality firm owns, operates, and franchises hotels and resorts in different countries. It is a part of the FTSE All-Share index and holds a market cap of £627.63 million as of 29 June 2022. Shares of the company were 3.73% up at GBX 1,530.00 as of 8:34 am GMT+1 on 29 June 2022. Its returns over the past 12 months stand at -11.78%.
Note: The above content constitutes a very preliminary observation or view based on market trends and is of limited scope without any in-depth fundamental valuation or technical analysis. Any interest in stocks or sectors should be thoroughly evaluated taking into consideration the associated risks.