The Government of the United Kingdom taking every step possible to save the economy. Today, Britain's finance ministry has decided to extend its mortgage payment holiday scheme for another three months, which will lead to payment deferrals for banks. Moreover, the likelihood of slow economic recovery from the Coronavirus-led slump forcing the Bank of England to ponder over additional stimulus and negative interest rates.
Considering the prevailing marketing conditions, we are going to discuss two LSE listed stocks from diverse industry – a Pharmaceuticals & Biotechnology stock, AstraZeneca PLC (LON: AZN) and a Food & Drug Retailer, J Sainsbury PLC (LON: SBRY). Today, AZN has received Orphan Drug Designation (ODD) grant from the Food and Drug Administration (FDA). Following the update in the light of current market sentiments, the price of both the companies AZN and SBRY dipped around 0.04 per cent and 0.40 per cent, respectively (at 2.50 PM GMT, before the market close). Lets quickly go through the financial and operational position of both the Companies to inference over their outlook scenario.
AstraZeneca PLC (LON: AZN) – Grasping Opportunities Lying in Product Development to Deliver Another Year of Progress
AstraZeneca PLC is a FTSE 100 listed United Kingdom-based science-led biopharmaceutical company. It focusses on development, discovery and commercialisation of medicines that deals with therapy areas – Cardiovascular, Oncology, Respiratory & Immunology and Renal & Metabolism. The Group was founded in 1999, and presently, it employs a workforce of 70,600 to serve in over 100 countries. The Company splits its product portfolio broadly into five categories, wherein Oncology and Cardiovascular, Renal & Metabolism generated 37 per cent and 29 per cent of revenue, respectively in FY2019.
On 30th July 2020, the Group will release its half-yearly results for 2020.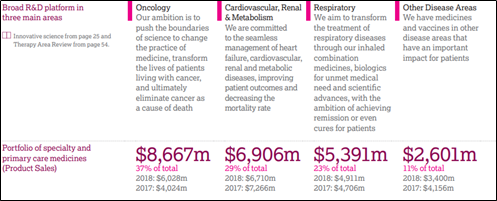 (Source: Company Website)
Recent Developments – Reflecting Funding and Approval
22nd May 2020: The Group has been granted ODD (Orphan Drug Designation) for the treatment of gastric cancer in the US. The development of Enhertu, will be done in collaboration with Daiichi Sankyo.
21st May 2020: The Company received USD 1 billion from US BARDA (Biomedical Advanced Research and Development Authority) for development of potential COVID-19 vaccine and also concluded first agreement for at least 400 million doses to supply.
20th May 2020: AstraZeneca and Merck & Co. received the US FDA approval for Lynparza, which deals patients with prostate cancer.
18th May 2020: The Company received the approval for Bevespi Aerosphere in China for patients with COPD (chronic obstructive pulmonary disease).
30th April 2020: The Group announced the collaboration with the University of Oxford for developing the potential vaccine of Coronavirus
Q1 FY20 Update– Robust Progress Across the Company
On 29th April 2020, the Company provided the results for the first quarter of the financial year 2020, with solid growth in all therapy areas and EMs. Overall results reflected a robust revenue and profit growth, with the immense efforts of supply chain and oncology business.
For the first quarter of 2020, driven by an increase in the product sales and increased revenue from all therapy across regions, the group reported growth in total revenue by 16 per cent to USD 6,354 million in Q1 FY2020.
The group's reported gross profit margin and core gross profit margin declined by 2 percentage points to 77 per cent and 78 per cent, respectively, due to the impact of one-off adjustments.
Robust medicine performance across the Board: new medicines (up 49 per cent at CER); Oncology (up 34 per cent at CER), New CVRM (up 8 per cent at CER), Respiratory & Immunology (up 22 per cent at CER) and Emerging markets (up 16 per cent at CER).
Pipeline saw robust progress with the adjuvant Tagrisso.
Core earnings per share stood at USD 1.05 (up 21 per cent at CER).
The group's reported operating profit margin and core operating profit margin declined by 1 percentage point to 19 per cent and 29 per cent,
AZN estimates low-to-mid single-digit revenue benefit from COVID-19.
(Source: Presentation, Company Website)
Share Price Performance
(Source: Refinitiv, Thomson Reuters) - Daily Chart as of May 22nd, 2020, before the market close
AZN's shares were trading at GBX 8,877.00 on 22nd May 2020 (before the market close at 2:47 PM GMT+1). Stock's 52 weeks High is GBX 9,335.00 and Low is GBX 5,739.00. Total outstanding market capitalization stood at around GBP 117.75 billion, with a dividend yield of 2.44 per cent.
Short Term Outlook - Launching New Platforms and Upgrade the Old Products and Services
Capital expenditure is projected to be roughly stable and restructuring expenses will decline against the preceding year. Total revenue likely to surge by a high single-digit percentage and core EPS projected to surge by a mid- to high-teens percentage. AstraZeneca's new medicine performed well, with a strong pipeline and regulatory approvals from authorities. AZN operations are benefited by a surge in the inventory for near-term in the distribution channel, longer prescriptions, and patient's loyalty towards improved treatment-regimen. The recent organisational changes are expected to improve speed and efficiency, and there are over 167 projects in the pipeline, with 17 new molecular entities in the late-stage pipeline.
J Sainsbury PLC (LON: SBRY) – Growth in Grocery Business Compensating Weaker Retail Business.
J Sainsbury PLC (FTSE-100 listed) is into general merchandise retailing business. The Company differentiates its business into three divisions – Retail, Property Investment and Financial Services. Its retail segment manages the operations of conveniences stores and supermarkets. The Company operates with various brands - Sainsbury's Home, Argos, Tu, Sainsbury's groceries, Sainsbury's Bank, Sainsbury's Energy, Habitat, Nectar, and Property development and estates.
The Group will announce its first-quarter trading statement on 1st July 2020.
(Source: Presentation, Company Website)
Recent Developments
12th May 2020: Tanuj Kapilashrami and Keith Weed will join the Board of SBRY on 1st July 2020, as Non-Executive Directors.
20th April 2020: The Company introduced 'Volunteer Shopping Cards', to assist those customers who cannot shop for themselves.
12th February 2020: Roger Davis decided to step down from the position of Chairman of Sainsbury's Bank Board.
Strategic Initiatives for Sustainable Future
Sainsbury has reduced carbon emission by 35 per cent in the past 15 years and further the Group is committing GBP 1 billion over the next 20 years to be net-zero in terms of carbon emission.
Major Growth Initiatives Delivered in FY20 can be seen in the picture below: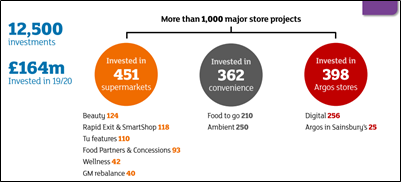 (Source: Presentation, Company Website)
Financial Highlights – Good Momentum in Grocery Business
On 30th April 2020, SBRY announced the full year 2020 results for the 52 weeks to 7 March 2020 along with the update on the impact of Covid-19 over the business.
The Group reported a robust customer response in the Grocery business; General Merchandise remained tough; good progress on Financial Services and net debt reduction in line with guidance.
Group and Retail sales both reduced by 0.1 per cent (including VAT, including fuel) year-on-year, due to a decline in stock in General Merchandise sales.
As per the sales in the FY20, Groceries Online sales increased by 7.6 per cent, Supermarket sales declined by 0.1 per cent, and Convenience sales increased by 1.3 per cent.
Led by the improved grocery sales during the year, the total profit before tax rose by 26 per cent to GBP 255 million as compared with the previous year (FY19: GBP 202 million).
In the financial year 2020, the Group witnessed a robust retail free cash flow of GBP 611 million in FY20.
The Group has deferred any dividend payments decisions until later in the financial year, when there is a better understanding of the financial impact of Covid-19 disruption.
SBRY launched the ambitious plan to invest GBP 1 billion over 20 years to become Net Zero for greenhouse gas emissions by 2040 across all the operations by 2040.
Share Price Performance
(Source: Refinitiv, Thomson Reuters) - Daily Chart as of May 22nd, 2020, before the market close
SBRY's shares were trading at GBX 182.93 on 22nd May 2020 (before the market close at 2:51 PM GMT+1). Stock's 52 weeks High is GBX 236.70 and Low is GBX 171.19. Total outstanding market capitalization stood at around GBP 4.09 billion, with a dividend yield of 5.37 per cent.
2021 Outlook
The Company expects to open around 15 convenience stores and around 2 new Sainsbury's supermarkets. The Group expects to close around 14 convenience stores and around 8 supermarkets, as part of announced property closure programme. It also expects to close around 50 Argos standalone stores and open 35-40 Agos in Sainsbury's. Net finance cost of between GBP 370 million and GBP 380 million, which includes approximately GBP 310 million lease interest in FY21, following the introduction of IFRS 16. Business rates relief and uplifts in grocery sales expected to broadly offset incremental costs and weaker clothing, general merchandise, and financial services contributions.
---
Disclaimer
The website https://kalkinemedia.com/uk is a service of Kalkine Media Ltd, Company Number 12643132. The article has been prepared for informational purposes only and is not intended to be used as a complete source of information on any particular company. Kalkine Media does not in any way endorse or recommend individuals, products or services that may be discussed on this site. Our publications are NOT a solicitation or recommendation to buy, sell or hold the stock of the company (or companies) or engage in any investment activity under discussion. We are neither licensed nor qualified to provide investment advice through this platform.
With Bank of England reducing the interest rates to a historic low level, the spotlight is back on diverse investment opportunities.
Amidst this, are you getting worried about these falling interest rates and wondering where to put your money?
Well! Team Kalkine has a solution for you. You still can earn a relatively stable income by putting money in the dividend-paying stocks.
We think it is the perfect time when you should start accumulating selective dividend stocks to beat the low-interest rates, while we provide a tailored offering in view of valuable stock opportunities and any dividend cut backs to be considered amid scenarios including a prolonged market meltdown.


CLICK HERE FOR YOUR FREE REPORT!