The results announcements of the companies have a direct bearing on the movement of their stock prices on the exchanges, either upward, downward or sideways, based on the outcome. As buyers look for value, and if the result exceeds the expectations, the demand increases for the stock, while in case of disappointments in earnings, the investors tend to move their money out of it. Here we are going to discuss two companies operating in two different sectors, which came up with their latest results recently that impacted their stock price movements.
Stock comparison of Renalytix AI Plc and Accrol Group Holdings Plc

(Source: Thomson Reuters)
Renalytix AI PLC
Alternative Investment Market-listed Renalytix AI Plc (RENX) is engaged in providing Artificial Intelligence backed kidney diagnostic services. On November 06-2018, shares of the company got admitted to the AIM segment of the London Stock Exchange for trading.
Financial Highlights (FY2019, US$'000)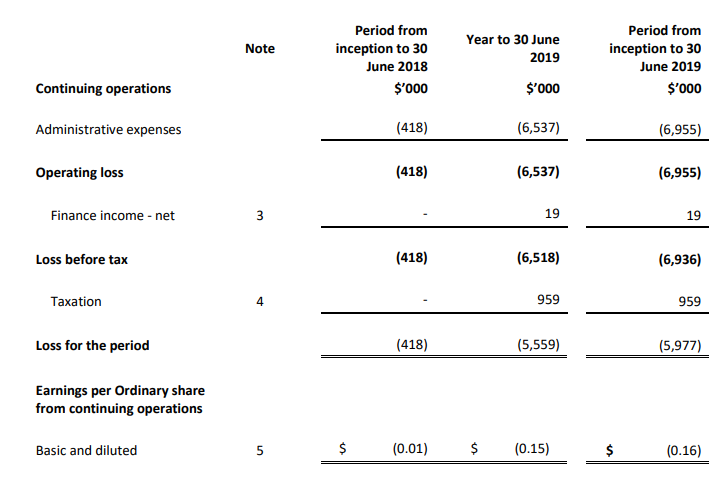 (Source: Audited Final Results, Company Website)
In the financial year 2019, the company completed a successful IPO securing around $27 million of net capital financing with admission to AIM and trading in the group's shares starting on 6th November 2018. In-licensed IP (intellectual property) underlying two product technologies, FractalDx and KidneyIntelXTM, for a total consideration of $11 million in upfront payments. The capital investment was of around $2 million to date during the AI technology (artificial intelligence) and clinical assay advancement. For the period since inception on 15th March 2018 to 30th June 2019, the net loss stood at $6 million, and basic & diluted loss per ordinary share from continuing operations was $0.16. Since its inception to 30 June 2019, cash used in operations was $4.4 million. In FY2019, as of 30 June 2019 cash on hand stood at $9.3 million.
The U.S. FDA (Food and Drug Administration) awarded Breakthrough Device designation in May 2019 for KidneyIntelX™, the group's AI clinical in vitro diagnostic product for identification of fast progressing kidney disease. For KidneyIntelX™, the tenable contract agreements, de-identified electronic health, and patient blood samples record data extended clinical validation through the University of Pennsylvania, Emory University, which was one of the participating academic institutions. For KidneyIntelX™, the company recognised a Chronic Kidney Disease Advisory Board through clinical specialists from the Icahn School of Medicine at Mount Sinai, Wake Forest Baptist Health, Harvard, Johns Hopkins, and Northwestern University. With the University of Groningen, the company initiated a collaboration to evaluate KidneyIntelX™ in 3,500 patients with type two diabetes for initial identification and guiding therapeutic treatment for kidney disease. For FractalDx technology, the company announced positive results, demonstrating the ability to forecast initial refusal in kidney transplant.
In the financial year 2019, the company established core investigator groups for FractalDx development with leading experts from Yale University, Icahn School of Medicine at Mount Sinai, Westmead Hospital Sydney, University of Alabama, University of Oxford, University of Manitoba, Emory University, and the Cleveland Clinic. The company expanded the leadership team with the appointment of vice president of clinical and scientific affairs, Patricia Connolly, in February 2019, and president and chief commercial officer, Thomas McLain. From the New York State Department of Health, the company received CLIA (Clinical Laboratory Improvement Amendments) Certificate Number for group's New York commercial laboratory.
On 23rd July 2019, the company completed successful follow-on financing of net $16.6 million, with placing of new ordinary shares to an array of new and existing institutional investors from the United States and the United Kingdom. The company continues to work with FDA under Breakthrough Device designation for KidneyIntelXTM and hopes to put it for regulatory clearance by the final quarter of 2019.
Outlook
Renalytix AI Plc has made decent progress in its product line and secured substantial financing to support its operations and has gathered significant agreement for its core product KidneyIntelX™ and implemented an exclusive license for FractalDx portfolio of technologies in the area of kidney transplant rejection.
The company's immediate plan remains focused on expanding involvement from world-leading clinicians, building pathways to insurance payer reimbursement in the United States, incremental product development, and regulatory authority engagement. The company's in vitro diagnostic programme for finding fast-progressing kidney disease, KidneyIntelX™, which was granted Breakthrough Device designation from the U.S. Food and Drug Administration (FDA), has the potential to address one of the largest unmet medical needs globally.
Share Price Performance
Daily Chart for the last year as on 03-September-19, before the market close (Source: Thomson Reuters)
On 03 September 2019, at the time of writing the report (at 2:30 pm GMT, before the market close), Renalytix AI PLC was trading at GBX 234, lower by 3.31 per cent against the previous day closing price. Stock's 52 weeks High and Low is GBX 340/GBX 85. The outstanding market capitalisation was around £144.86 million.
Despite the progressive move executed by the company, at the current trading level, its share price has already been stretched. Also, since the group proposed to raise fresh capital through the issue of new ordinary shares, its stock is showing a downtrend, and at the current trading level, the stock was quoting substantially below its 30-day and 60-day simple moving average price and the 14-day RSI of the stock which was hovering in steep oversold zone, is strengthening the downside potential in the stock.
Accrol Group Holdings PLC
Accrol Group Holdings Plc (ACRL), is a United Kingdom-based self-governing tissue converter manufacturing company.  The company provides facial tissues, toilet rolls, kitchen rolls, and AFH (away from home products). Accrol UK Limited, Accrol Papers Limited, and Accrol Holdings Limited are the subsidiaries of the company. The company was formerly known as Accrol Group Holdings Limited.
Financial Highlights (FY2019, £ million)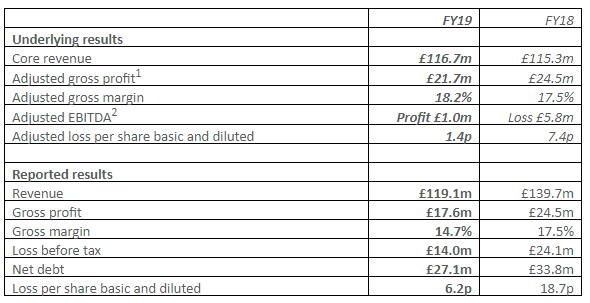 (Source: Final Results, Company Website)
In the financial year 2019, the company's underlying core revenue increased to £116.7 million as compared with the financial year 2018 of £115.3 million. Adjusted underlying gross profit reduced to £21.7 million as compared to £24.5 million in FY18, while adjusted underlying gross margin rose to 18.2 per cent. Adjusted underlying EBITDA stood at £1 million as compared to the loss of £5.8 million in FY18. Adjusted underlying basic and diluted loss per share was 1.4 pence in FY19 versus 7.4 pence in FY18.
On a reported basis, the company's revenue in the year ended 30th April 2019 stood at £119.1 million, a decline against £139.7m in FY18, due to the company's decision to strategically exit the Away from Home market and other low margin contracts. On a like for like (LFL) basis, FY2019 revenue was almost the same against the prior year. All other main earnings figures presented material development on the financial year 2018. The loss at EBITDA level decreased by £10.5 million to a loss of £8.2 million against the loss of £18.7 million in FY18. Loss Before Tax reduced by £10.1 million to £14 million as compared to loss of £24.1 million in FY18. Adjusted Loss Before Tax stood at £2.8 million in FY19 versus loss of £9.1 million in FY18. These substantial improvements were achieved in spite of adverse headwinds in tissue prices and negatively impacting foreign exchange the financial year 2019 results to the tune of £10.8 million.
Non-recurring costs, mainly associated with the turnaround process, totalled of £7.9 million in FY19 versus £12.9 million in FY18. This was driven by the complex nature, speed and scale of the restructuring. The company's balance sheet had stabilised, in spite of the substantial level of expenditure on turnaround costs and investment in adding capacity, with a keen focus on controlled investment, restored cash profitability, and working capital management. On 30th April 2019, the net debt declined by £6.7 million to £27.1 million as compared to £33.8 million in FY18.
Key Risks and Uncertainties
The loss of a major customer; Parent Reel and pulp capacity and pricing; New entrant into Market; Winning a large customer contract; Volatility of foreign exchange rates; the group's dependence on IT systems in its day to day operations; and failure to adhere to regulatory requirements such as taxation, the Data Protection Act, Health and Safety and Fire safety regulations in particular.
Outlook
The company operates in the household industry, which requires continuous investment, sometimes at the cost of profitability, to stay ahead of competitors. The company's exposure to the thriving discount retail segment is robust than it has ever been, and the company is growing the presence amongst the main grocery retailers.  The consumers shift from more expensive established brands to best value products is accelerating, and the company remains well-positioned to capitalise on this trend.
In H2 FY20, the attention is focused on helping more customers deliver the best value for the price paid on tissue products.  Profitable growth is its priority, as it is trying to match the production capacity to significant market demand and stakeholders' growth expectations.
The investment is projected to be funded with lease financing, but the company still anticipates net debt at 30th April 2020 to be slightly lower than at 30th April 2019, given projected levels of cash generation. In early 2020, the new line is planned to be commissioned.
Brexit related uncertainties can increase the interest costs for the company and has led to the curtailment of expansion plans in its home market. The company is also exposed to significant risks from large volatility in the household business.
Share Price Performance
Daily Chart for the last year as at 03-September-19, before the market close (Source: Thomson Reuters)
On 03 September 2019, at the time of writing the report (at 3:31 pm GMT, before the market close), Accrol Group Holdings PLC was trading at GBX 27.6182, higher by 8.31 per cent against the previous day closing price. Stock's 52 weeks High and Low is GBX 31.40/GBX 10.55. The outstanding market capitalisation was around £50.16 million.
With Bank of England reducing the interest rates to a historic low level, the spotlight is back on diverse investment opportunities.
Amidst this, are you getting worried about these falling interest rates and wondering where to put your money?
Well! Team Kalkine has a solution for you. You still can earn a relatively stable income by putting money in the dividend-paying stocks.
We think it is the perfect time when you should start accumulating selective dividend stocks to beat the low-interest rates, while we provide a tailored offering in view of valuable stock opportunities and any dividend cut backs to be considered amid scenarios including a prolonged market meltdown.


CLICK HERE FOR YOUR FREE REPORT!