UK Market: The UK stock market made a positive start to the new week, with the blue-chip FTSE 100 index gaining 0.30%. Most of the airline stocks like EasyJet Plc (5.54%), Wizz Air Holdings (4.62%), and International Consolidated Airlines Group (3.05%) were in green as investors anticipate revival in the aviation industry amid reports of an increase in passenger traffic.
Phoenix Copper Ltd (LON: PXC): The AIM-listed industrial metal and mining company was up by over 16%, with a day's high of GBX 63. The stock price was in green after the company announced its audited result for the year ended 31 December 2021. The company's net assets increased to USD 37.78 million, while its year-end cash balance was USD 13.05 million.
Ocean Wilsons (Holdings) Ld. (LON: OCN): The transport service provider rebounded after the last week's fall. The stock price was up by over 8%, with a day's high of GBX 1,020. The company reported a 12.4% rise in full-year revenue to USD 396.4 million.
US Markets: The US market is likely to have a cautious start, as indicated by the futures indices. S&P 500 future was up by 5 points or 0.09% at 4,532, while the Dow Jones 30 future was down by 0.34% or 117 points at 34,642. The technology-heavy index Nasdaq Composite future was up by 0.31% at 14,802 (At the time of writing – 8:50 AM ET).
US Market News:
Shares of the cryptocurrency exchange operator, Coinbase (COIN), were up by over 4% in the premarket trading after the media reports that the company is near to buying 2TM, the parent company of Brazil-based cryptocurrency broker Mercado Bitcoin. As per the report, the deal is expected to complete by April 2022.
Shares of the communication technology company Poly (POLY), witnessed a surge in volume in premarket trading after the company agreed to a USD 40 per share acquisition deal by HP Inc. The deal is expected to complete by the end of 2022.
European Indices Performance (at the time of writing):

FTSE 100 Index One Year Performance (as on 28 March 2022)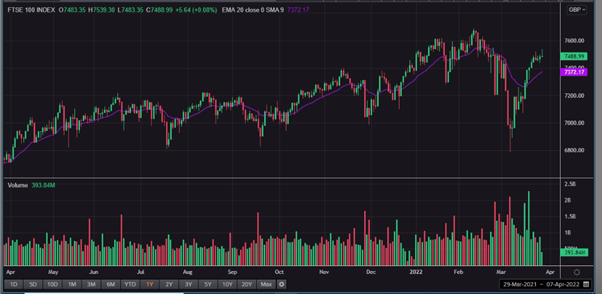 (Source: Refinitiv)
1 Year FTSE 100 Chart
Top 3 Volume Stocks in FTSE 100*: Lloyds Banking Group plc (LLOY), Rolls-Royce Holdings Plc (RR.), Vodafone Group Plc (VOD).
Top 3 Sectors traded in green*: Real Estate (1.09%), Healthcare (1.07%), Utilities (1.01%).
Top 3 Sectors traded in red*: Energy (-2.11%), Basic Materials (-0.99%), Industrials (-0.27%).
London Stock Exchange: Stocks Performance (at the time of writing)

Crude Oil Future Prices*: Brent future crude oil (future) price and WTI crude oil (future) price were hovering at $109.78/barrel and $105.81/barrel, respectively.
Gold Price*: Gold price was quoted at US$ 1,937 per ounce, down by 0.84% against the prior day's closing.
Currency Rates*: GBP to USD: 1.3080; EUR to USD: 1.0972.
Bond Yields*: US 10-Year Treasury yield: 2.451%; UK 10-Year Government Bond yield: 1.6400%.
*At the time of writing