UK Market News: The UK markets on Tuesday extended losses as an analysis by the British Retail Consortium (BRC) and KPMG showed that retail sales in the country declined by 1% in June. The sales fell for the third consecutive month as households slashed discretionary purchases amid the high cost of living. Both blue-chip FTSE 100 and mid-cap focused FTSE 250 indexes slipped nearly 0.50% during the day. The pound sterling too dropped to a new two-year low amid the political uncertainty in the country following Boris Johnson's resignation as the prime minister.
United Utilities Group Plc (LON: UU.): Shares of the water utility company rose over 1% after it agreed to sell its United Utilities Renewable energy unit to investment firm Sustainable Development Capital for £100 million. United Utilities' stock price touched the day's high of GBX 1,048.50 after opening at GBX 1,038.00.
Softcat Plc (LON: SCT): Shares of the FTSE 250 listed IT firm fell over 3% after it announced its succession plans for the top leadership. The company's current CEO, Graeme Watt, will take up the responsibilities of the Non-Executive Chair. Present CFO Graham Charlton will become the CEO of Softcat with effect from 1 August 2023, the company announced on Tuesday.
British Land Company Plc (LON: BLND): The real estate investment trust was among the worst performers on the FTSE 100, with shares down 4% during the day. The stock touched an intra-day low of GBX 443.20. RBC Capital has downgraded the company's ratings from 'sector perform' to 'underperform'.
US Markets: The US market is likely to mirror the European markets and get a negative start, as indicated by the futures indices. S&P 500 future was down by 44.95 points or 1.15% at 3,854.43, while the Dow Jones 30 futures was down by 0.52% or 164.31 points at 31,173.84. The technology-heavy Nasdaq Composite future was down by -262.71 points or 2.26% at 11,372.60 (At the time of writing – 9:13 AM ET).
US Market News:
Beverage and snack giant PepsiCo (PEP) gained 1.2% in the premarket session after it reported an adjusted quarterly profit of US$1.86 per share. The company also raised its full-year forecast amid the steady consumer demand.
Shares of apparel retailer GAP (GPS) nosedived 6.3% in the premarket after its chief executive Sonia Syngal stepped down from the position after two years. The company's executive chairman Bob Martin will be appointed as her interim replacement.
European Indices Performance (at the time of writing):
FTSE 100 Index One Year Performance (as on 12 July 2022)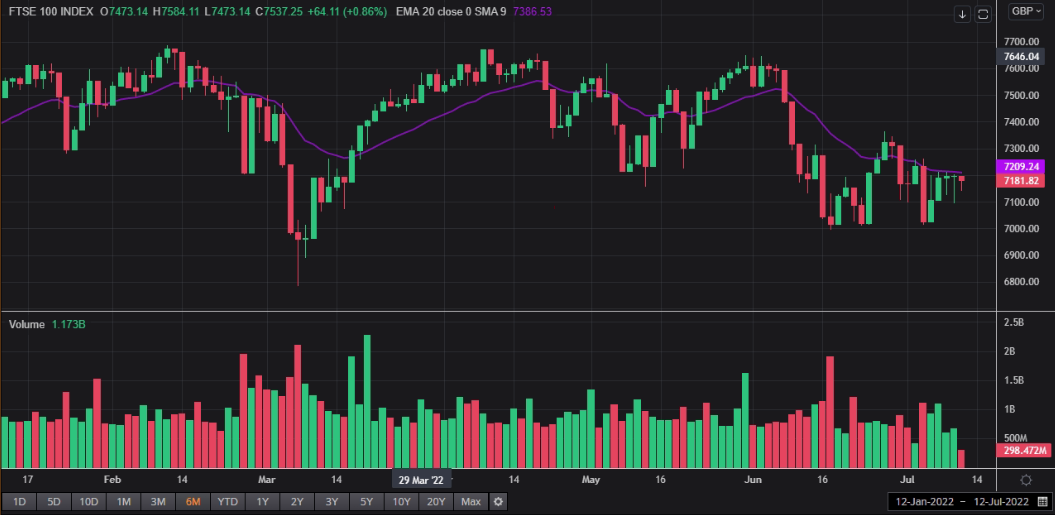 (Source: Refinitiv)
Top 3 Volume Stocks in FTSE 100*: Lloyds Banking Group Plc (LLOY), Vodafone Group Plc (VOD), Barclays Plc (BARC)

Top 3 Sectors traded in green*: Utilities (1.25%), Healthcare (0.19%), Industrials (0.13%).
Top 3 Sectors traded in red*: Real Estate (-0.91%), Basic Materials (-0.78%), Financials (-0.69%)
London Stock Exchange: Stocks Performance (at the time of writing)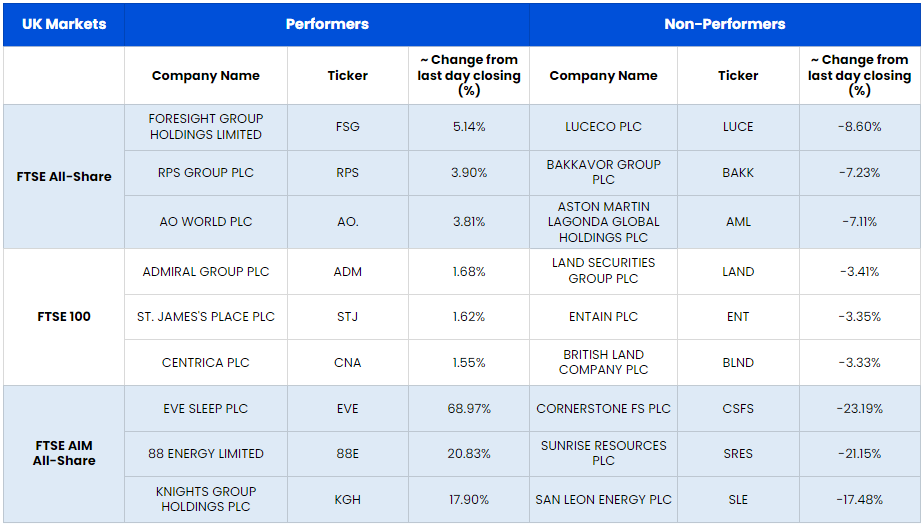 Crude Oil Future Prices*: Brent future crude oil (future) price and WTI crude oil (future) price were hovering at $102.59/barrel and $99.38/barrel, respectively.
Gold Price*: Gold was quoted at US$ 1,729.70 per ounce, down by 0.13% against the previous day's closing.
Currency Rates*: GBP to USD: 1.1848; EUR to USD: 1.0046.
Bond Yields*: US 10-Year Treasury yield: 2.939%; UK 10-Year Government Bond yield: 2.0745%.
*At the time of writing