UK Market: The UK market was trading on the front foot on Monday after the government's U-turn on the tax rate and Chancellor Kwasi Kwarteng's plans to bring forward how the £43 billion tax cuts will be funded. The blue-chip index jumped over 2% at around 1 pm GMT+1, while the broader FTSE 250 soared over 2.5%. Originally, the Chancellor was to outline the plans in November, but several reports have claimed that it has been moved ahead to later this month.
Greggs PLC (LON: GRG): Shares of the British bakery chain soared by nearly 10% after its upbeat trading statement for the third quarter. For the 13 weeks to 1 October 2022, its total sales went up 14.6% on a like-for-like basis. It expects its full-year outcome to be in line with its previous expectations.
Drax Group (LON: DRX): The renewable energy producer's shares slumped more than 5% after it was accused of poor business practices. A BBC investigation broadcast has accused the company of chopping up wood from Canadian forests for making wood pallets.
Royal Mail PLC (LON: RMG): Shares of the postal and courier services company jumped over 3% on its last day of trading with this name. The company has officially changed its name to International Distributions Services plc.
US Markets: The US market is likely to get an upbeat start, as indicated by the futures indices. S&P 500 future was up by 92.81 points or 2.59% at 3,678.43, while the Dow Jones 30 future was up by 2.66% or 765.38 points at 29,490.89. The technology-heavy index Nasdaq Composite future was also up by 2.27% or 239.82 points, at 10,815.43. (At the time of writing – 8:28 am ET).
US Market News:
Shares of the electric vehicle maker Rivian (RIVN) jumped 9.3% after it announced that its production for the third quarter rose by two-thirds over the second quarter. It also added that it is on the path to meet production goals for this year.
Shares of the e-commerce retailer Poshmark (POSH) soared 12.1% after reports of South Korean internet giant Naver purchasing it for $17.90 a share.
European Indices Performance (at the time of writing):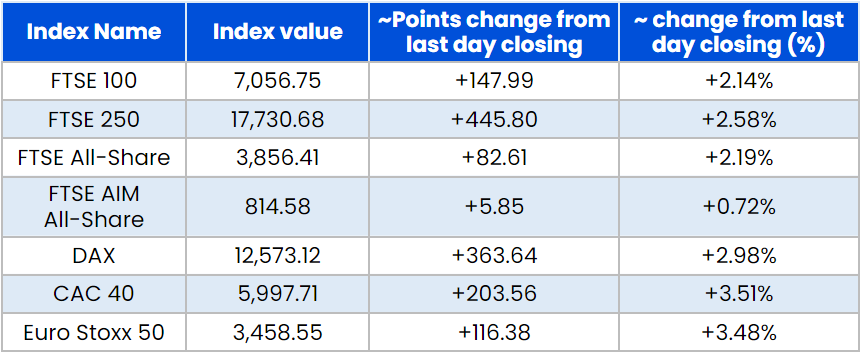 FTSE 100 Index One Year Performance (as on 4 October)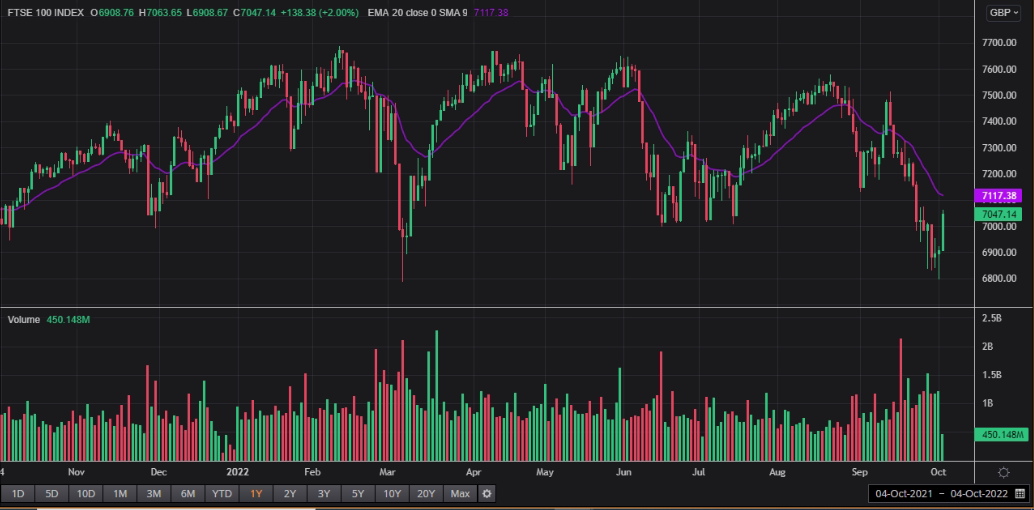 (Source: Refinitiv)
Top 3 Volume Stocks in FTSE 100*: Lloyds Banking Group plc (LLOY), Glencore Plc (GLEN), Vodafone Group Plc (VOD)
Top 3 sectors traded in green*: Consumer Cyclicals (3.33%), Financials (3.04%), Industrials (2.98%)
London Stock Exchange: Stocks Performance (at the time of writing):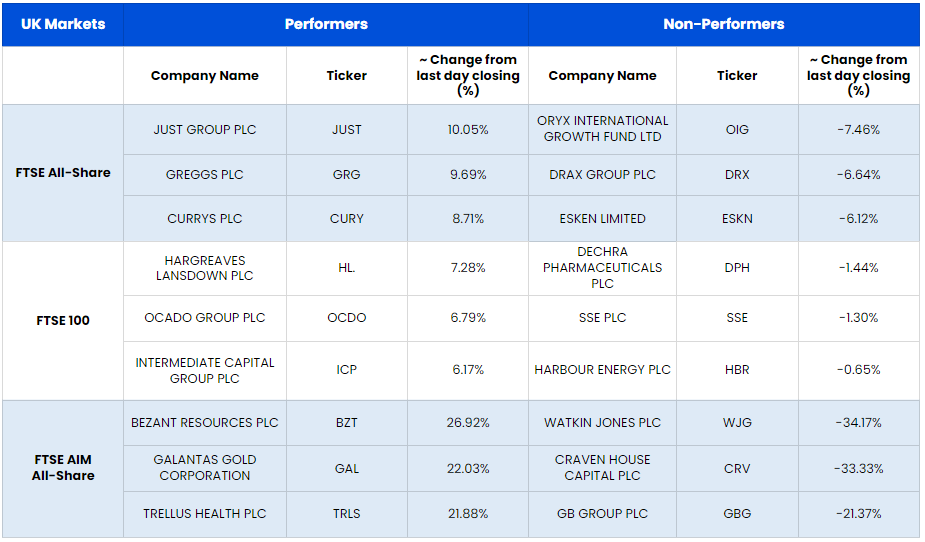 Crude Oil Future Prices*: Brent future crude oil (future) price and WTI crude oil (future) price were hovering at $90.18/barrel and $84.16/barrel, respectively.
Gold Price*: Gold price was quoting at US$1,715.30 per ounce, up 0.78% against the prior day's closing.
Currency Rates*: GBP to USD: 1.1331; EUR to USD: 0.9914.
Bond Yields*: US 10-Year Treasury yield: 3.587%; UK 10-Year Government Bond yield: 3.8515%.
*At the time of writing