UK Market: The UK stock market traded a little over the opening levels as investors exercised caution after inflation reached double digits in July. At around 1:45 pm GMT+1, the benchmark FTSE 100 index was up 0.14%, while the mid-cap focused FTSE 250 was up 0.18%. Experts at investment bank JP Morgan have projected that equity markets are likely to remain volatile in the third quarter of the year.
Zytronic Plc (LON: ZYT): Shares of the AIM listed company slipped over 10% after it warned of lower-than-expected order levels in the second half due to economic disruptions.
Inspecs Group plc (LON: SPEC): Shares of the British global eyewear and lens firm slumped 8.75% after it posted a drop in EBITDA to US$15.1 million for the six months to 30 June 2022 against the US$16.8 million in the first half of 2021.
Rank Plc (LON: RNK): Shares of the casino operator fell 2.5% after analysts said that energy price hikes would prompt cuts to its earnings forecasts.
US Markets: The US market is likely to get a negative start, as indicated by the futures indices. S&P 500 future was down by 31.16 points or 0.72% at 4,274.04, while the Dow Jones 30 future was down by 0.50% or 171.69 points at 33,980.32. The technology-heavy index Nasdaq Composite future was also down by 1.25% or 164.43 points, at 12,938.12. (At the time of writing – 9:21 am ET).
US Market News:
Shares of the American department store retail chain Kohl's (KSS) slumped 7.2% in the premarket trading session after it slashed its full-year forecast, citing an increased promotional activity and costs. In the most recent quarter, the company's revenue and profit surpassed the market forecasts.
Shares of the warehouse retailer BJ's Wholesale (BJ) rallied 5.4% in the premarket trading session after it posted an adjusted quarterly profit of $1.06 per share, beating analysts' forecasts. It also reported higher-than-expected store sales.
European Indices Performance (at the time of writing):
FTSE 100 Index One Year Performance (as on 18 August)
(Source: Refinitiv)
Top 3 Volume Stocks in FTSE 100*: Glencore Plc (GLEN), Lloyds Banking Group plc (LLOY), Haleon Plc (HLN),
Top 3 sectors traded in green*: Real Estate (1.23%), Energy (0.94%), Basic Materials (0.62%)
Top 3 sectors traded in red*: Financials (-0.18%), Consumer Non-cyclicals (-0.15%), Consumer Cyclicals (-0.02%)
London Stock Exchange: Stocks Performance (at the time of writing):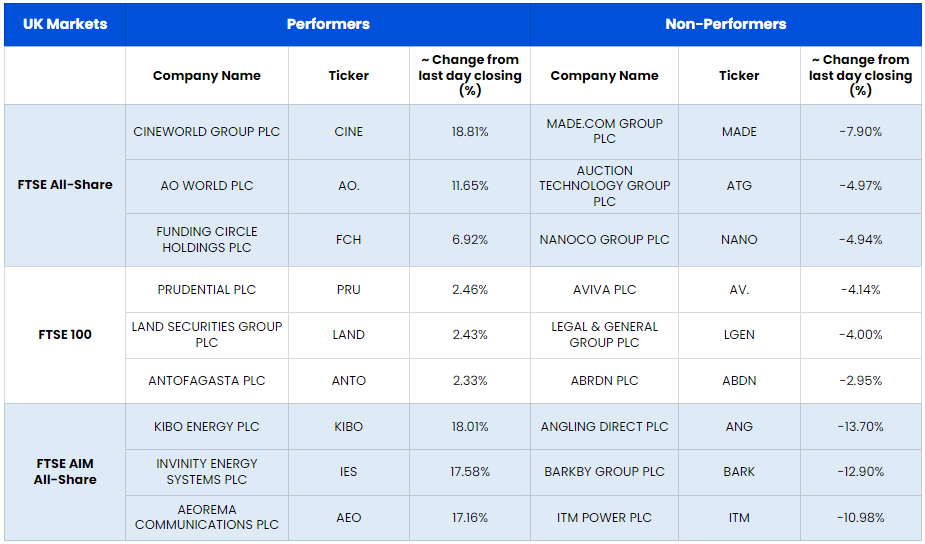 Crude Oil Future Prices*: Brent future crude oil (future) price and WTI crude oil (future) price were hovering at $95.30/barrel and $89.42/barrel, respectively.
Gold Price*: Gold price was quoting at US$ 1,781.45 per ounce, up by 0.27% against the prior day closing.
Currency Rates*: GBP to USD: 1.2043; EUR to USD: 1.0165.
Bond Yields*: US 10-Year Treasury yield: 2.871%; UK 10-Year Government Bond yield: 2.3285%.
*At the time of writing