US Markets: Broader indices in the United States traded in red - particularly, the S&P 500 index traded 8.22 points or 0.19 per cent lower at 4,246.93, Dow Jones Industrial Average Index dipped by 121.64 points or 0.35 per cent lower at 34,272.11, and the technology benchmark index Nasdaq Composite traded lower at 14,097.95, down by 76.19 points or 0.54 per cent against the previous day close (at the time of writing - 12:40 PM ET).
US Market News: The major indices of Wall Street traded in a red zone as investors remained focused on the Federal Reserve's meeting to be held this week. Among the gaining stocks, Spirit Airlines (SAVE) shares rose by about 0.41% after Citi upgraded the stock from "neutral" to "buy". Among the declining stocks, Sage Therapeutics (SAGE) shares went down by about 17.39% after the release of study results for the Company's experimental depression drug. Vroom (VRM) shares plunged by about 10.25% after the Company had intended to offer convertible senior notes. Ping Identity Holding Corp (PING) shares dropped by around 6.78% after the Company had announced a 6 million share common stock offering.
UK Market News: The London markets traded on a mixed note after the release of the UK jobs data. Moreover, the unemployment rate had dropped to 4.7% for the three months ended April 2021, a modest improvement from 4.8% for three months to March 2021.
PageGroup shares went down by about 2.40% after Morgan Stanley had downgraded the investment stance from "equal weight" to "underweight".
Global Market Round Up || Why Did Wall Street Stocks Drift On Weak Retail-Sales Data?
Bellway had lifted the forecast for the average selling price to 300,000 pounds. The Company had reported robust demand for new homes in the second half of the financial year. Moreover, the shares went up by approximately 0.04%.
Boohoo Group shares rose by around 0.52% after the Company had reported robust year-on-year revenue growth of around 32% for the three months ended 31 May 2021. Moreover, the Company had a net cash of 199.1 million pounds as of 31 May 2021.
Data Intelligence specialist GB Group had witnessed revenue growth of around 12.1% in organic constant currency terms during FY21. However, the shares plunged by approximately 4.54%.
European Indices Performance (at the time of writing):
FTSE 100 Index One Year Performance (as on 15 June 2021)
1 Year FTSE 100 Chart (Source: Refinitiv)
Top 3 Volume Stocks in FTSE 100*: Vodafone Group Plc (VOD); Lloyds Banking Group Plc (LLOY); Glencore Plc (GLEN).
Top 3 Sectors traded in green*: Technology (+1.25%), Consumer Non-Cyclicals (+1.19%) and Energy (+1.03%).
Top 2 Sectors traded in red*: Basic Materials (-1.47%) and Real Estate (-0.72%).
London Stock Exchange: Stocks Performance (at the time of writing)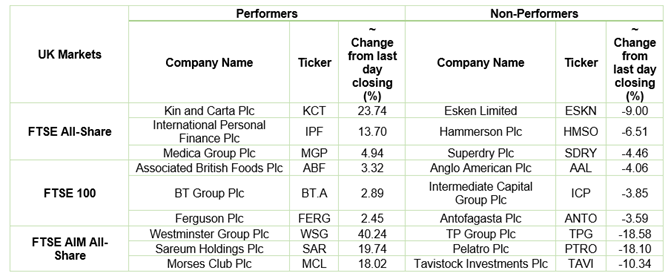 Crude Oil Future Prices*: Brent future crude oil (future) price and WTI crude oil (future) price were hovering at $73.94/barrel and $72.06/barrel, respectively.
Gold Price*: Gold price was quoting at US$ 1,858.65 per ounce, down by 0.39% against the prior day closing.
Currency Rates*: GBP to USD: 1.4084; EUR to GBP: 0.8611.
Bond Yields*: US 10-Year Treasury yield: 1.497%; UK 10-Year Government Bond yield: 0.7680%.
*At the time of writing