UK Market: The UK stock market ran out of steam on Wednesday amid fears of a global slowdown. The country's top share index FTSE 100 fell 0.5% after opening, while the mid-cap FTSE 250 slipped by 1.2%. The fall came as the British Retail Consortium (BRC) said that the UK shop prices in June rose at the fastest rate in 14 years. The prices were 3.1% higher than last year. Food inflation touched 5.6% in June as retailers passed on the rising input costs to the consumers.
B&M European Value Retail SA (LON: BME): Shares of the variety store chain were up by nearly 2% after it announced its update for the first quarter of FY23. While the company's revenue declined by over 9%, its profit guidance for the full year remained unchanged. The company expects its EBITDA to be between £550 million and £600 million for the whole year.
National Grid Plc (LON: NG.): The energy utility company's shares were up by nearly 1% as the UK's energy regulator Ofgem announced plans to put in £20 billion to upgrade the country's regional electricity grids. The amount is less than what the power companies had proposed to invest. The regulator also added that it would not raise the energy bills for consumers.
Mulberry Group Plc (LON: MUL): The British fashion company announced its preliminary results for the 53 weeks ended 2 April 2022 and posted a significant rise in pretax gains. Its gross revenue went up by 32% to £152.4 million, indicating a strong post-pandemic recovery. The profit before tax surged to £21.3 million from £4.6 million in 2021.
US Markets: The US market is likely to make a positive start today, though its European and Asian counterparts turned lower as Federal Reserve policymakers push for faster interest rate hikes. S&P 500 future was up by 8.00 points or 0.21% at 3,833.50, while the Dow Jones 30 futures gained 0.53% or 165.00 points at 31,098. The technology-heavy Nasdaq Composite future was up by 0.19% or 22.75 points at 11,697.50 (At the time of writing – 9:45 AM ET).
US Market News:
General Mills (GIS): Shares of the American multinational food company were up 1.6% in the premarket trading session after it announced adjusted quarterly earnings of $1.12 per share. While its revenue exceeded the analysts' expectations, the company estimated that its full-year profit might stay below the expectations due to the rising costs.
Carnival (CCL): The cruise line operator's shares nosedived by 7.8% in premarket trading after its price target was nearly halved to $7 per share from $13 by Morgan Stanley.
Bed Bath & Beyond (BBBY): Shares of the homeware retailer plunged 10.1% in the premarket following the company's announcement that its chief executive Mark Tritton will depart.
European Indices Performance (at the time of writing):
FTSE 100 Index One Year Performance (as on 29 June 2022)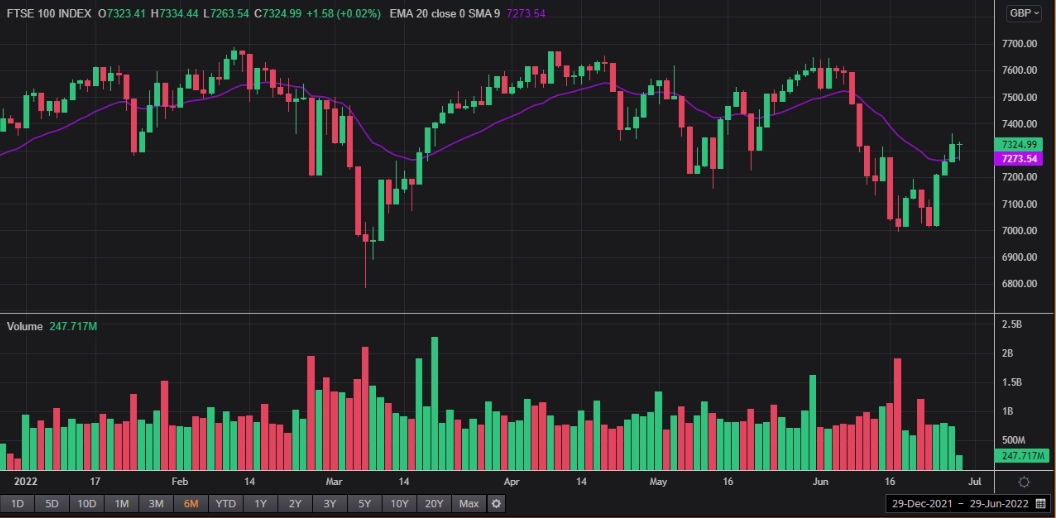 (Source: Refinitiv)
Top 3 Volume Stocks in FTSE 100*: BT Group Plc (BT.A), Lloyds Banking Group plc (LLOY), Vodafone Group Plc (VOD).
Top 3 Sectors traded in green*: Energy (2.54%), Healthcare (0.48%), and Basic Materials (0.29%).
Top 3 Sectors traded in red*: Real Estate (-4.63%), Consumer Cyclicals (-1.38%), Technology (-0.74%).
London Stock Exchange: Stocks Performance (at the time of writing):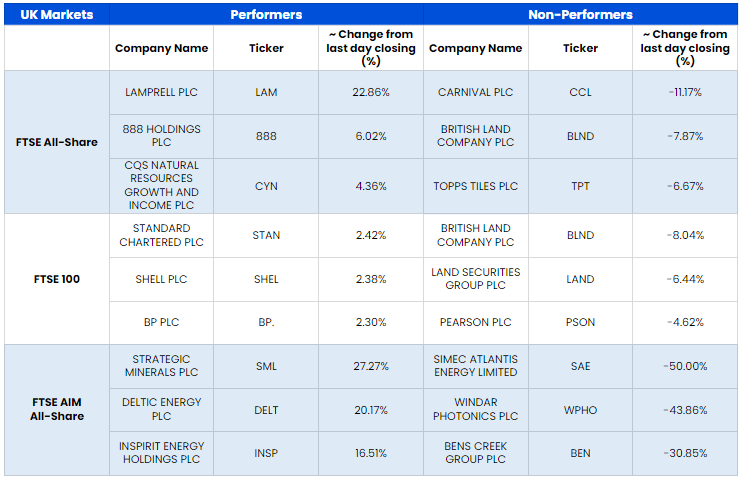 Crude Oil Future Prices*: Brent future crude oil (future) price and WTI crude oil (future) price were hovering at $115.34/barrel and $113.41/barrel, respectively.
Gold Price*: Gold price hovered at around US$ 1,832.90 per ounce, up by 11.70% against the prior day's closing.
Currency Rates*: GBP to USD: 1.2159; EUR to USD: 1.0515.
Bond Yields*: US 10-Year Treasury yield: 3.155%; UK 10-Year Government Bond yield: 2.4380%.
*At the time of writing