US Markets: The US market is expected to have a flat opening amid a record rise in daily new cases in the country. In the premarket trading, S&P 500 was trading up by 4 points or 0.10% at 4,783, while the Dow Jones 30 futures was up by 0.08% or 28 points at 36,310. The technology-heavy index Nasdaq Composite was up by 0.14% at 16,510 (At the time of writing – 9:02 AM ET).
US Market News: Shares of the electric car maker, Tesla (TSLA), was up by 1.4% in premarket trading after the news that its CEO Elon Musk has completed the exercise of his stock options, which suggests the end of the recent stock sales. The shares of the e-commerce giant Alibaba (BABA) were down by 1% in the premarket session, following the media report that the company is considering a 30% stake sell in Weibo, an advertising company, to state-owned Shanghai Media Group.
UK Market News: The UK stock market is trading remains in positive territory after a good start, with benchmark index FTSE100 up by 0.76%. At one point in time, the blue-chip index was above the 7450 level for the first time since 20 February 2020. The 22-month high for the index was reached despite the daily rise in new coronavirus cases.
Fisher (James) & Sons Plc (LON: FSJ): Shares of the leading marine service provider were up by 22.17%, with a day's high of GBX 372, after the company confirmed that it had received all its outstanding dues relating to suspended LNG project in Mozambique.
Carnival Plc (LON: CCL): Shares of the cruise line service provider were down by 3.7%, with a day low of GBX 1,407.20. The stock saw profit booking from investors amid the rise in Omicron variant cases globally, which might lead to the suspension of cruise line operations.
Cadence Minerals Plc (LON: KDNC): AIM-listed precious metal and mining company's stock was up 30.77% at GBX 25.50 after the company announced a settlement agreement for the Amapa iron ore project in Brazil. Upon execution of the new agreement, the company and its joint venture partner, Indo Sino, will get 100% ownership of the Amapa project.
European Indices Performance (at the time of writing):

FTSE 100 Index One Year Performance (as on 29 December 2021)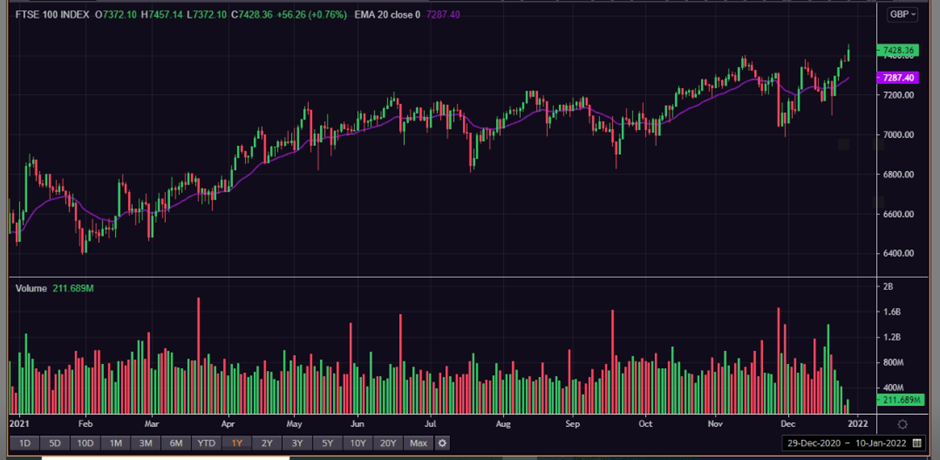 (Source: Refinitiv)
Top 3 Volume Stocks in FTSE 100*: Lloyds Banking Group plc (LLOY), Vodafone Group Plc (VOD), BP Plc (BP.)
Top 3 Sectors traded in green*: Industrials (1.57%), Real Estates (1.55%), Utilities (1.12%)
Sectors traded in red*: Energy (-0.40%)
London Stock Exchange: Stocks Performance (at the time of writing)
Crude Oil Future Prices*: Brent future crude oil (future) price and WTI crude oil (future) price were hovering at $78.52/barrel and $75.65/barrel, respectively.
Gold Price*: Gold price quoted at US$ 1,792 per ounce, down by 1.04% against the prior day closing.
Currency Rates*: GBP to USD: 1.3463; EUR to USD: 1.1319.
Bond Yields*: US 10-Year Treasury yield: 1.517%; UK 10-Year Government Bond yield: 0.9795%.
*At the time of writing