Highlights

Travel letting agency Travel Chapter is mulling an IPO on LSE's submarket AIM.
The company plans to float in mid-November and is expected to have a valuation of about £350 million
The news comes after travel agencies have seen a staycation boom amid travel restrictions during the pandemic
British holiday online rental platform, Travel Chapter is mulling an initial public offering (IPO) on the London Stock Exchange's junior market, the Alternative Investment Market (AIM).
Travel Chapter plans to launch its IPO next month around mid-November. The news comes amid reports that staycations have witnessed a boom during the pandemic.
Travel Chapter, founded in 1989 by the Morris family, owns several travel brands, including Holidaycottages.co.uk, Stay In and Cottages & Castles.
Travel Chapter's IPO
The company, which is backed by private equity firm ECI Partners, is estimated to have a market valuation of about £350 million. It was reported that ECI Partners had acquired an undisclosed stake in the company in 2019 from UK based mid-market private equity firm Phoenix Equity Partners.
Travel Chapter was said to have a valuation ranging between £100 million and £200 million in 2018. The company is also said to have raised at least £30.7 million till date over several capital raising rounds.
The company has appointed capital markets company Numis Securities Ltd as its sole broker and bookrunner for the IPO transaction. Also, the global investment bank GCA Altium Ltd has been hired as the company's nominated advisor.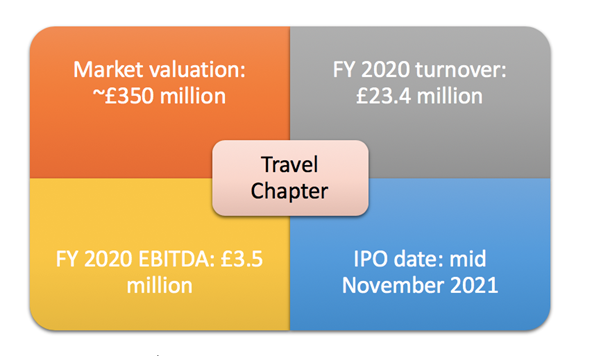 © 2021 Kalkine Media
How will Travel Chapter capitalise on UK's staycation boom?
The UK self-catering market value had fallen by 45 per cent in 2020 due to restrictions, however, the industry's market value is expected to jump by 54 per cent this year.
Moreover, the self-catering market is estimated to grow between 6 per cent to 7 per cent per annum till 2025.
The company is the third-largest travel letting agency in the UK according to property portfolio size. Its turnover stood at £23.4 million in FY 2020, and its earnings before interest, taxes, depreciation, and amortisation (EBITDA) stood at £3.5 million in FY 2020, despite being impacted by the pandemic.
The company had increased its market share in the industry via organic and inorganic growth, including acquisitions. The company has acquired 25 agencies from 2016 to the present.
Moreover, the company's customer database has increased to 1.1 million in August this year, compared to about 735,000 in May 2019. The company said the growth in customers database was due to younger and also affluent travellers entering the market.
The company's growth strategy includes a multi-pronged approach of investing in its organic portfolio, placing greater focus on its property portfolio quality, and also maintaining and enhancing the company's KPIs.
The company's CEO Jayne McClure said that the company has seen a long term and strong boost in domestic tourism in the UK and expects the trend to continue.
Bottom Line
IPOs have seen a boom in the UK this year, however, several IPOs have been temporarily shelved due to market volatility, that includes fitness chain Pure Gym, roofing specialised Marley and others.
Travel Chapter's IPO plans amid these circumstances can be called the result of wider prospects of the sector. Also, the British self-catering holiday market has shown it can withstand macro-economic headwinds after it grew by 4.1 per cent on a CAGR basis between 2006 and 2019. This period included the 2008-09 global financial crisis.