Background
Based in the United Kingdom Digitalbox Plc (LSE: DBOX) is a digital media company. The company, a wholly digital company and focused on providing mobile-related content. The company specialises in delivering emerging publishing technologies to its customers. The company works with the world's leading advertisers which include Tesco, O2, Vodafone, P&O Cruises, Mini Copper, British Gas, Thomas Cook, Sky, Unilever, Virgin Media, M&S and John Lewis Etc. The company's Entertainment Daily business is targeting thirty plus audience. They are mainly females who provide entertainment news related to TV shows, celebrity gossip and soaps. Daily Mash is Digitalbox's other offering in the United Kingdom's leading satirical website. Daily Mash provides digital content related to politics, news and sports in a unique way.
Recent Developments
August 1, 2019 – Digitalbox Joins Hands with NextUp
Digitalbox plc announced that it had started a partnership with top video platform christened NextUp. Started in FY 2016, NextUp is a global on-demand video platform which is paid subscription-based. The platform colloquially is termed as "The Netflix of UK Stand-Up". The video platform specialises in comedy. As per the deal between the two parties The Daily Mash would dispense video content mainly of small size. The source of the small comedy videos is the NextUp's extensive collection from social media source and website. NextUp's collection is the best source for satirical items in the United Kingdom. Overall the company gets over three and a half million clicks on a monthly visit. Also, on the social media network, the company has almost a lakh of followers. The deal is significant as the joint forces would increase the combined subscriber base of the company for its satirical short videos. The deal would also enlarge the library of content with the comedians from stand-up genre performing in the United Kingdom. As a result, this would create a brand-new source of revenue from advertising. Our bullishness on this joint business venture is because The Daily Mash and NextUp have under its belt the best shows and videos related to humour and satire. On the British Broadcasting Corporation's channel two, The Daily Mash has a long-running show named, Mash Report for more than ten years. The show witnessed steady growth in audience and also received a The British Academy of Film and Television Arts nomination. On the other hand, NextUp focuses on the broad range of comedy ranging from observationalists; surrealists; storytelling; character comedy; the art of sketch; merchants of the gag; and others. The smart thing done by the company is that they have a rule of equal sharing of revenue with the performers of the comedy shows. The subscribers would also find in the list of videos consists both of established names and new ones.
April 11, 2019
Digitalbox Plc Trading Update
Digitalbox plc reported a trading update and the audited results of its fully owned subsidiary, Digitalbox Publishing Limited for the twelve months ending December 31, 2018. The subsidiary manages Digitalbox plc's trading brand, Entertainment Daily. In the reported period, the subsidiary reported better than expected numbers. Strong advertising and audience growth in the fourth quarter. Overall Digitalbox Publishing Limited posted revenue of £1,988,533 and an EBITDA of £433,000 for the period. Overall, the trading results were in line with the management forecasts. Management also stated in the first quarter of FY 2019, Digitalbox Publishing Limited's proprietary, Entertainment Daily was able to attract a large audience with robust revenue. The company acquired Daily Mash and integrated Digitalbox ad stack.
Digitalbox PLC Share Price Performance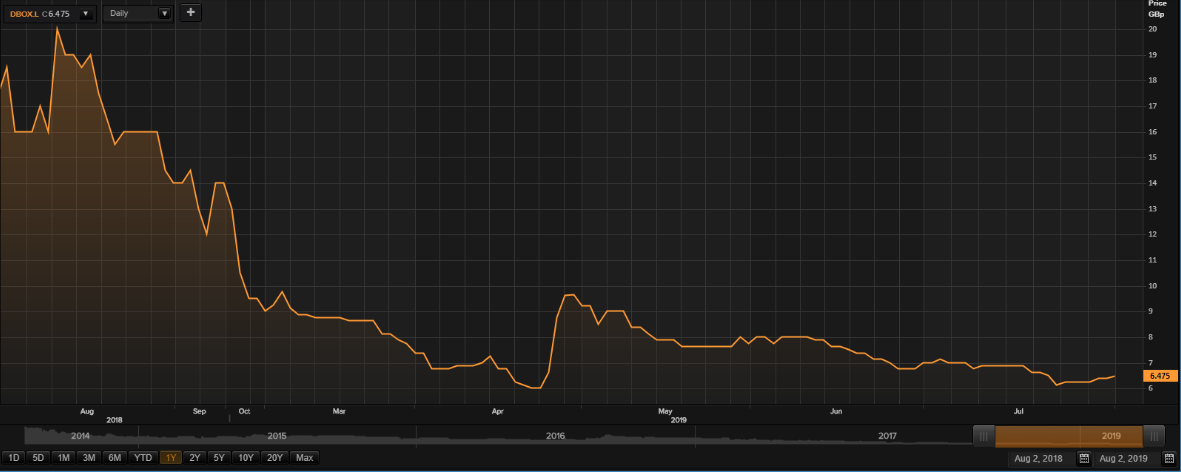 Daily Chart as at August 2, 2019, before the market close (Source: Thomson Reuters)
On August 2, 2019, at the time of writing (before the market close, GMT 11:50 AM), Digitalbox Plc shares were trading at GBX 6.475, flat versus the previous day closing price. Stock's 52 weeks High and Low is GBX 22.40/ GBX 5.55. The outstanding market capitalisation was around GBP 5.86 million.
IXICO Plc
Background
IXICO Plc (LSE: IXI) is a health company focused on the human brain. Main areas of attention by the company are Parkinson's disease; Huntington's disease; Alzheimer's disease; adolescent mental health; and human behavioural health. The main source of revenue of the company comes from pharmaceutical and health companies through the service of clinical trials to them. The main products of the company are TrialTracker; mehealth; Assessa; and MyBrainBook. Of the above platforms, TrialTracker engages in real-time study or trial related to medicine through a web-based application. The platform also engages in preparation of products associated with the digital health space. mehealth is online software which helps to increase the effectiveness of treatment and monitoring of patients, assisting clinicians. Assessa helps to find the reason behind health problems and helps in smart decisions by doctors and healthcare professionals. MyBrainBook is related to dementia and its treatment value chain, which it provides through a platform digital.
Financial Highlights – H1 FY 2019 (£, thousand)
(Source: Company Filings, Company Website)
In H1 FY 2019 (for the six months ended March 31, 2019) the company reported revenue of £3.426 million versus £2.817 million in the year-ago period. Gross Profit during H1 FY 2019 came in at £2.271 million versus £1.697 million in the year-ago period. In the reported period, operating profit came in at £0.105 million versus operating loss of £0.513 million in the year-ago period. In H1 FY 2019 Profit before tax came in at £0.106 million versus loss before tax of £0.514 million in H1 FY 2018. Overall net income came in at £0.215 million in H1 FY 2019 versus £0.418 million during H1 FY 2018. The basic profit per share for H1 FY 2019 stood at 0.5 pence versus a loss per share of 1.5 pence in H1 FY 2018. The diluted profit per share for H1 FY 2019 stood at 0.5 pence versus a loss per share of 1.5 pence in H1 FY 2018.
IXICO's Strong Business Trends
IXICO a British pure play can well be classified for its operation in a space which has significant opportunities. It targets the lucrative market of the data analysis of the human brain. The recent trends support our bullishness about the company in the first half of the financial year 2019; new contracts were bagged by the company worth £5.2 million. This shoot its total order book value to £21.2 million. The order book is bulging as the biotechnology and pharmaceutical niche space where it operates is steadily gaining more traction. As per management estimates, the order book supports its FY 2019 topline growth expectation year over year by twenty per cent. To attain this, the company in the H2 FY 2019 plans to speed up the rate of its capital expenditure to increase its production capacity and expand its infrastructure. A key focus has been on Huntington's disease, a rare genetic neurodegenerative disorder that affects movement, cognition and behaviour. In FY 2018 around a quarter of IXICO's revenues were generated from Huntington's disease contracts. This is set to rise following a number of notable contract wins. Also, the focus on higher spending on the research and development domain was kept constant by the management of Ixico. Its modus operandi is the rapidly growing neurology space. In terms of operation ability, the clinical trial imaging market can be segmented into magnetic resonance imaging, computed tomography, x-ray and ultrasound, echocardiography, positron emission tomography, and others. In terms of end-use, the market can be segmented into pharmaceutical, medical device manufacturing, contract research organization, and others. In terms of region, the clinical trial imaging market can be segmented into North America, Asia Pacific, Europe, Middle East & Africa, and South America. Among all, Asia Pacific is predicted to be the most attractive market owing to large presence of pharmaceutical & biotechnology industries as well as contract research organizations in the region. As per market experts, the worldwide neurology market was approximately USD 182.9 billion in FY 2017 and is expected to grow at a compounded annual growth rate of 3.5 per cent. It is expected to breach the barrier of USD 34 billion by FY 2024. The lion's share will go the outsourcing plays like Ixico in the biopharmaceutical value chain. This is because Ixico provides specialist data analysis services to a wide range of stakeholders in the neuroscience trial ecosystem. Ixico management estimates that this market is worth over £100 million annually.
IXICO Plc Share Price Performance
Daily Chart as at August 2, 2019, before the market close (Source: Thomson Reuters)
On August 2, 2019, at the time of writing (before the market close, GMT 11:50 PM), IXICO Plc shares were trading at GBX 38.6000, up by 0.26 per cent against the previous day closing price. Stock's 52 weeks High and Low is GBX 43.00/ GBX 18.78. The outstanding market capitalisation was around GBP 18.05 million.
With Bank of England reducing the interest rates to a historic low level, the spotlight is back on diverse investment opportunities.
Amidst this, are you getting worried about these falling interest rates and wondering where to put your money?
Well! Team Kalkine has a solution for you. You still can earn a relatively stable income by putting money in the dividend-paying stocks.
We think it is the perfect time when you should start accumulating selective dividend stocks to beat the low-interest rates, while we provide a tailored offering in view of valuable stock opportunities and any dividend cut backs to be considered amid scenarios including a prolonged market meltdown.


CLICK HERE FOR YOUR FREE REPORT!