Summary

Government mulling over giving National Insurance holiday to firms hiring new staff, to promote employment
At present, an employer needs to pay at a rate of 13.8 per cent on employee earnings above a set threshold
United Kingdom's economy to shrink by 8.3 per cent in 2020, though the unemployment is projected to rise to 7 per cent in Q4 2020
The furlough scheme will be coming to an end in October 2020
Rishi Sunak, Chancellor of the Exchequer, is mulling over giving National Insurance (NI) holiday to firms hiring new staff, in a bid to promote employment. This might get people back to work in a shrinking economy, which has been badly hit by the spiralling effects of the COVID-19 pandemic throughout the United Kingdom. This holiday scheme would be announced as a part of the coronavirus stimulus package in July this year, according to media sources.
National Insurance (NI) is imposed as a tax on the earnings of employees. These contributions then collectively go to a Government fund that uses it to provide state welfare benefits to UK citizens like sick leave, maternity benefits and the state pension.
Both the employee and the employer are liable to make their separate NI contributions to the Government, based on their set slabs and rates. From the employees' side, most people (between the salary bracket of £9,500 and £50,000) pay 12 per cent of their earnings towards their National Insurance contribution. At present, an employer needs to pay NI at a rate of 13.8 per cent on employee earning more than the threshold of £732.01 each month. The detailed list of employers' contributions towards employee NI for the 2020 to 2021 is as follows:
UK Employer National Insurance rates, FY 2020-21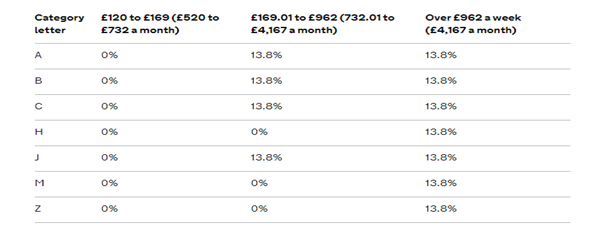 (Source: Government Release)
This kind of NI holiday incentive has already been experimented in the past, way back in the year 2010. To help job growth across the exteriors of London, the then Government had given a national insurance holiday to employers for up to £5,000 for first 10 employees each across the regions of south-east and east of England.
UK Economy is shrinking
According to the European Commission's prediction, the United Kingdom's economy is likely to fall by a record 8.3 per cent in the year 2020. The fiscal deficit for the year would shrink to 14 per cent of the GDP, of around £300 billion, as per the Office for Budget Responsibilities.
This is a result of unsettling factors on many fronts – a fear psychosis of reduced consumer spending with corona pandemic, new infections still being around, work-related restrictions due to lockdown, low demand for most goods & services and companies finding it difficult to manage over-supplies.
Unemployment is projected to rise to 7 per cent in Q4 2020, up from 4 per cent observed during Q1 2020, despite the Government's furlough scheme. At present around two-fifth of Government debt comprises of money feeding into the job retention scheme. This money is being paid to 8.4 million workers across industries. Government is paying the furloughed workers 80 per cent of their paycheques. It is left to the employers if they wish to contribute the remaining 20 per cent or not. The scheme began in March 2020 and is estimated to cost the exchequer about £10 billion every month.
The furlough scheme will be coming to an end in October 2020; the job scenario will need another closer look. There is a fair chance that by then, the demand shows signs of decent recovery across various goods and services impacted by the lockdown. Businesses might also return to more or less normal by then, with an improved ability to retain staff and pay salaries.
The furlough scheme will be ending in phases with a gradual rise in the employers' contribution starting this August. During this month, while the Government will continue to pay 80 per cent of salaries, the NI and pension contributions are slated to be paid by the employers. In September 2020, the Government contribution will reduce to 70 per cent, and employers will add 10 per cent from their pockets. In the last month of October, the Government's contribution will fall to 60 per cent while employers will be putting in the rest.
Rising unemployment numbers are a real cause of worry. Many companies have already been forced to lay-off workforce with close to nil demand for their services, like in the travel industry, despite many Government schemes to protect them. For instance, EasyJet PLC (LON: EZJ), announced on May 28 that it plans to cut its workforce by 4500, to adjust to a sharply fallen consumer demand, once it resumes flying. The company has projected its Q4 2020 passenger demand to be less than one-third of the Q4 2019 level. EasyJet shares were trading at GBX 829.20, up 5.71 per cent on June 4 at 15.41 PM GMT.
In fact, the worst affected sectors like tourism, travel, hospitality, retail, leisure and construction could be the slowest to hire staff.
Nevertheless, if the lockdown continues to be relaxed on the lines of its existing plan, a fair amount of economic recovery can be visible during H2 2020. The factors which could act as a dampener are the second wave of the rise in infections, going back on the lockdown restrictions or a collapse of UK-EU trade talks. At the same, it goes without saying that British businesses need a lot of Government support to ride out the storm.
In this grim scenario, the Government is likely to postpone any planned increase in tax rates, at least till the economy is back on track, with growth numbers starts pouring in. It is also under consideration that tax incentives or subsidies to be given to those employers who plan to hire new workforce or retrain their staff. Boris Johnson anyways plans to stick to his manifesto commitments, he remarked recently, when asked about any likely taxation changes in the offing. His manifesto had promised no changes in the rates of income tax, national insurance, and value-added tax, which swept him to victory.
With a lot of dynamic market forces at play, it is yet to be seen if the National Insurance Holiday move would culminate into an increase in employment, thereby giving good news to the jobless.
With Bank of England reducing the interest rates to a historic low level, the spotlight is back on diverse investment opportunities.
Amidst this, are you getting worried about these falling interest rates and wondering where to put your money?
Well! Team Kalkine has a solution for you. You still can earn a relatively stable income by putting money in the dividend-paying stocks.
We think it is the perfect time when you should start accumulating selective dividend stocks to beat the low-interest rates, while we provide a tailored offering in view of valuable stock opportunities and any dividend cut backs to be considered amid scenarios including a prolonged market meltdown.


CLICK HERE FOR YOUR FREE REPORT!
---
Disclaimer
The website https://kalkinemedia.com/uk is a service of Kalkine Media Ltd, Company Number 12643132. The article has been prepared for informational purposes only and is not intended to be used as a complete source of information on any particular company. Kalkine Media does not in any way endorse or recommend individuals, products or services that may be discussed on this site. Our publications are NOT a solicitation or recommendation to buy, sell or hold the stock of the company (or companies) or engage in any investment activity under discussion. We are neither licensed nor qualified to provide investment advice through this platform.