Summary

The healthcare sector, along with the technology sector, has been at the forefront amid the current scenario with several players engaged in developing vaccine/treatment, test kits, and protective equipment against the coronavirus.
EBOS Group's revenue increased by 26.5% on pcp in FY20 while Summerset Group posted an underlying profit of $45.1 million in H1 2020, down by 6%.
Fisher & Paykel witnessed strong demand for its respiratory care products in the first four months of FY21, and the Group is now planning commencement of 3rd manufacturing facility in Mexico.
Oceania Healthcare recorded underlying EBIDTA of $63.5 million in line with pcp for FY20 while Green Cross Group reported revenue of $568.5 million for the year to 31 March 2020, consistent with the previous year.
Healthcare and technology sectors have been under the spotlight ever since the pandemic rocked the entire world. The healthcare players have been engaged in offering various products and services amidst the crisis including R&D for COVID-19 vaccine/treatment development, coronavirus detection test kits, and manufacturing protective gear including masks and gloves, among others.
As the New Zealand economy continues to recover from the impact of COVID-19, several healthcare companies have been a direct beneficiary of the pandemic while some have reported huge losses. The NZX-listed healthcare stocks that have benefitted from this unprecedented scenario have been gaining investor attention, reflective in their share price movement.
The YTD performance of the sector index, S&P/NZX All Health Care has outperformed the benchmark index S&P/NZX 50's performance, with returns of 21.44% compared to the latter's 2.53% return (as on 7 October 2020).
QUICK READ: Healthcare Sector Supported Gain in S&P/NZX50
With this backdrop, let us have a look at the performance of 5 NZX-listed healthcare stocks amid the COVID-19 pandemic.
Fisher & Paykel Healthcare Corporation Limited
Fisher & Paykel Healthcare Limited (NZX:FPH) is a designer, manufacturer and seller of products and techniques for use in chronic and acute respiratory care, surgery and therapy of disruptive sleep apnoea.
The Company witnessed strong demand for its hospital respiratory care products in the first four months of FY21 (ending July 2020), to keep the spread of COVID-19 in check.
Some of the highlights of the Company results over the first four months of FY21 included the following:
Hospital hardware sales have increased steadily, with 390% constant currency revenue growth to the end of July compared to pcp.
Hospital consumables revenue and overall Hospital product group revenue has grown 48% and 91% respectively during the period compared to pcp.
Global sales of both invasive ventilation and Optiflow consumables in July peaked to levels seen in April.
Lewis Gradon, MD and CEO of FPH, provided some updated assumptions for FY21 guidance due to substantial uncertainty in the magnitude and duration of COVID-19 on the global demand for its products.
ALSO READ: Is Fisher & Paykel Healthcare Share Price Still a Buy Post Raising its Guidance
FPH expects full-year operating revenue of $1.61 billion for 2021 and NPAT of $365 million to $385 million. It is also planning commencement of its third manufacturing facility in Mexico, due to be appointed in the next two years.
The shares of FPH last traded at $34.44 on 8 October.
Green Cross Health Limited
Green Cross Health (NZX:GXH) is a provider of primary health care with multi-disciplinary healthcare groups to help healthier communities. The Group has a focus on creating sustainable health care solutions.
COVID-19 had little impact on GXH's FY20 results to 31 March. However, with the beginning of the new financial year on 1 April, several Group's pharmacies, medical centres, and community health operations continued to work in lower capacity during Level 4 due to their categorisation as essential service.
The Group reported revenue of $568.5 million for the year ending 31 March 2020.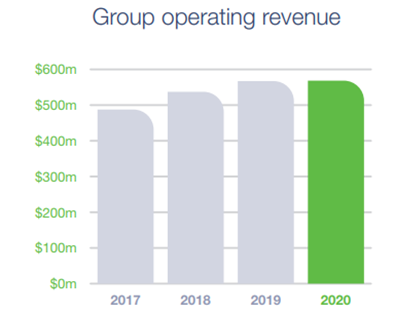 Source: Green Cross Health Limited Annual report 2020
Some of the highlights of the Group's results for FY20 included the following:
NPAT attributable to shareholders stood at $13.5 million, down by 16.2%, due to $0.6 million impact of applying new IFRS 16 standards.
Pharmacy revenue fell 1% compared to pcp, with a fall of $4.8 million in the operating profit.
The medical division performed well with a revenue increase of 8.5% on pcp while Community Health Revenue was flat.
The Board did not declare full-year dividend due to COVID-19 uncertainty.
The shares of GXH last traded at $1.03 on 8 October.
Summerset Group Holdings Limited
Summerset Group Holdings Limited (NZX:SUM) is amongst prominent operators and developers of retirement villages in New Zealand. The Company offers a wide range of care services and living options and over 5.7k residents.
Summerset performed strongly in the first half of 2020 amid COVID-19. The Group declared an underlying profit of $45.1 million for H1 2020, within its guidance range of $40 million-$45 million given in July. The Group has total assets of about $3.4 billion as of 30 June 2020.
DO READ: Are these Healthcare Shares Great to Watch: AFT, EBOS, Fisher & Paykel, Summerset
The Group delivered 139 new homes in H1 and is aiming to deliver between 300 and 350 homes by year-end, contingent on the COVID-19 situation.
Summerset declared an interim dividend of 6 cents per share after considering COVID-19 developments.
The shares of SUM last traded at $9.30 on 8 October.
Oceania Healthcare Limited
Oceania Healthcare Limited (NZX:OCA) is the largest care provider in the residential sector and is amongst leading owners and operators of retirement villages.
Oceania recorded underlying EBIDTA of $63.5 million in line with pcp for FY20, despite losing the ability to sell retirement village units during the final quarter of the financial year due to the Government lockdown.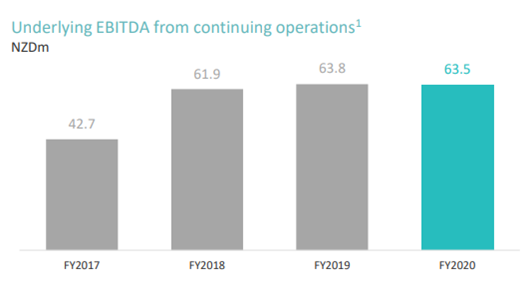 Source: Oceania Healthcare Limited Annual Meeting presentation
The Group posted underlying NPAT of $42.9 million in FY20, down from $50.7 million in FY19 and incurred high costs in its aged care facilities in response to coronavirus.
Oceania declared a final dividend of 1.2 cents per share, which takes full year dividends (non-imputed) to 3.5 cents per share.
On 25 September, Oceania revealed that 50% of its care portfolio is now premium beds and a rise in occupancy of 93.7% at sites.
The shares of OCA last traded at $1.24 on 8 October.
EBOS Group Limited
EBOS Group (NZX:EBO) is an Australasian seller, wholesaler and distributor of health care, pharma, and medical products.
EBOS posted robust results for FY20. The net impact of coronavirus has stayed mostly neutral for FY20, though trading conditions improved at the end of the financial year.
READ MORE: EBOS Group Posts Record Numbers, Healthcare segment Saw unprecedented demand in Q3
Some of the highlights of the EBOS Group's earnings for FY20 include the following:
EBOS recorded healthy revenue, and underlying EBIDTA stood at $8.8 billion and $296.6 million in FY20, up 26.5% and 13.4% respectively.
Healthcare and Animal Care segments performed strongly with respective EBIDTA growth of 14.8% and 8.3%.
A robust balance sheet with net debt of 1.11x bolstered through refinancing initiatives which increased the weighted average maturity of debt facilities to 2.5 years.
Group declared a final dividend of 40 cents per share with a total dividend of 77.5 cents for FY20.
The shares of EBO last traded at $24.52 on 8 October.
(NOTE: Currency is reported in NZ Dollar unless stated otherwise)
The sole motive of an investor is to grow his/her capital over a period to meet financial goals. In pursuit of this, investors are in a constant hunt for stocks that have capital appreciation potential and those that pay dividends, which one can reinvest to further increase the rate of return. Dividends can also be seen as an incentive for an investor to hold the stock for a longer duration of time, especially when the overall market enters a bear phase, or the underlying invested company goes through business troughs and peaks.
Stocks that have high dividend yield are considered to be a safe bet, but to take a blanket call just on dividend yield would be naive, as there is more to be analyzed to make a sound judgment on the ability of the business to keep paying a dividend over long periods.
Companies over time, increase dividend payout, and in the long term, an astute investor can reap high rewards by picking good dividend stocks, across sectors, thus diversifying and reducing the volatility of one's portfolio. Investors in New Zealand can reap the benefit of dividend imputation credit and further increase their overall return on investment.
So, how should one pick a dividend stock? How to invest in stocks that have the wherewithal to not only pay a dividend but also increase dividend payout over the years?
With Kalkine, you will find answers to these questions, as we conduct a detailed analysis of companies based on quantitative and qualitative parameters.
Sound dividend stocks are investors' delight. They provide the benefits of capital appreciation and the joy of constant income despite the market volatility.
CLICK HERE FOR YOUR FREE REPORT!