Summary

Growth stocks and value stocks are both different and market players should cautiously select between them.
AFT reported stellar performance in FY20 and the company retained cash balance of $6.1 Mn as of March 31, 2020.
In FY21, key new growth opportunities for BLT include Canada, China cross border e-commerce as well as Daigou markets.
In FY 2020, FPH posted operating revenue amounting to $1.26 billion, a rise of 18% over prior year, or 14% in constant currency.
Investors create several methods to cherry-pick companies in order to minimize risk exposure and maximize gains. One of the popular investing strategies suggested by investors is to purchase growth stocks.
Growth Stocks: Growth stocks are those companies that produce considerable and sustainable positive profits at a much faster pace than the normal company within the similar industry. A growth company has a reasonable advantage over the rivals in terms of launching new product, service, chasing overseas expansion and expanding a business model. However, investors need to consider its fundamentals before taking position in the company's stock. Some of the investors also consider efficiency of the management. Generally, growth companies do not declare dividends mainly because the management tend to focus towards reinvestment.
The market players are prepared to pay for growth stocks by thinking that the company will constantly show rapid growth in the upcoming future. If that occurs, then there are possibilities that the share price will also increase, and it will result in outstanding returns.
AFT Pharmaceuticals Limited (NZX: AFT)
For the full year ended 31st March 2020, the company reported total revenue of $105.6 million, up by 24% led by strong growth in all markets and in all sales channels. Operating profit, which includes a $9.8 Mn non-recurring gain, amounted to $21.2 million, the top end of guidance, from $6.1 Mn in the prior year. Net profit after tax stood at $12.7 million, up from a loss of $2.4 million in the previous year, demonstrating the operating leverage present in the business.
FY 2020 Highlights (Source: Company Reports)
The company stated that it witnessed unprecedented changes to the business as a result of coronavirus. It encountered robust increases in the sales for a number of products like analgesics (Maxigesic), cold and flu medications (MaxigesicPE & Maxiclear), vitamins (Vitamin C Liposachets) as well as hospital antibiotics. The company also started to introduce new products such as Crystawash (hand sanitiser), focused at post coronavirus environment in order to reap benefits of changes AFT is experiencing with respect to consumer behaviour. It was also mentioned that these trends might be enhanced by either the fear of, or actual cases of, reinfection throughout ANZ.
As of 31 March 2020, the company managed to retain cash balance of $6.1 Mn. At the end of financial year, the company refinanced CRG's loans with the 3-year $43.2 Mn facility from BNZ. As of 31 March 2020, the company stated that its borrowings were $43.2 Mn as compared to $41.8 Mn at the same time in prior year. The company is expecting significant potential for the products in global as well as local markets. However, timing is difficult to forecast with certainty, but the company is witnessing progress with regards to robust local sales growth as well as accelerating momentum in the international markets.
Blis Technologies Limited (NZX: BLT)
The company reported total revenue of $10.6 million, up by 29 per cent Y-o-Y and EBITDA of $2.1 million, up by 130% Y-o-Y for the 12 months ended 31 March 2020.
The company has introduced UltraBLIS in February, a next-generation probiotic supplement for those in need to optimise their microbiome as well as improve immunity. During FY20, BLT built strong foundations for future growth, it has continued to build BLIS® Probiotics brand, strengthened R&D pipeline while enhancing the IP position, delivered greater supply capacity as well as alternate sourcing, and its financial resilience continued to build.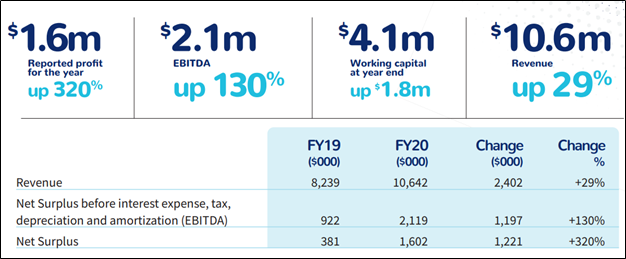 FY20 Financial Summary (Source: Company Reports)
The company stated that COVID-19 environment reflects an increase in risk as well as opportunity. There are many international growth prospects for the company, and it would continue to pursue profitable growth objective via developing the relationships with partners having capability of driving international scale.
Fisher & Paykel Healthcare Corporation Limited
For the 12 months ended 31st March 2020, Fisher & Paykel Healthcare Corporation Limited (NZX: FPH) reported operating revenue of $1.26 billion, up by 18 per cent over last year, or 14 per cent in CC (constant currency). NPAT stood at $287.3 million, up 37 per cent over the previous year, or 30 per cent in CC.
With regards to Hospital product group, revenue rose by 25%, or 21% in constant currency, to $801 million for the year. Coming to the Homecare product group, revenue growth was 9 per cent, or 4 per cent in constant currency.
Results in Brief (Source: Company Reports)
The company stated that Hospital hardware sales continued to steadily increase over first 4 months of FY 2021 with +390% revenue growth (constant currency) to the end of July as compared to pcp. It was also mentioned that manufactured output of related consumables steadily increased over 4 months, enabling the company to commence rebuilding of the inventory levels post a peak in shipments in April.
The sole motive of an investor is to grow his/her capital over a period to meet financial goals. In pursuit of this, investors are in a constant hunt for stocks that have capital appreciation potential and those that pay dividends, which one can reinvest to further increase the rate of return. Dividends can also be seen as an incentive for an investor to hold the stock for a longer duration of time, especially when the overall market enters a bear phase, or the underlying invested company goes through business troughs and peaks.
Stocks that have high dividend yield are considered to be a safe bet, but to take a blanket call just on dividend yield would be naive, as there is more to be analyzed to make a sound judgment on the ability of the business to keep paying a dividend over long periods.
Companies over time, increase dividend payout, and in the long term, an astute investor can reap high rewards by picking good dividend stocks, across sectors, thus diversifying and reducing the volatility of one's portfolio. Investors in New Zealand can reap the benefit of dividend imputation credit and further increase their overall return on investment.
So, how should one pick a dividend stock? How to invest in stocks that have the wherewithal to not only pay a dividend but also increase dividend payout over the years?
With Kalkine, you will find answers to these questions, as we conduct a detailed analysis of companies based on quantitative and qualitative parameters.
Sound dividend stocks are investors' delight. They provide the benefits of capital appreciation and the joy of constant income despite the market volatility.
CLICK HERE FOR YOUR FREE REPORT!