Highlights

NZ boasts a well-defined financial sector.
Westpac Banking finalises its off-market share buy-back.
General Capital's Group Chief Financial Officer to step down this month.
New Zealand is known for its well-established and robust financial system, consisting of globally acclaimed banks, financial firms, insurance companies, etc.
They offer efficient and sound services to their customers and are continuously working on enhancing customer experiences.
Having said that, let us look at the three popular NZX-listed financial stocks that can be considered this month.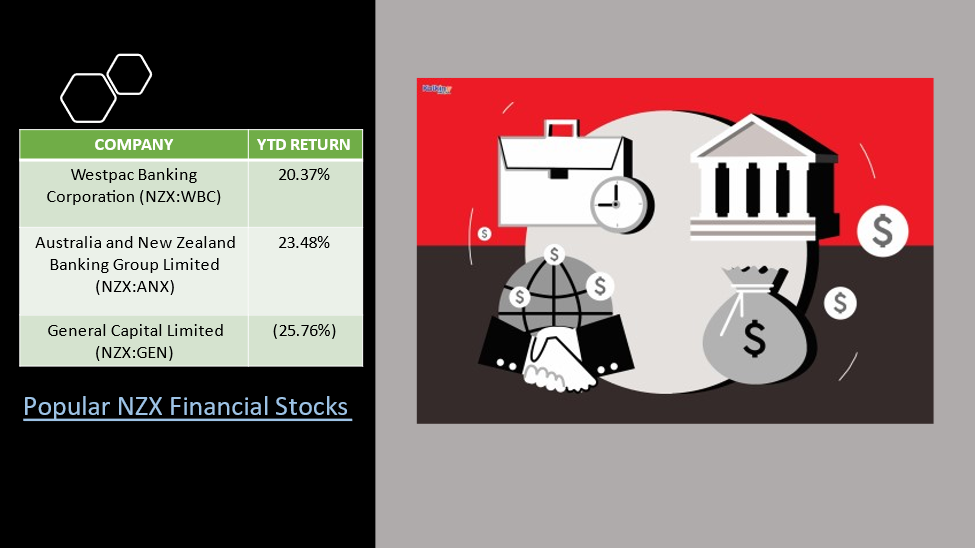 Source: © 2022 Kalkine Media® data source- Refinitiv
Westpac Banking Corporation (NZX:WBC, ASX:WBC)
Westpac Banking Corporation has completed its off-market share buy-back, worth AU$3.5 billion, with nearly 167.5 million WBC shares being bought back.
Related Read: 3 NZX banking stocks that can be looked at amid inflation- WBC, ANZ, HGH
It is noted that payments for the shares which have been bought back under this process will start from 18 February onwards, and eventually, these shares will be cancelled by the Bank.
On 15 February, at the closing bell, WBC dropped by 2.42% at NZ$25.000.
Australia and New Zealand Banking Group Limited (NZX:ANX; ASX:ANZ)
A few days ago, Australia and New Zealand Banking Group Limited had revealed its trading update pertaining to Pillar 3 disclosure for the quarter ended 31 December 2021.
Must Read: These top 3 NZX financial stocks can be explored in 2022
Further, the Bank made significant progress in Australia for the improvisation of processes and systems for simple home loans, with application times now is consistent with other leading lenders, while efforts are being made to improve response times for complicated home loan applications.
Also, ANZ stated that its revenue for October 2021 was slightly softer owing to prevailing trading conditions, which would likely have an effect on the first-half performance.
Moreover, it is working on providing its customers with simpler and lower fee options and, at the same time, continues to focus on offering flexibility to return further surplus capital to its investors.
On 15 February, at the closing bell, ANZ dipped by 0.56% at NZ$30.130.
General Capital Limited (NZX:GEN)
General Capital Limited a few days ago had disclosed that its Group Chief Financial Officer Jonathan Clark would step down from his position on 22 February. Also, it has appointed Erick Smith for the role of Corporate Counsel.
Meanwhile, GEN is looking for a suitable replacement for the role of its CFO.
On 15 February, at the closing bell, GEN traded flat at NZ$0.049.
Do Read: Which are 5 NZX cheap stocks to explore in 2022?
Bottom Line
New Zealand's financial sector has managed to successfully navigate through the COVID-19-related uncertainties and is constantly working to improve its performance for the year ahead.