Highlights

RBNZ Deputy Governor Geoff Bascand stated on Thursday that NZ's balance sheet would play a crucial role in better outcomes for the NZ economy.
Marlin Global performed well in FY21 due to a strong recovery in the global sharemarket.
Westpac reported that its cash earnings and net profit will be lowered by AU$1.3 billion majorly due to substantial write-downs in its institutional banking arm.
RBNZ Deputy Governor Geoff Bascand in a speech given Thursday stated that strong balance sheets for businesses, households, financial institutions and the public sector going into the pandemic were of prime importance.
Healthy balance sheets contributed towards maintaining a sound financial system and producing a faster economic recovery than previous deep recessions, he added.
Let's skim through the performance of 5 financial stocks.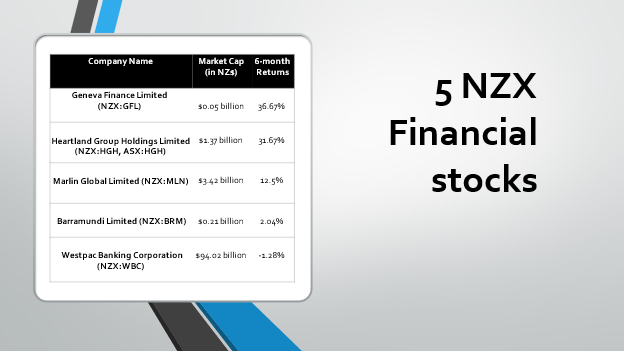 Image source: © 2021 Kalkine Media, Data source- Refinitiv
Geneva Finance Limited (NZX:GFL)
Geneva provided an update in September, evaluating the impact of lockdowns on operations.
The Group expects its 6-month pre-tax profit to increase by 16.4% on the previous year for the period to September 2021.
RELATED READ: How are NZ banks faring in October post OCR increase?
Before the present lockdown, the Group was functioning for nearly 4 months without any lockdown intrusions with a minimal impact on the business. However, the full impact of GFL's results remains contingent on the frequency and term of further lockdowns.
On 15 October, at the time of writing, GFL was trading at $0.8, down 2.44%.
Heartland Group Holdings Limited (NZX:HGH)
On 8 October, Fitch affirmed the long-term issuer default rating of Heartland Group and Heartland Bank at BBB while that of Heartland Australia at BBB-. The outlook remains stable.
Heartland's favourable profitability position, stable asset quality, strong capital position and good risk management have been cited as some of the positive rating factors of Heartland.
On 15 October, at the time of writing, HGH was trading at $2.33, down 1.69%.
Marlin Global Limited (NZX:MLN)
Marlin Global delivered a strong performance after experiencing high and lows amid an uncertain environment last year. The Group reported an NPAT of $69.2 million and a gross performance return of 46.7% for 12 months ended 30 June 2021.
DO READ: ASB & Kiwibank: How are the NZ banks faring?
The Group benefitted from a strong share market recovery globally with the majority of portfolio investments producing strong returns. Marlin paid 2.24cps as a dividend on 24 September 2021.
On 15 October, at the time of writing, MLN was trading at $1.54, up 0.65%.
Barramundi Limited (NZX:BRM)
Barramundi conducted its AGM on 15 October. BRM performed well in FY21 amid a challenging market backdrop, delivering a strong shareholder return of 83.3%, up from 21.6% in prior year and an adjusted NAV return of +37.6%, up from +10.6% in 2020.
The first quarter of FY22 was relatively settled with the Company reporting an NPAT of $13.1 million and an adjusted NAV return of +7.1%.
However, the total shareholder return for the quarter was -7.3% due to a drop in its share price from $1.10 to $1.01, partly compensated by the dividend paid in September.
On 15 October, at the time of writing, BRM was trading at $1.01, down 1%.
Westpac Banking Corporation (NZX:WBC)
On 12 October, Westpac announced that its reported cash earnings and net profit would be lowered by $1.3 billion in H2 of 2021 due to notable items.
ALSO READ: Would these 5 NZX dividend stocks make one richer through 2022?
These items include taking a one-off charge of $956 million against the profit because of a weaker earnings outlook in its institutional banking arm and other remediation charges.
On 15 October, at the time of writing, WBC was trading at $26.7, down 0.96%.
Bottom Line
With unsustainable house prices, risks of the COVID-19 pandemic to economic recovery and NZ in a state of increased uncertainty, macro prudential policy, and broader financial stability policy settings, will be vital in containing the challenges being faced by the financial system, as per the RBNZ Governor.
(NOTE: Currency is reported in NZ Dollar unless stated otherwise)