Highlights

New Zealand possesses a technically advanced dairy sector.
Allied Farmers recorded an NPAT of $2.48 million in FY21.
Synlait milk has unveiled its own-branded first consumer foods product, Synlait Swappa Bottle.
New Zealand is one of the leading dairy producers across the world, producing roughly 21 billion litres of milk every year. The diary industry of NZ is also a major contributor to the economic growth of the country and also adds export income to it.
Let's have a look at how these 3 NZX dairy stocks are performing.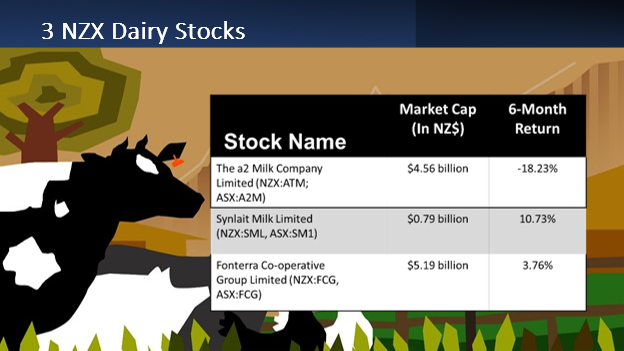 Image source: © 2021 Kalkine Media New Zealand Ltd, Data source- Refinitiv
Allied Farmers Limited (NZX:ALF)
Allied Farmers is a rural services provider and an active investor in NZ's agriculture sector.
The Company recorded an NPAT of $2.48 million for the year to 30 June 2021 due to improved performance of ALF's livestock agency business and contribution from ALF's investment in rural property manager, NZRLM. The Group's loan book also expanded to $5.2 million due to successful capital raising in late 2020.
DO READ: Which are 5 popular NZX food stocks to explore in October?
ALF is due to conduct its annual meeting on 24 November 2021.
Why to consider these NZX listed dairy stocks in October 2021 ?
ALF ended the day flat to close at $0.65.
Synlait Milk Limited (NZX:SML, ASX:SM1)
Synlait Milk, an expert dairy processing and farming Company, launched its own-brand first consumer foods product, Synlait Swappa Bottle, on 5 October. The bottle is a 1.5-litre stainless steel bottle that is refillable and has locally sourced treated milk.
ALSO READ: What made Synlait (NZX:SML) introduce its first consumer food product
SML has launched the bottle to get rid of plastic waste and add to the better future of the country. The product will be first launched in 2 South Island New World stores. Synlait considers that reusables will play a much bigger role in the food and beverage industry.
SML ended the day 2.62% in green to close at $3.92.
Fonterra Co-operative Group Limited (NZX:FCG, ASX:FCG)
The dairy co-operative provided the global dairy update for August on 30 September. Despite supply issues, the company recorded a historic shipment year. FCG reported low milk volumes in New Zealand and Australia, but a rise in monthly output in the United States.
DO READ: Do these 4 NZX agriculture stocks have good yearly yields?
In August, total dairy exports in New Zealand decreased 12.9% compared to the same month in 2020, whereas dairy exports to the United States and Australia climbed 7.4% and 50.5%, respectively, in July compared to the same month in 2020.
FCG ended the day 0.31% in green to close at $3.26.
Bottom Line
The country has one of the top places across the global dairy industry, thanks to its high-quality herds and large-scale processing facilities.
(NOTE: Currency is reported in NZ Dollar unless stated otherwise)