Summary

The COVID-19 pandemic has resulted in a behavioural turn in the spending habits of consumers, a shift from physical stores to online shopping that has benefitted certain companies.
The online sales for Kathmandu Holdings rose by 96% compared to pcp, from April to July 2020, while total revenue increased by 48.7% to $801.5 million for 12 months to 31 July 2020.
Michael Hill International reported record digital sales increased by 54.7% on FY19 to $24.7 million for the year ending 28 June 2020, due to surge in the online business of the Company.
Warehouse Group's online demand rose substantially during COVID-19 Alert Levels 4 and 3 in NZ.
COVID-19 may have upset the global supply chain, but it has also benefitted certain companies from the remarkable boost witnessed in online sales resulting from the lockdowns imposed, in an effort to curtail the virus spread.
The coronavirus outbreak and the induced lockdown measures have led to a significant shift in the shopping behaviour of people. Presently, more and more consumers are turning towards digital options to avoid going to physical stores, thus, increasing the demand for online shopping platforms.
DO READ: Has lockdown been a turning point for the Retail Sector?
Let's have a look at 3 NZX listed stocks that have benefitted from a surge in online spending.
Kathmandu Holdings Limited
An international outdoor and action sports entity Kathmandu Holdings Limited (NZX:KMD) share price closed the day's trading session, flat at $1.25, on 1 October 2020.
The Group's response to coronavirus has been quite strong. As per its FY20 results for the period ended 31 July 2020, released on 24 September, (dated 23 September) the Company stated about the loss of ~$135 million from its retail and wholesale business due to COVID-19 indued lockdowns.
ALSO READ: Online Boom – Kiwi businesses that have benefitted
However, the Group exhibited strong recovery after the initial lockdown period, with retail sales performing robustly, driven by changes in consumer trends. Online sales witnessed solid growth due to a shift in consumer preferences.
A few pointers from the Group's results comprise of the following:
Kathmandu's online sales rose up by 96%, between April - July 2020, as compared to previous year, displaying a shift in online penetration, a change of 10% in FY19 to above 18% of D2C (direct to consumer) sales in FY20.
The Group's total revenue grew by 48.7% to $801.5 million for 12 months to 31 July 2020 due to addition of 9-month ownership of Rip Curl (acquired in October 2019), whose online sales growth for April to July 2020 was 115% above previous year.
Net profit after tax fell by 85% to $8.9 million, with underlying EBIDTA of $83.4 million indicating the COVID-19 impact.
Kathmandu Group opted to abstain from paying any final dividend.
Xavier Simonet, CEO of Kathmandu stated that the Group had borne the impact of COVID-19, but FY20 had been a transformational year for the Company, after the Rip Curl acquisition. He noted that the Company was well placed for the future with a robust balance sheet and healthy inventory levels.
Michael Hill International Limited
A global multi-channel, jeweller chain retailer Michael Hill International Limited (NZX:MHJ) share price was at $0.435, on 1 October, decreasing by 1.14% from its previous close.
In its annual report ended 28 June 2020, released in August this year, the Company posted a statutory net profit after tax of $3.1 million compared to $16.5 million in FY19. The Company had been witnessing an increase in same store sales growth and improvement in margins before coronavirus.
DO READ: Retail Confidence Crashes in August amid Level 3 restrictions
However, temporary closure of all stores due to COVID-19 resulted in the erosion of EBIT, from $21.1 million in FY19 to $14.1 million in FY20.
Some of the features of the Kathmandu Group's performance for the year ended 28 June 2020 consists of the following:
The Group's operating revenue fell from $569.5 million in FY19 to $492.1 million in FY20, while Group adjusted same store sales were up 2.7% at $469.3 million.
Record digital sales of $24.7 million for the full year was reported, up by 54.7% on FY19, due to surge in the online business of the Company.
The gross margin stood at 60.6% compared to 62% in FY19, majorly impacted by FX.
The Company declared no final dividend and deferred the interim dividend of A$1.5 cents per share.
The Company fast-tracked the delivery of many digital-first initiatives during 2020 including improved web experience, virtual selling, direct selling from social media along with the positive launch of its loyalty program (Brilliance) that has reached over 200,000 members, globally.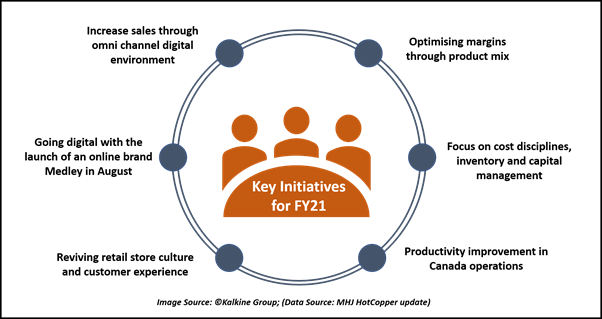 Warehouse Group Limited
The share price of Warehouse Group Limited (NZX:WHS) closed the day's trade at $2.2, on 1 October, up by 1.38% from the previous close.
As per its July trading update, the Group's online demand surged substantially during COVID-19 Alert Levels 4 and 3 and persisted in being robust after the stores reopened in the country.
The Group stated that there had been a step-change in online sales as its percentage of Group sales were noted at 9.3% since 18 May. The Board also reaffirmed its position on withholding guidance for FY20 adjusted NPAT in the update.
ALSO READ: Shopping trends in a Post-Pandemic Environment: Any takers on NZX
However, the Group's results and forecasts revealed that deceleration in consumer spending is expected, with the end of government subsidies, which in turn would increase unemployment and rolling off of mortgage deferral schemes affecting discretionary spending.
Management changes in Warehouse Group
The Group also reported that Sir Stephen Tindall, Warehouse Founder and Keith Smith, the Group's Deputy Chair, will both retire from their respective positions by rotation and will not go for re-election at the Annual Shareholders' Meeting to be held on 27 November.
(NOTE: Currency is reported in New Zealand Dollar unless stated otherwise)