Highlights

The a2 Milk Company is facing a class action filed on behalf of the shareholders who had to bear big losses by purchasing shares between August 2020 and May 2021.
Australian law firm Slater and Gordon has filed proceedings.
ATM has replied by stating that it had complied with all its disclosure obligations.
The a2 Milk Company Limited (NZX:ATM; ASX:A2M) is an NZ-based dairy nutrition company, stressing A2 protein-type products.
On 6 October, the dairy company revealed that a class action had been filed against ATM on behalf of investors who held ATM's shares on the ASX and the NZX between 19 August 2020 and 9 May 2021. The complaint has been filed in the Supreme Court of Victoria, Australia, and is related to the company's four earnings downgrades over the last financial year.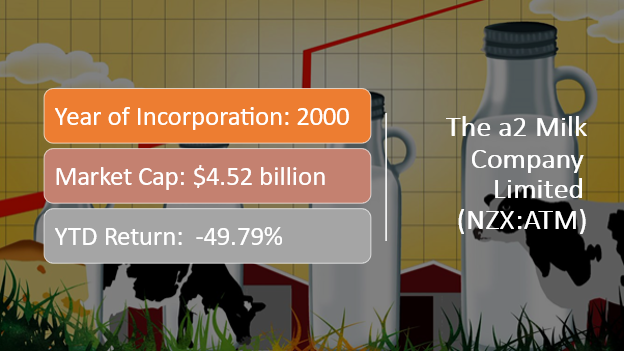 Image source: © 2021 Kalkine Media New Zealand Ltd, Data source- Refinitiv
Slater and Gordon, an Australian law firm, has claimed that ATM's behaviour had been misleading or fraudulent and the company had violated continuous disclosure rules with 2 earnings downgrades in 2020 and two in 2021.
Kaitlin Ferris, Slater and Gordon class action leader, stated that ATM was or ought to be aware that its FY21 guidance did not take into consideration the factors that were likely to hit the company's financial performance.
After a strong investigation of ATM's profit downgrades, the law firm concluded that there was a strong basis to assert that the company provided deceptive guidance and should have corrected the market's understanding of its financial position much earlier.
DO READ: Which are 5 popular NZX food stocks to explore in October?
David Bortolussi​, ATM's Chief Executive, stated that the company had been informed about the court proceedings. He added that ATM had complied with its disclosure obligations at all times and would actively defend the trials.
FY21 performance
The dairy nutrition company posted a drop of 79.1% in its net profit and a 30.3% decline in its revenue to $80.7 million and $1.21 billion, respectively, in FY21.
RELATED READ: What are the effects of changing China infant nutrition market structure on The a2 Milk (NZX:ATM)?
The Company suffered many stumbling blocks in 2020 when borders were shut due to the COVID-19 pandemic, which closed ATM's key route to market its infant formula milk powder into China. Diagou market, where international students and travellers unofficially sent the product back to customers in China from NZ and Australia, was shut down.
ALSO READ: A lens on 5 NZX retailers amid the prevailing lockdown
Shipping delays, concerns on catching COVID-19 from imported tins, competition from local Chinese firms, delaying of pregnancy in China were some of the other factors that further impacted ATM's business.
On 14 October, at the time of writing, ATM was trading at $7.32, up 6.09%.
Bottom Line
ATM remains positive in the core essentials of its business and growth potential.
(NOTE: Currency is reported in NZ Dollar unless stated otherwise)