Highlights

Seventy-five new Delta cases detected in Auckland.
Joiy Wines, leading NZ canned wine exporter, to set foot on US shores.
Wellington's sports facility ceases its operations, paves way for the expansion of the dance and drama institute.
As the nation followed the daily routine after Labour Day to begin a new week, let us quickly go through top headlines of the day.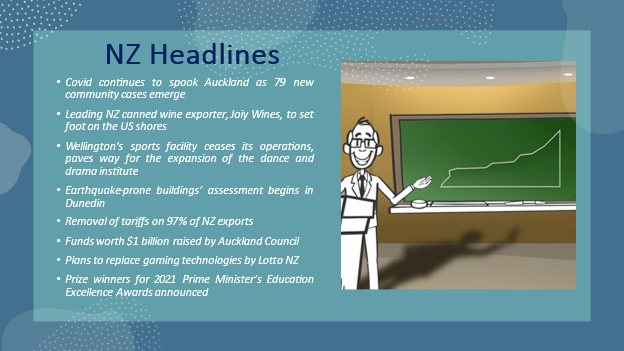 Source: Copyright © 2021 Kalkine Media
COVID-19 continues to spook Auckland
New Zealand continues to witness a rise in its COVID-19 cases with 75 new cases in Auckland and four in Waikato.
Also, 10,660 vaccine doses were given Monday across the country.
Related Read: NZ gearing up for 5,000 Delta variant cases each week
Leading NZ canned wine exporter to set foot on US shores
Joiy Wines, NZ's famous exporter of canned wines, is now all set for expansion into US markets.
Recently, after winning a significant canned wine competition, the NZ wine exporter has been approached by Wholefoods, the famous retail chain, to foray into the US market.
Wellington's sports facility ceases its operations
Junglerama, a Wellington-based children's play area with attached indoor cricket and netball courts, has closed its facility on Monday.
The sports facility will now be shifted out of Wellington and will make room for the expansion of the Te Whaea National Dance & Drama Centre.
Earthquake-prone buildings' assessment begins in Dunedin
Identification works have begun to locate earthquake-prone buildings in Dunedin.
According to estimates, around 3,000 buildings will be assessed for the said risk.
Do Read: What causes an earthquake? All you should know
As of now, assessment of 63 council buildings has been undertaken by The Dunedin City Council.
Removal of tariffs on 97% of NZ exports
The recent NZ-UK trade deal will remove tariffs on 97% of goods after the final agreement is settled, which also includes wine.
Interesting Read: How would NZX wine stocks benefit from Free Trade Agreement?
The move has been welcomed by wine exporters across the country.
It is pointed out that within 15 years, all tariffs on NZ exports will be abolished.
Funds worth NZ$1 billion raised by Auckland Council
Auckland Council has reached a milestone by raising NZ$1 billion by way of the Green Bond offer.
The said offer was raised through a sustainable finance framework.
The funds thus raised will assist the environment and support related programmes on climate change action.
Plans to replace gaming technologies by Lotto NZ
Lotto NZ, whose existing gaming technology contract would expire in 2024, is planning to approach the market for new gaming technology in the future.
In an advance tender notice, the organisation has described its services requirement as broad, covering all aspects of its gaming environment.
Related Read: 62 Kiwis became instant millionaires in 2020—thanks to Lotto NZ
Winners for 2021 Prime Minister's Education Excellence Awards announced
The NZ Government has announced winners of 2021 Prime Minister's Education Excellence Awards.
Hawke's Bay's Frimley Primary School bags the Supreme Award.
It is noted that the winners would be awarded a prize package which comprises professional development opportunities as well as a financial award with NZ$20,000.
The Supreme Award winner would get an additional prize of NZ$30000.