Highlights

New Zealand authorities state actual masks are a must now, instead of scarves or bandanas for face coverings.
The Cook Islands maintains its travel arrangement with Kiwiland.
Vector announces strong operational performance, would publish its half-year results next month.
Let us skim through some of the latest happenings which are of interest to NZers.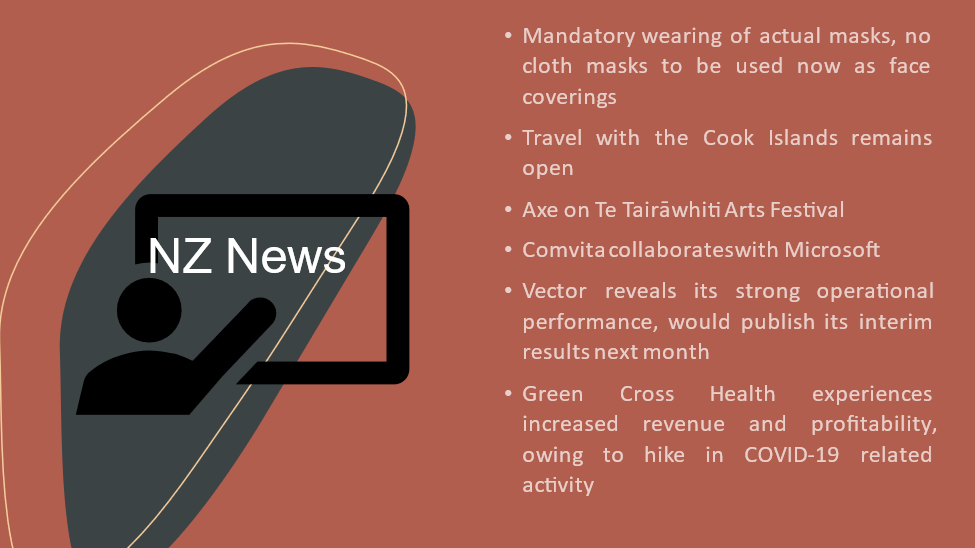 Source: © 2022 Kalkine Media®
No more cloth masks, actual masks are now a must
The NZ government has laid down stricter rules for wearing masks, as the country has moved to the red traffic setting.
Scarves, bandannas, cloth masks, etc. would not be allowed to cover faces, instead, actual masks are to be worn as face coverings.
Related Read: NZ moves to Red light settings, businesses switch to off-site model
Also, government workers covered by a vaccine mandate must wear N95 face masks or surgical masks at their workplaces.
The Cook Islands to continue travel bubble with New Zealand
The Cook Islands has decided to keep its travel bubble with the Kiwi nation open despite the Omicron outbreak.
To travel to the tiny Pacific nation, a traveller must be doubly jabbed and should be tested negative before leaving for the Cook Islands.
Te Tairāwhiti Arts Festival cancelled
Owing to the Omicron outbreak and the nation's move into the red zone, organisers have cancelled the Te Tairāwhiti Arts Festival, which was scheduled to take place between 3-13 February.
It may be held later this year and the purchased tickets might be refunded or donated.
Comvita collaborates with Microsoft
Comvita Limited (NZX:CVT) has revealed its new collaboration with global tech giant Microsoft for developing a multi-sensory consumer experience led by Microsoft's HoloLens technology.
Interesting Read: Which are 4 NZX consumer stocks to be explored this year?
With the launch of this mixed-reality experience, CVT aims to transform consumer retail experience, connecting them to the hive and its unique Aotearoa Mānuka forests.
Vector reveals its strong operational performance, would publish its interim results next month
Vector Limited (NZX:VCT) released today its operational performance, wherein it stated its strong electricity and gas network connection numbers for the six months period ended 31 December 2021.
Must Read: Which are the top four telecom companies in New Zealand?
Its total electricity connection numbers climbed by 1.7%, while its gas network connections rose by 1.9% on pcp, underpinned by Auckland's continued growth.
Further, it has announced releasing its six-month financial performance ended 31 December 2021 on 25 February.
Green Cross Health experiences increased revenue and profitability, owing to a rise in COVID-19-related activity
Green Cross Health Limited (NZX:GXH) today unveiled its trading update wherein it mentioned a 14% rise in its revenue for the nine months ended 31 December 2021.
Do Read: Green Cross (NZX:GXH) reports a robust six-month profit of NZ$9.7 million
Owing to an increase in pandemic-related activities across its pharmacy, medical, and community health divisions, the Company anticipates its NPAT for FY22 to be more than FY21 by NZ$4.5 million-NZ$6.5 million.
It would release its FY22 performance in May.