Summary

SAN possesses robust balance sheet and has substantial headroom in borrowing facilities.
For six months to June 30, 2020, VGL posted robust positive operating cashflow of $16.7 million, up 123% as compared to 1H FY 2019.
SKO is of the view that it is well-placed for further growth.
In August 2020, the value of imports decreased by about $1 billion, which lead to the biggest annual trade surplus ever since 2014. As per Nicholas Cox, senior insights analyst, the fall in imports and increase in exports led to an annual trade surplus not witnessed since the strong 2013/14 dairy export season, when product prices were high.
Higher exports of aircraft and kiwifruit helped increase the value of total goods exports by $349 million or 8.6 per cent from August 2019 to get to $4.4 billion in August 2020.
Many of the country's main export commodity groups witnessed increase in value in August 2020 as compared to August 2019.
Fruit rose $104 million or 28 per cent to $470 million, mainly led by gold kiwifruit, up $80 million or 48 per cent.
S&P/NZX All Information Technology (Sector) (Gross with Imputation) outperformed the S&P/NZX 50 Index over the span of 3 months. The S&P/NZX All Information Technology gave total return of 6.66%, while the S&P/NZX 50 rose by 4.35%.
In 2019, export sales of software and services by the information and communication technology (ICT) sector stood at $2.1 billion, reflecting an increase of 47% from 2017.
This growth was mainly driven by increased sales of published software, which were recorded at ~$1 billion in 2019. The overall value of export and domestic sales stood at $9.8 billion, up by 31 percent from 2017. Notably, ICT sector also sells services like technical support, IT design, as well as hosting.
Now, let us have a look at the stocks from primary industry and technology industry.
Sanford Limited (NZX: SAN)
Sanford Limited stated that fluctuations in the global markets due to coronavirus happens to be an ongoing challenge. However, it needs to be noted that SAN has been making progress with regards to strategic changes needed to meet new market conditions. The company outlined Covid-19 impact and stated that sales revenue for product harvested was down 15 percent for Q3 of FY 2020 as compared to the previous year.
The company is possessing robust balance sheet, and it has significant headroom in borrowing facilities. It has confidence in its strategy to deliver improving results in medium as well as long term.
Vista Group International Limited (NZX: VGL)
For the six months to 30th June 2020, VGL reported robust positive operating cashflow of $16.7 million, reflecting an increase of 123% on 1HFY19, which includes $3.8 million of local and international wage subsidies as well as $3.8 million of tax deferrals. Revenue declined by 34% to $44.8 million and the company reported EBITDA loss of $6.5 million.
Stock Performance
The stock of VGL closed the day's trading at NZ$1.700 per share on September 29, 2020, up by 1.19% on an intraday basis.
Serko Limited (NZX: SKO)
Serko Limited happens to be a market-leading travel as well as expense technology solution provider.
The company believes that it is well-positioned for further growth when the travel industry recovers, and trading circumstances start to improve. It possesses a strong hold in Australasia, with its major transactions being domestic as well as Trans-Tasman in the home markets.
The company also has a strong balance sheet and continuing commitment to investment, which will help existing and prospective customers.
SKO Enters the S&P/NZX 50 Index
S&P Dow Jones Indices has provided some changes to the S&P/NZX indices, due to the September quarterly review. Serko Limited has been included in S&P/NZX 50 & S&P/NZX 50 Portfolio Index as well as S&P/NZX MidCap Index.
Stock Performance
The stock of SKO closed the day's trading at NZ$4.500 per share on September 29, 2020, down by 2.17% on an intraday basis.
Skellerup Holdings Limited (NZX: SKL)
Skellerup Holdings Limited is a NZ based manufacturer, distributor and designer of polymer products and vacuum systems. The company is having 2 divisions: Agri as well as Industrial.
SKL Reported Decent Results
For the year to June 30, 2020, SKL reported audited net profit after tax of $29.1 million. Revenue rose 2% on pcp to $251.4 million.
EBIT stood at $42.5 million, up by 2 per cent on pcp.
Agri Division EBIT stood at $25.4 million,
Industrial Division EBIT amounted to $20.9 million.
Skellerup happens to be the second-largest manufacturer of the dairy rubberware in the world. While biggest growth opportunities come from the international markets, NZ continues to be a key market. The company is maintaining disciplined focus towards capital allocation in order to ensure that it finances future growth projects with excellent commercial prospects. The company acquired Silclear business in the month of November 2019 and it would continue to look for acquisition opportunities that open new markets or products with potential to deliver profitable growth.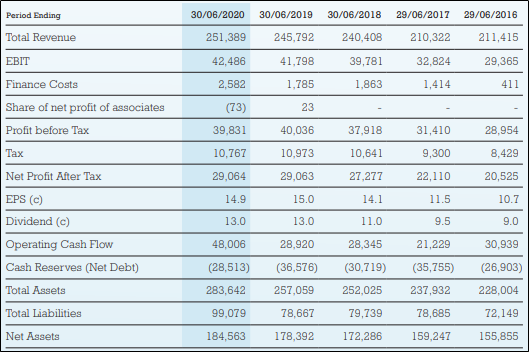 Financial Performance (Source: Company Reports)
Stock Performance
The stock of SKL closed the day's trading at NZ$2.960 per share on September 29, 2020, up by 0.34% on an intraday basis.
The sole motive of an investor is to grow his/her capital over a period to meet financial goals. In pursuit of this, investors are in a constant hunt for stocks that have capital appreciation potential and those that pay dividends, which one can reinvest to further increase the rate of return. Dividends can also be seen as an incentive for an investor to hold the stock for a longer duration of time, especially when the overall market enters a bear phase, or the underlying invested company goes through business troughs and peaks.
Stocks that have high dividend yield are considered to be a safe bet, but to take a blanket call just on dividend yield would be naive, as there is more to be analyzed to make a sound judgment on the ability of the business to keep paying a dividend over long periods.
Companies over time, increase dividend payout, and in the long term, an astute investor can reap high rewards by picking good dividend stocks, across sectors, thus diversifying and reducing the volatility of one's portfolio. Investors in New Zealand can reap the benefit of dividend imputation credit and further increase their overall return on investment.
So, how should one pick a dividend stock? How to invest in stocks that have the wherewithal to not only pay a dividend but also increase dividend payout over the years?
With Kalkine, you will find answers to these questions, as we conduct a detailed analysis of companies based on quantitative and qualitative parameters.
Sound dividend stocks are investors' delight. They provide the benefits of capital appreciation and the joy of constant income despite the market volatility.
CLICK HERE FOR YOUR FREE REPORT!