Summary

The a2 Milk Company affirms its regulatory compliance.
Tower provides a financial update on the recent Canterbury flooding.
TruScreen Group reveals its preliminary results for FY2021, which reflect the impact of the coronavirus pandemic on its performance.
Price volatility is often associated with stock markets. Owing to a piece of positive news, certain stocks witness a surge, while others may continue to dip because of some unfavourable company announcements. The below-mentioned table gives a quick snapshot of the movers and shakers of the day: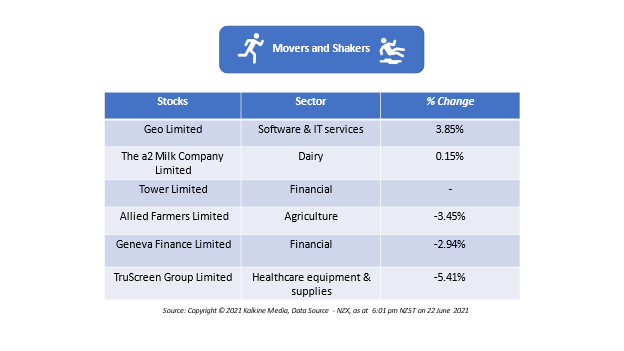 That said, let us quickly examine what caused the price movement of these NZX-listed stocks.
Geo Limited (NZX:GEO)
First on the list is Geo Limited, operating in the software and IT services space. The Company announced the retirement of Roger Sharp, its Non-Executive Chair, by November this year. However, Mr Sharp plans to seek re-election as a Non-Executive Director at the upcoming Annual General Meeting.
On 22 June, at the end of the trading session, Geo Limited witnessed a jump of 3.85% at NZ$0.135.
Read: Why investors are hooked on NZX penny stocks amid unpredictable market conditions
The a2 Milk Company Limited (NZX:ATM)
The dairy giant, The a2 Milk Company Limited, is well aware of media reports regarding a potential class action, which is being probed over by Slater & Gordon Lawyers. However, at present, ATM is unaware of filing of any legal proceedings against it and has ensured its compliance with all the regulatory norms.
On 22 June, at the closing bell, The a2 Milk Company gained 0.15% at NZ$6.510.
Also Read: Market Highlights: 5 NZX Stock Stories Making headlines on Monday -LIC, MEL, AIR, ATM, KMD
Tower Limited (NZX:TWR)
Third, we will be looking at Tower Limited, which is NZ's insurance company. Recently, the Company shared its update on the financial impact of Canterbury's torrential rains, wherein it mentioned receiving 164 claims.
As per TWR, the cost of the floods is estimated to be between NZ$2.8 million-NZ$3 million before tax. Following this, it has updated its underlying NPAT guidance in the range of NZ$22 million-NZ$24 million.
On 22 June, Tower traded flat at NZ$0.760 at the end of the market session.
Don't Miss: Look at these 5 interesting NZX Dividend stocks going Ex in June 2021
Allied Farmers Limited (NZX:ALF)
Allied Farmers Limited has a 50% stake in NZRLM (New Zealand Rural Land Management Limited Partnership). Recently, ALF shared a financial update wherein it has mentioned its pre-tax attributable earnings from NZRLM to be around NZ$500,000-NZ$600,000 towards June-end 2021. The Company has also mentioned that it was yet to complete the review of its capital requirements.
On 12 June, Allied Farmers observed a slump of 3.45% at NZ$0.560 at the end of the trading session.
Geneva Finance Limited (NZX:GFL)
Next is Geneva Finance Limited, which offers financial services. As a result of the increased contribution from all its businesses, the Company posted a pre-tax profit of NZ$6.9 million for the year ended 31 March 2021, up 67% on pcp. Moreover, its total group assets rose by 14%, amounting to NZ$142.8 million during the fiscal year.
GFL paid a final dividend of 2.50cps on 10 June. Thus, the total dividend for the year comes to 3.75 cps.
On 22 June, at the end of the trading session, the shares of Geneva Finance dipped by 2.94% at NZ$0.660.
Interesting Read: 5 Hot NZX Penny Stocks who are Dividend Payers as well
TruScreen Group Limited (NZX:TRU)
Offering the latest technology on cervical cancer screening, TruScreen Group Limited is the last on the list. Owing to the pandemic, which saw a halt in numerous screening programmes and a shift in the health resources towards COVID-19 management, the Company witnessed a 12% slump in its product sales of NZ$1.1 million for the year ended 31 March 2021.
Moreover, during the year, TRU successfully raised capital worth NZ$7.5 million and had appointed Ms Juliet Hull as the acting CEO and Dr Dexter Cheung as a Non-Executive Director.
On 22 June, TruScreen Group observed a decline of 5.41% at NZ$0.070 by the end of the market close.
Do Read: 5 Hot Penny Stocks Trading At Less Than 50 Cents On NZX