On July 20, 2020, S&P/NZX50 ended the session in red as there was a marginal decline of 0.27% to 11,553 while S&P/NZX20 encountered a fall of 0.12% to 7,711. On the same day, S&P/NZX10 fell by 0.14% to 12,224.
S&P/NZX All Information Technology ended the session in red as there was a fall of 2.48% while S&P/NZX All Utilities witnessed a rise of 0.62%. We will now have a look at the performance of individual stocks.
On July 20, 2020, the share price of New Talisman Gold Mines Limited (NZX: NTL) witnessed a rise of 16.67% on an intraday basis to NZ$0.007 per share. On the same day, the stock of Blackwell Global Holdings Limited (NZX: BGI) rose by 12% to NZ$0.056 per share.
On the other hand, the share of Pushpay Holdings Ltd (NZX: PPH) fell by 4.13% to NZ$7.670 per share. The following image provides a broad overview as to how the share price of PPH has trended in the span of past 90 days: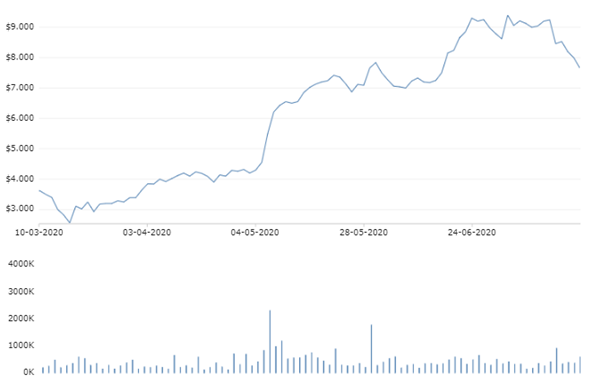 Stock Performance (Source: NZX)
KFL Releases Quarterly Newsletter
Kingfish Limited (NZX: KFL) released a quarterly newsletter for the period ended June 30, 2020. As per the release, Kingfish gained +23.4% (gross performance), and adjusted NAV was up 21.2% for the quarter ended June 30, 2020. However, S&P/NZX50G benchmark index gained 16.9% for the same time period.
The company stated that at face value, the local stock market seems to be defying the impacts of coronavirus. However, on closer inspection, it can be said that the solid performance of benchmark S&P/NZX50G index has been supported only by a handful of large companies, especially a2 Milk and Fisher & Paykel Healthcare. A dividend of 3.06 cps was paid to the shareholders of Kingfish on June 26, 2020 under quarterly distribution policy.
A Recent Update on PPH
Pushpay Holdings Limited (NZX: PPH) made an announcement that Board has accepted the resignation of Ms Justine Smyth from the position of Independent Director. It was also mentioned that the Board has been seeking to appoint a suitable replacement who would be further strengthening the Board's breadth of talent as well as background.