On July 15, 2020, S&P/NZX50 ended the session in green as the index witnessed a rise of 1.01% to 11,611 while S&P/NZX20 rose by 1.03% to 7,741. On the same day, S&P/NZX10 encountered an increase of 1.36% to 12,309.
S&P/NZX All Materials witnessed a rise of 2.47% while S&P/NZX All Communications Services ended in red as there was a fall of 0.46%.
On July 15, 2020, the share price of TRS Investments Ltd (NZX: TRS) rose by 50% on an intraday basis to NZ$0.003 per share. On the same day, the stock of Blackwell Global Holdings Limited (NZX: BGI) rose by 21.88% to NZ$0.039 per share.
The following image provides a broad overview as to how the share price of BGI has trended in the span of one year: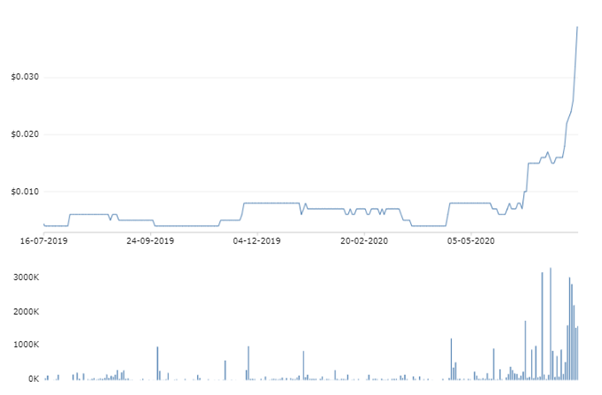 Stock Performance (Source: NZX)
NPH Ended the Session in Red- A Brief Look
Napier Port Holdings Limited (NZX: NPH) came forward and released trade volume data for 3Q and nine months to June 30, 2020. There have been reductions in container as well as bulk cargo throughout its wharves because of coronavirus disruptions. The company stated that total container volumes fell by 17.4% to 74k TEU from 90k TEU in the same quarter a year ago. Also, export containers fell by 7k TEU, or 15.0%, to 39k TEU while import containers fell by 9k TEU, or 21.4%, to 34k TEU.
On July 15, 2020, the stock price of NPH witnessed a fall of 2.27% to NZ$3.450 per share.
A Recent Update By AWF
The Board of AWF Madison Group (NZX: AWF) advised about the appointment of Laurissa Cooney as an Independent Director, which will be effective from August 1, 2020. The company's Chairman, Ross Keenan, stated that as NZ's largest recruiter as well as provider of contingent workers throughout many sectors, he expected Laurissa would be contributing to the company's social employment initiatives towards reviving local labour market.
On July 15, the share price of AWF increased by 0.76% to NZ$1.320 per share.