On 21st July 2021, the broader NZ market was supported by the buying witnessed in the materials sector. Notably, NZX 50 Index rose by 0.46% to 12,709.14 and NZX 50 Portfolio Index increased by 0.52% to 8,086.38. Also, NZX All Materials rose by 3.38%.

Data Source: NZX, Table Source: Copyright © 2021 Kalkine Media
Performance of Indices:
NZX 50 Index ended at 12,709.14, which implies ~8.29% increase over the previous 1 year. Also, MidCap Index and SmallCap Index claimed 6,348.84 and 22,497.56 points, respectively.
S&P/NZX 50 Index vs SmallCap Index vs MidCap Index – Performance Over One Year

Source: REFINITIV
Gainers and Losers:
Steel & Tube Holdings Limited (NZX: STU) mentioned that, due to robust performance, the company is updating earnings guidance for the financial year ending 30th June 2021 (FY 2021). As per the release, subject to the completion of year end procedures as well as external audit, STU is expected to post FY 2021 EBIT in the range of $20 Mn-$22 Mn. Notably, this also includes the non-trading benefits of $2.8 Mn because of property-related gains which would be normalised.
On 21st July 2021, Good Spirits Hospitality Limited (NZX: GSH) declined by 6.41% to NZ$0.073 per share.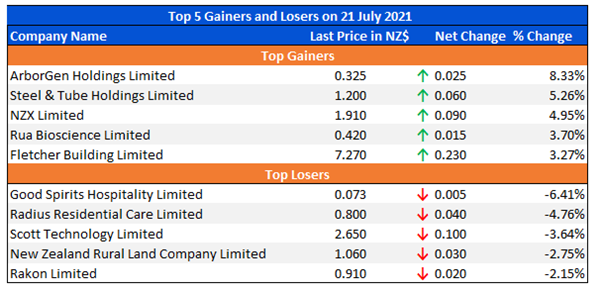 Data Source: NZX, Table Source: Copyright © 2021 Kalkine Media
Movement on Wall Street:
On 20th July 2021, NASDAQ Composite rose by 1.57% to 14,498.88. Notably, Dow Jones Industrials Average increased by 1.62% to 34,511.99.
Note: The reference data in this article has been partly sourced from REFINITIV