Summary

New Zealand government's Industry Transformation Plan (ITP) for agritech is intended to improve productivity and create growth prospects for the sector.
The government will contribute NZ$11.4 million in funding as an element of Budget 2020 to support the implementation of this enterprising plan.
Smart use of technology, coupled with the competent workforce, will drive the economy up the value chain and assist NZ to maintain its position in the market.
Technology will also be a powerful tool to reduce emissions and combatting climate change.
This month, New Zealand's Economic Development Minister, Phil Twyford and Agriculture Minister, Damien O'Connor have launched an industry plan to transform and grow New Zealand's agricultural technology (or agritech) sector. According to industry experts and government officials working on this ambitious project, Agritech Industry Transformation Plan (ITP) will lift the productivity of the industry.
For New Zealand, agritech is in its blood. The first-ever innovation in New Zealand was done in the agriculture industry. The earlier settlers in the country, both Maori and Europeans, found the area with high potential but also faced challenges. With the work the Kiwis are doing for generations, it has placed the country on the world map with the title of being a leader in farming innovation.
Today, more than ever, with the raging climate change challenges, the world needs healthy and trustworthy food and fibre products. New Zealanders are working energetically towards achieving productive and sustainable farming practices.
The Industry Transformation Plan (ITP) will lead NZ into bringing out its traditional farming strengths with the help of technology. The intent is to utilise technology across the country's farms, Aotearoa orchards, oceans, and beyond. The government and agriculture industry will also ensure the long-term transformation to achieve zero-carbon economy with a vision for a highly productive, low-emissions future.
The government will contribute NZ$11.4 million in funding as part of Budget 2020 to support the implementation of this enterprising plan.
Last year, the government had announced its new approach to the policy. This outlook was subsequently updated in June 2020 in response to the impacts of COVID-19.
The ITP will not only nourish the agriculture sector but also horticulture, aquaculture, apiculture, and fishing businesses.

Source: Agritech Industry Transformation Plan (ITP)
Why Agritech is Essential and of Interest to New Zealand
The main reason the government is focusing on bringing in technology in agriculture is to grow the sector as an economic driver, with emphasis on high-value export opportunities and further diversifying the country's economy. Smart use of technology clubbed with the skilled workforce will benefit the industry and related companies.
A company like Auckland-headquartered Halter is creating innovative space in animal management. Its GPS-enabled, solar-powered cow collar units will help farmers track its livestock via smartphone or tablet.
Tiaki's modular harvesting system provides a new fishing method by using Precision Seafood Harvesting technology. With this technology, fish are contained and swim comfortably underwater inside a sizeable, flexible PVC liner, where the right size and species can be selected.
Companies providing Artificial Intelligence (AI) will also play a significant role in the way New Zealand does its farming. With introducing technologies like field monitoring, crop management software, soil sensing analysis, supply chain management, the New Zealand agriculture industry will genuinely transform.
Source: AI Forum
Also read: Reformative Agricultural and Dairy Space in New Zealand
Impact of Climate change
Globally, population growth and increasing environmental challengers are the critical drivers for the demand for agriculture technology, as these are also severely linked to climate change impacts. To fulfil the food supply demands for about ten billion people by 2050, the production needs to increase. With the technological advancement in the agriculture sector, agricultural emissions will reduce drastically. Currently, nearly half of the world's greenhouse gas emissions come through the agriculture industry. Technology will be a powerful tool to reduce emissions and combatting climate change.
Changing climate is also resulting in frequent and extreme weather events. Rainfall, draught patterns, temperatures are affecting the agriculture business. With introducing technology, New Zealand plans to disrupt future production.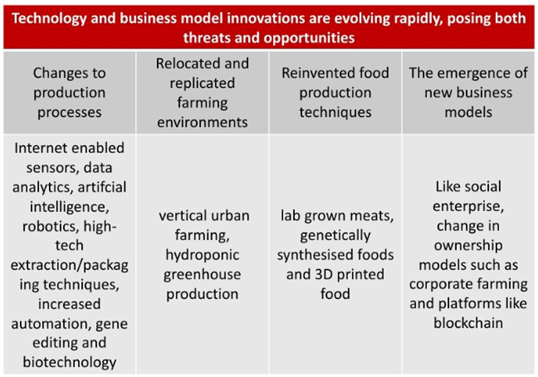 Source: Kalkine (Data courtesy: Agritech Industry Transformation Plan)
Action Plan and Conclusion
During Primary Industries New Zealand Summit held in July 2919, Prime Minister Jacinda Ardern informed participants about the challenges sector is facing and the country looks forward to work smarter for better New Zealand. New Zealand's NZ$1.5 billion agritech sector is bracing new frameworks with the launch of ITP. The agritech innovation is mainly in the use of domestic production and hasn't tapped international markets yet.
Even though NZ$640 million was spent on Research & Development for the food and fibre sector in 2018, New Zealand still struggles to bring research-based agritech ideas to market. Organisations like Kiwinet and Return on Science have addressed some of the challenges in this area. Callaghan Innovation recently funded a specialist agritech incubator in April 2020. The findings show that progress has been made, but it indicates the requirement for smooth commercialisation flow. The government also introduced a tax incentive to attract more private sector players in R&D.
The shortage of capital funds in agriculture technology is also an aspect to be considered. The government recently announced a new NZ$300 million Elevate NZ Venture Fund to be run by New Zealand Growth Capital Partners to address the capital gap. More work is required to attract additional necessary capital and expertise.
Apart from various other reasons, novel coronavirus (COVID-19) has also disrupted New Zealand's agritech firms access international client base. Many projects are cancelled or on hold. However, the restrictions are also bringing new opportunities. For example, restriction on the movement of migrant workers is increasing demand for automation solutions.
As the country moves onto the implementation phase of the ITP, a governance group will be established to guide the work and ensure ITP is achieving the goals of both the government and the sector.
---
Disclaimer
The website has been prepared for informational purposes only and is not intended to be used as a complete source of information on any particular company. The above article is NOT a solicitation or recommendation to buy, sell or hold the stock of the company (or companies) under discussion. Kalkine does not in any way endorse or recommend individuals, products or services that may be discussed on this site.