Source: Chinnapong, Shutterstock
Summary

A study by Goldman Sachs has found renewed interest in the group's digital assets.
Media reports had said that the group would now be dealing in bitcoin futures, non-deliverable forwards.
Amid reports that Goldman Sachs Group Inc is restarting its crypto trading desk, a new study by the group has found that there is a lot of demand for the group's digital assets. Last week there were reports that the group had resumed its crypto desk and would now also be dealing in bitcoin futures and non-deliverable forwards for institutions.
The cryptocurrency desk, which would operate out of the US, is a part of the groups' plans to get into the fast-expanding digital assets space, including blockchain technology and digital currencies.
Also read: Elon Musk's Romance With Cryptocurrency
Matt McDermott, Global head of digital assets for Goldman Sachs' Global Markets Division, said that the survey conducted on about 300 clients has found that as many as 40 per cent of them already have exposure to cryptocurrencies.
Bitcoin has seen an increase in interest as its value surged by a whopping 470 per cent in the last year, and Goldman Sachs' plans to restart its cryptocurrency desk is aimed at capturing this growing demand.
Also read: Looking for cryptocurrencies in 2021, here are top 10 other than Bitcoin
Investors are increasingly viewing bitcoins as a tool to hedge against inflation, as authorities globally are announcing economic stimuluses to combat the fallout of the pandemic, which also contributes to its popularity.
McDermott also said that 76 per cent of those surveyed expect bitcoin to settle between US $40,000 and US $100,000 in 2021. However, 22 per cent of the respondents see it closing this year at over USD 100,000.
Despite prices soaring in the last year, bitcoin continues to be volatile. On February 21, it soared to $58,000 and then crashed as much as 25 per cent but managed to recover some losses. The volatility makes bitcoin an attractive asset for those with a risk appetite for long or short positions for gaining better yield from the low interest rate regimes.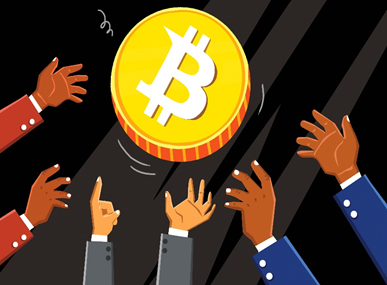 Copyright © 2021 Kalkine Media Pty Ltd.
Also read: Is Cryptocurrency hitting the mainstream again?
For the financial sector, blockchain technology offers different kinds of opportunity as it has gathered a lot of momentum, McDermott said. He also added that now would be an interesting time to explore the technology further.
The first cryptocurrency desk at Goldman Sachs was set up in 2018, right when bitcoin's price was crashing from record highs that lessened investor interest in digital assets. Since then, market infrastructure for cryptocurrencies have become better, and several financial institutions are now offering products in that space, including CME Group Inc, Intercontinental Exchange Inc and Fidelity.